Chickpeas have many benefits and protein power-house. They are high in fibre and rich in Iron and help in stabilizing blood sugar level. As they are rich in fiber, it can be included in weight loss diets. This is a simple flavorful rice with goodness of chickpeas and flavors of mild spices.
Ingredients:
Raw rice – 1 cup
Boiled and cooked Chickpeas – 1 and 1/2 cup
1 onion (peeled and chopped)
Cumin seeds –1 tsp
Black Cardamom – 2
Bay leaf – 2
Red chilly powder – 1/2 tsp
Ginger finely chopped  – 1 tsp
Salt to taste
Cooking oil – 2 tbsp
Washed and chopped coriander leaves for garnishing
Method:
1) Wash and soak rice in water for 20 minutes. Drain the water completely and cook the rice in a pan with 2 cups of water till the rice is cooked.
2) Spread the rice on a plate and let the rice cool down completely.
3) Add oil in heavy bottom pan and when oil is warm add cumin seeds, ginger, onions,  bay leaf, black cardamom and saute till onions turn light golden brown.
4) Now add chickpeas, garam masala, red chilly powder and mix it well.
5) Lower the flame and add rice and salt to taste and mix it gently.
Remove from the flame and serve it with some Raita and chips/papad.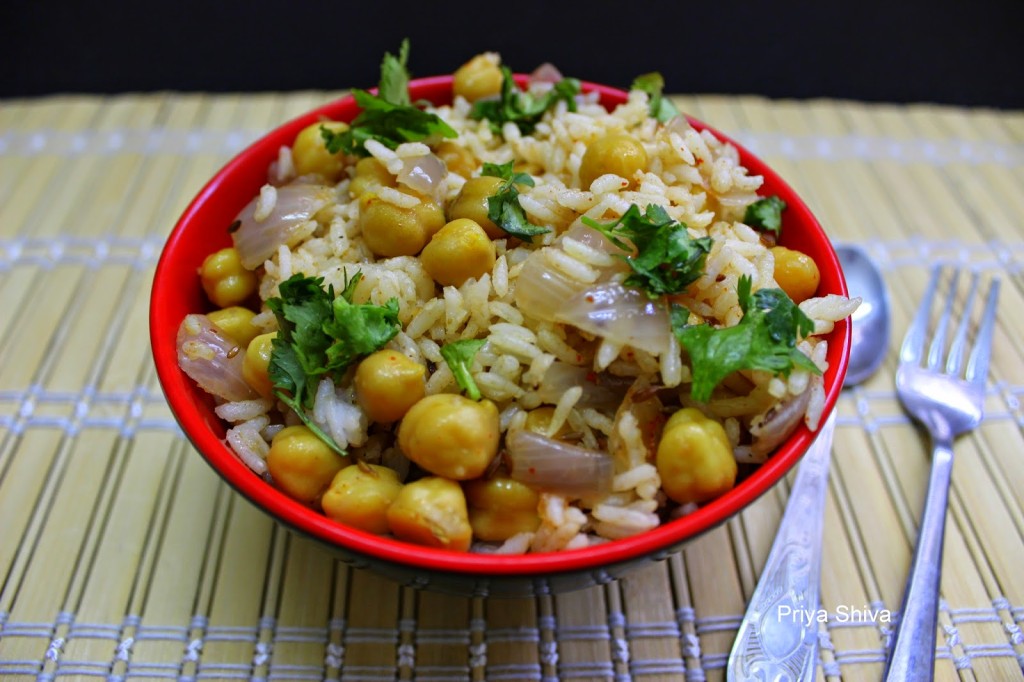 Yum