There's nothing like waking up late on Sunday after a great Saturday night with family and friends. I love to start the day with some awesome brunch and cooking my family favourites. I made some methi pooris and potato masala which is loved by my little one and my favourite too.I usually prefer having some masala chaas after a heavy brunch and much needed for summer..Methi pooris are made with fenugreek leaves and adding some spices. Sharing a step by step recipe and Happy Sunday friends!!!
Ingredients:
Wheat flour – 2 cups
Methi/ Fresh fenugreek leaves – 1 cup (washed and finely chopped)
Besan/Gram Flour – 1 tbsp
Red chilly powder – 1/2 tsp
Black pepper powder –  1/2 tsp
Turmeric powder – 1/4 tsp
Ajwain/Carom seeds – 1 tsp
Salt to taste
Cooking Oil
Method:
1) Wash and clean fenugreek leaves and chop it nicely.
2) Add wheat flour, fenugreek leaves, besan, red chilly powder, garam masala, turmeric powder, salt, 1 tbsp oil in a mixing bowl and knead it nicely by adding little by little water ( Approx 1 cup) to make smooth dough.
3) Now make small balls of it and flatten it with a rolling pin in a round shape.
4) You can use dry flour to roll the dough smoothly.
5) Heat oil in a frying pan.
6) To check if the oil is warm, drop a small piece of dough into the oil. If it comes on top immediately, the oil is warm for frying. 
7) Keep the flame on medium level and slide the raw poori into the oil carefully. You have to keep regulating the flame to make sure oil doesn't get too hot.
8) Press down lightly on the pooris as it fries to help it puff up.
9) Once pooris turn golden brown, put them on a strainer or a paper tissue to drain excess oil.
I have served it with Potato Masala and some Masala Chaas.
Click here for Potato Masala recipe
Click here for Masala Chaas recipe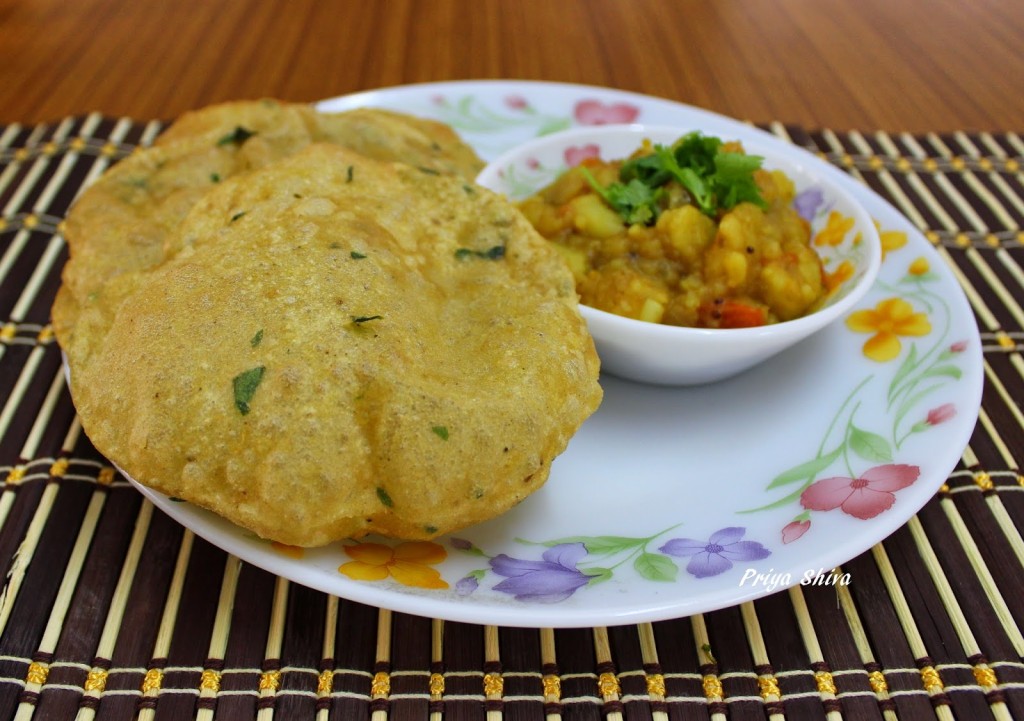 Yum