Weekends are usually fun time for me as I enjoy getting up late in the morning, enjoying more time with my family and friends. I'm going out for a movie, some grocery shopping and planning to meet few of my friends today. I made this quick jam yesterday and enjoyed the tangy and sweet combination. I have not used any preservatives and sharing the recipe with you all. Have a great week ahead friends!!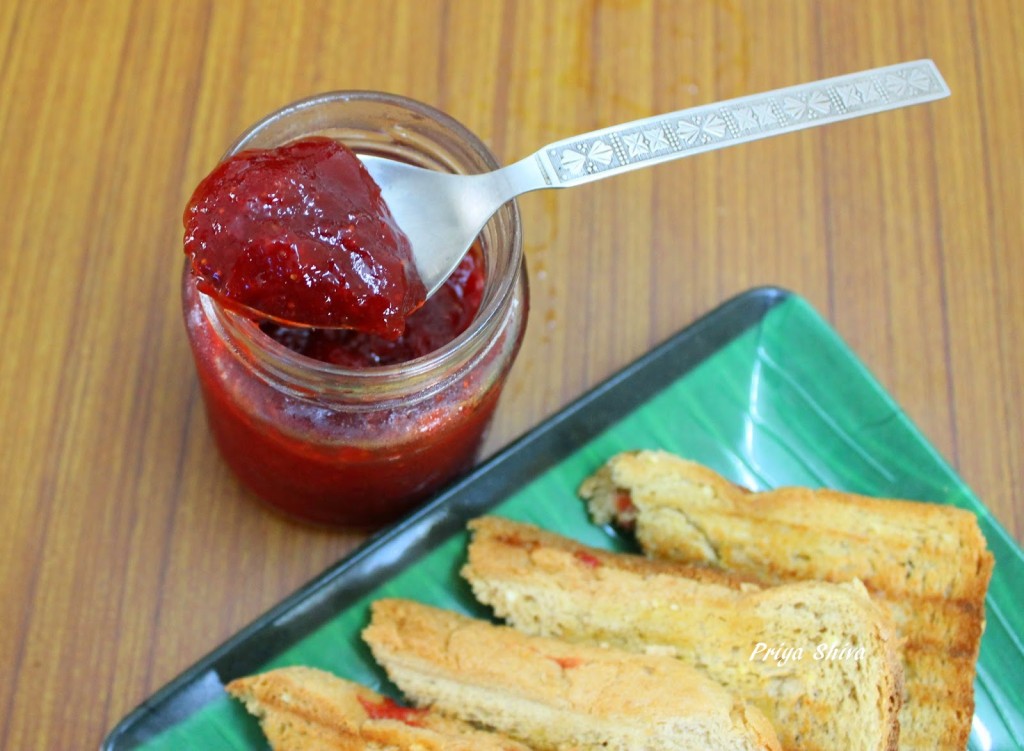 Strawberry Orange Jam
Author:
Prep time:
Cook time:
Total time:
Make an easy jam in microwave without any preservatives. You will love the delicious combination of orange and strawberries!
Ingredients
Strawberries – 500 gm (washed, hulled and chopped)
Orange – 500 gm
White sugar – 600 gm
Orange zest – 1 tbsp
Instructions
Peel oranges and remove the seeds. Juice of the oranges with the pulp. Scrape the peel of the oranges for zest.
Add chopped strawberries with orange juice in a deep, heavy bottom pan and keep it for boiling on medium flame. Keep stirring and boil for 3-4 minutes.
Remove from the flame and mash the strawberries nicely.
Now add sugar and stir well.
Now again keep it for boiling on low flame, add zest and keep stirring it starts combining. Check if it has reached the setting point.
To check if jam has reached setting point, place a small amount of jam onto a chilled saucer. Place into freezer for 2 minutes or until jam is at room temperature. Run your finger through jam and wrinkle and if jam stays in 2 separate portions, it's ready to be stored. If not, cook for a little longer and retest.
Remove from the flame.
Transfer the warm jam in sterilized containers and keep it sealed.
Once container opened or used, refrigerate it.
Notes
Place a clean saucer in freezer for 5 minutes. Always use clean and sterilized containers to store jam.
Yum