I recently shared an easy recipe to make tortillas at home. You can use these tortillas to make easy Quesadilla. Quesadilla is a tortilla filled with vegetables and Oaxaca cheese and originated in Mexico. I'm sharing an easy recipe to make Quesadilla with some mashed potatoes. I could call this a fusion recipe and you might laugh at the thought of it 🙂  I love Aloo parathas which are Indian flat breads made with potato filling and they are delicious. So, why not mashed potatoes quesadillas.  They are filling and this recipe always comes handy when I want something quick and easy for lunch or dinner.
Serving – 4
Ingredients:
Tortillas – 4 (click here for homemade tortilla recipe)
Mashed Potatoes – 2 cups (Boiled, peeled and mashed)
Boiled Black Chickpeas – 1/2 cup
Boiled and mashed Spinach – 1 cup
Red chilly Powder – 1 tsp
Black pepper powder – 1 tsp
Boiled Sweet corn – 1/4 cup
Finely chopped onions – 1/2 cup
Oaxaca cheese – 2 cups (I did not have oaxaca cheese,so used grated Mozzarella cheese)
Salt to taste
Method:
1) Combine mashed potatoes, spinach, corn, chickpeas in a mixing bowl and add salt to taste, chilly powder, pepper powder and mix it well.
2) Arrange tortillas on work surface. Spread the mashed potato mix and then spread some cheese on top of it.
3) Fold plain tortilla into halves with filling pressing to compact. Brush the top with little cooking oil.
4) Heat large non-stick skillet over medium heat. Place 2 quesadillas, oiled side down on the skillet.
5) Brush tops with oil and cook until quesadillas are brown, about 2 minutes per side.
Cut into 2-3 wedges and serve hot with some salsa.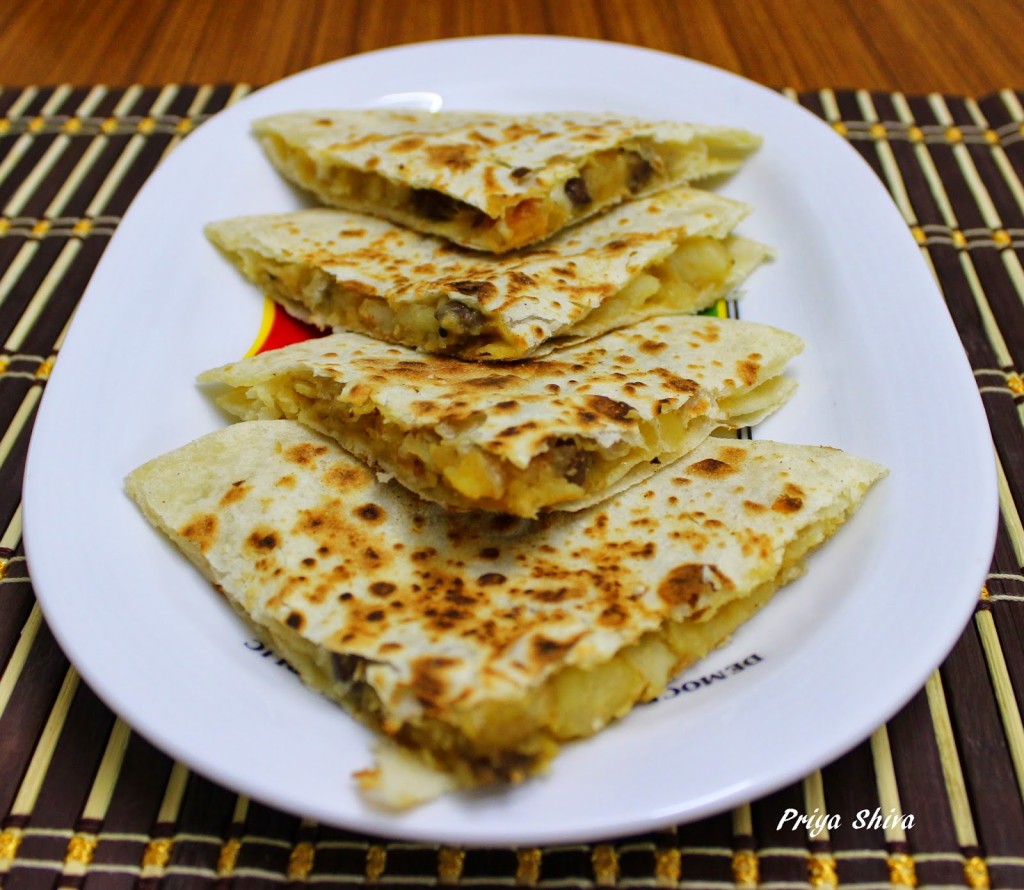 Yum