Did you know coriander or cilantro is one of the cooling herb and extremely beneficial in summer? It also helps in digestion and good for skin. So, how about a quick dish with refreshing coriander..I had malli rice (coriander rice) recently at my mom's place and I never thought it will be so flavourful. I have mentioned before that my mom is a wonderful cook. Even her simple dishes would taste delicious and aromatic. I have hared the complete way to cook the rice in a slow cooker. So, sharing an easy recipe to make coriander rice which you serve with any curry or simply enjoy with some yogurt and some papad.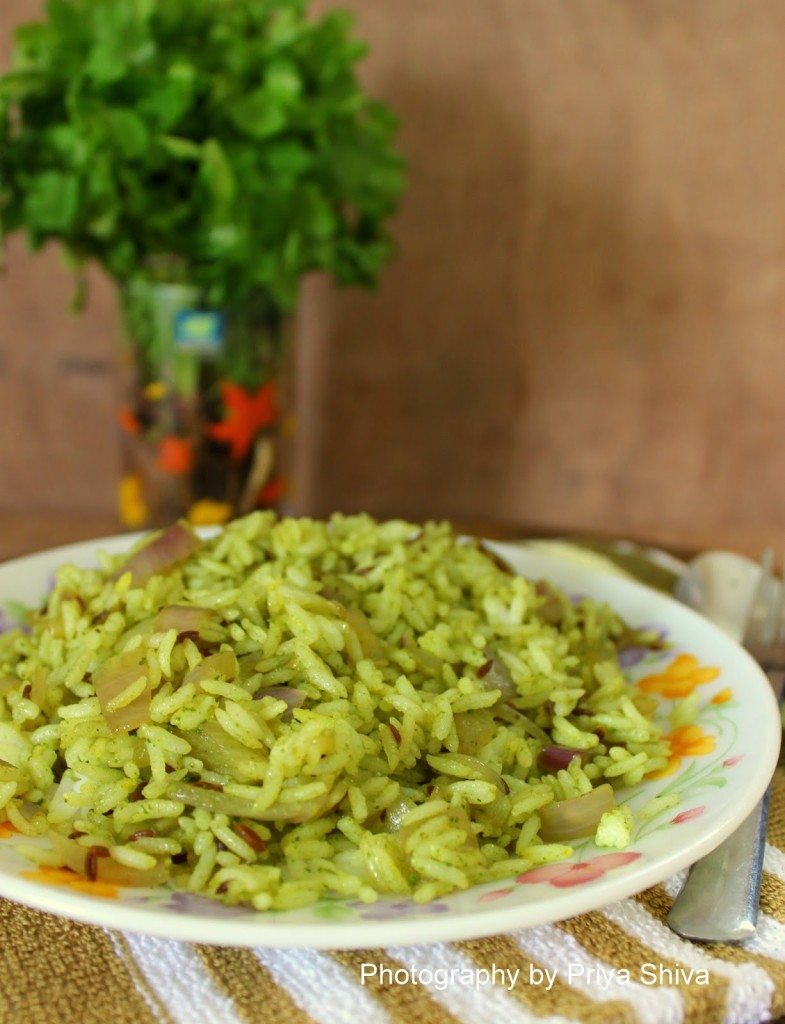 Kothamalli rice / Cilantro rice
Author:
Prep time:
Cook time:
Total time:
Cook a delicious one-pot meal with flavours of cilantro and mild spices!
Ingredients
Raw Rice – 1 cup
Coriander leaves/cilantro – 1 cup
2 onion (peeled and finely chopped)
Cumin seeds –2 tsp
Bengal Gram / split chickpeas– 1 tbsp
Peanuts – 2 tbsp
Urad dal/white lentil – 1 tsp
Red chillies – 3
Chopped Green chillies – 1 tbsp
Ginger – 1 tsp (finely chopped)
Asafetida – 1/4 tsp
Salt to taste
Butter – 1 tbsp
Cooking oil – 1 tbsp
Instructions
Clean and pressure cook rice with 2+1/2 cups of water.
Spread cooked rice in a plate and keep it aside.
Grind washed coriander leaves and green chillies to make a smooth paste. You can add little water while grinding.
Heat oil in a pan; add cumin seeds and a pinch of asafetida and sauté till seeds crackle.
Add Bengal gram, peanuts, white lentil and roast it on low flame till lentils becomes slightly brown.
Add red chillies, ginger, chopped onions and sauté till onion turn translucent. Lower the flame and add cilantro paste.
Add cooked rice and salt and mix it gently. Transfer in a bowl and serve.
Notes
You can also pressure cook rice instead of using slow cooker.[br]I have used raw rice. You can use basmati rice and adjust water accordingly. Basmati rice usually gets cooked faster with 2 cups of water for 1 cup of rice.
Yum