I'm sharing a recipe for Mushroom Capsicum Masala which is a delicious curry. Mushroom and capsicum (green bell pepper) is cooked with blend of spices. This is a post specially for my friend Balaji who requested for a recipe with mushrooms. I've cooked the mushrooms and capsicum in tomato gravy and it goes very well with naan, tandoori roti etc. (Indian flat bread).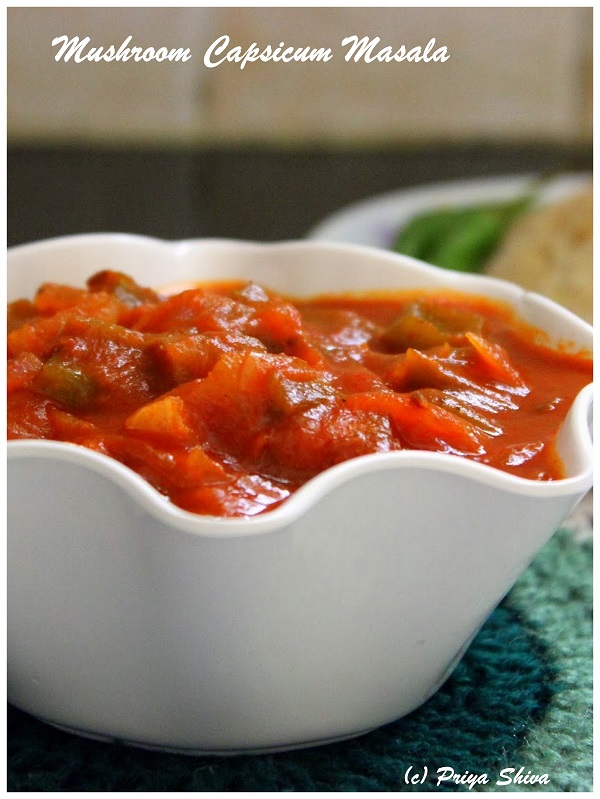 Mushroom Capsicum Masala is easy to make and my family loves it. It goes well even with rice. So, sharing the recipe and hope you try and share the feedback with me.
Mushroom Capsicum Masala
Author:
Prep time:
Cook time:
Total time:
make an easy, delicious curry with some mushrooms and bell pepper!
Ingredients
Chopped Capsicum – 1 cup
Cleaned and chopped mushrooms – 1 cup
Finely chopped Onions – 1/2 cup
Tomato purée – 1 cup
Grated Ginger – 2 tsp
Finely chopped Garlic – 1 tbsp
Cumin Seeds – 1 tsp
Turmeric powder – 1/4 tsp
Red Chili powder – 1 tsp
Garam Masala – 1 tsp
Vegetable Oil – 1 tbsp
Salt to taste
Instructions
Heat oil in a non-stick pan and add cumin seeds. When cumin seeds crackle, add the chopped garlic and ginger and finely chopped onions and fry till onions turn golden brown.
Now add finely chopped capsicum and fry for few minutes on low flame.
Add tomato purée and mix well. You can make tomato purée by grinding 3 tomatoes in your food processor until smooth.
Add chopped mushrooms , turmeric powder, garam masala and red chili powder, and mix. Let it cook for 4-5 minutes on low flame and keep stirring in between.
Add salt to taste and add some water if you feel its too thick. Close the pan with a lid and let it cook on low flame till the vegetables are cooked and soft. Keep stirring in between.
Transfer it in a bowl and serve hot with some flat bread or rice.
Yum