I've spent more than half of my life living in Delhi and one of the most famous dishes in Delhi is Dal Makhani. I have also traveled a lot in North India and love the smell and taste of dal makhani served in small dhabas. Dhaba is a small restaurant usually found in highways. You'll be able to taste the dhaba style dal makhani specially if you're travelling by road on outskirts of Delhi or when you go to small towns in Haryana or UP. Dhaba style dal makhani has a unique taste which I was not able to get it while making it at home. Then I learnt this trick from my friend which gave an amazing flavour to the dal using charcoal. I know its tough to believe how a small piece of charcoal. Don't worry, we are not adding charcoal in the dal 🙂 🙂 Do check my notes to get the authentic taste.
I prepared it for lunch today anf thinking of serving it with some lachha paratha and some jeera rice.
Click here to check Pudina Lachha paratha recipe
Click Here for jeera rice recipe
So, sharing the recipe with you all. Hope you all make it for your family and friends and enjoy!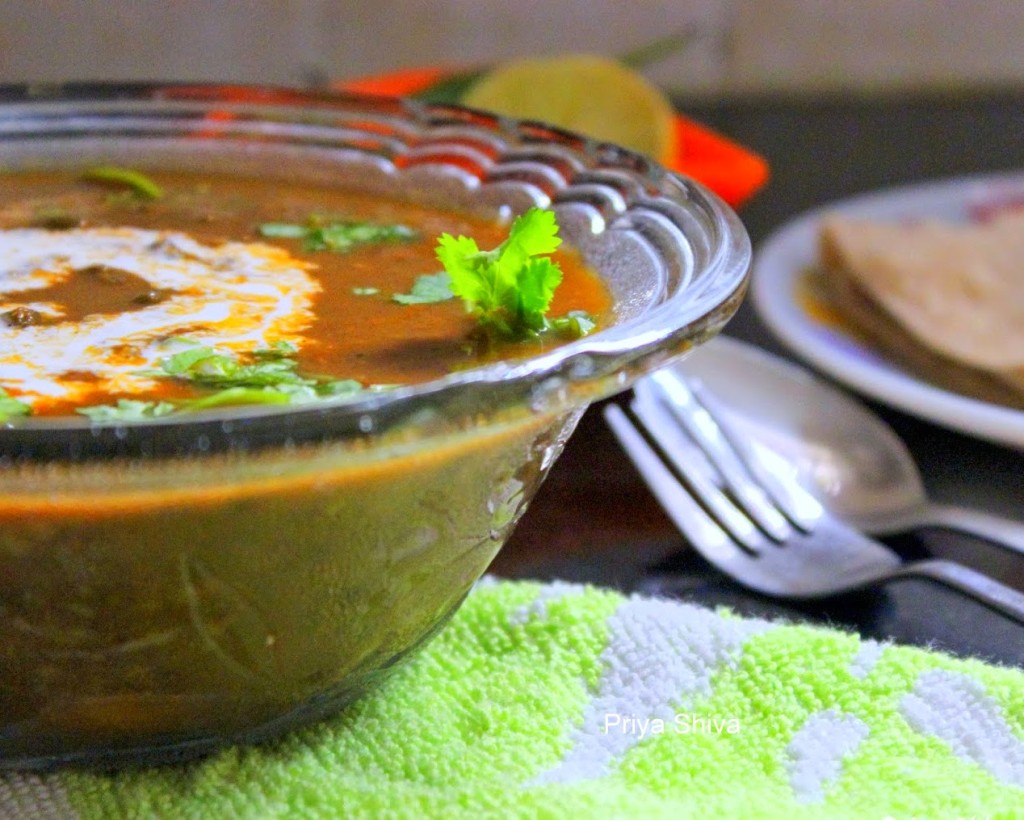 Dhaba Style Dal Makhani
Try some dhaba style dal makhani made with blend of spices. Serve it with flat bread or rice!
Ingredients
Black whole gram - ½ cup
Rajma/Red kidney beans - 2 tbsp
1 large onion (finely chopped)
2 large tomatoes (finely chopped)
Grated ginger - 1 tsp
Finely chopped garlic - 1 tbsp
Cumin seeds - 1 tsp
Carom Seeds - 1 tsp
Cinnamon – 1 inch stick
Cloves - 2
Red chilly powder - ½ tsp
Cardamom powder - 1 tsp
Kasuri Methi/dried fenugreek leaves - 1 tsp
Bay Leaf - 1
Salt to taste
Vegetable Oil - 1 tbsp
Fresh Cream - 2 tbsp
Coriander leaves for garnishing
Instructions
Wash and soak black gram and red kidney beans in some water for 4 hours. I usually soak it overnight to cook it next day. Make purée of tomatoes and keep it aside.
Take a white muslin cloth and pack cloves, cinnamon and bay leaf. Drop this spice bag in a pressure cooker along with soaked lentils and 2 cups of water.
When the water starts boiling, close the cooker and give 4 whistles or till lentils are soft and cooked properly. Remove the spice bag and keep it aside.
Add oil in a pan and when the oil is warm add carom seeds, cumin seeds, grated ginger, finely chopped garlic and onion. When onions turns golden brown add tomato purée and saute it for few minutes on low flame.
Now add cooked lentil with water, red chilly powder, salt to taste and mix it well. Add more water if you feel its too thick. Close the pan and let it cook for 5 minutes on low flame. Keep stirring in between.
Now add cardamom powder and dried fenugreek leaves and give a final stir. Transfer in a bowl and garnish with chopped coriander leaves and some cream.
Notes
Once the dal is completely cooked in the pan, heat a small piece of charcoal. Place charcoal in a small steel cup. Place this small cup inside the pan and sprinkle some water over it. Immediately close the pan and only open it after few minutes. This will give an authentic dhaba style dal makhani taste.
Yum