How can one forget the taste of lachhedaar parathas of parathe wali gali of Delhi. Just thinking of lachha parathas, I start drooling. I could never find the same taste of street food or parathas in Chennai or Bangalore. I have lived half of my life in Delhi and food is something which still connects me to that place…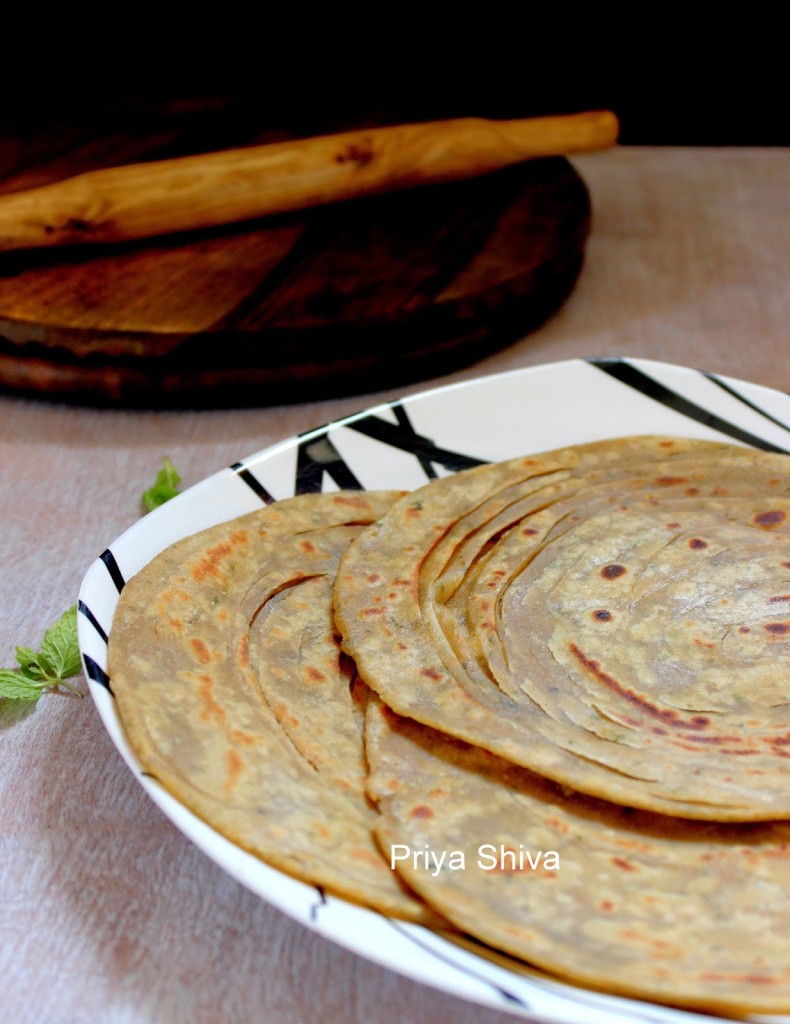 I keep experimenting different things in my kitchen but somehow I can't match the same taste. Lachhedaar Paratha is a popular flat bread from North India. Once you get familiar with the technique, its pretty easy to make it. I have used whole wheat flour as I consider it more healthy and used Mint leaves for flavoring. I served it with some Dal makhani and cucumber raita (Just click on names for recipe).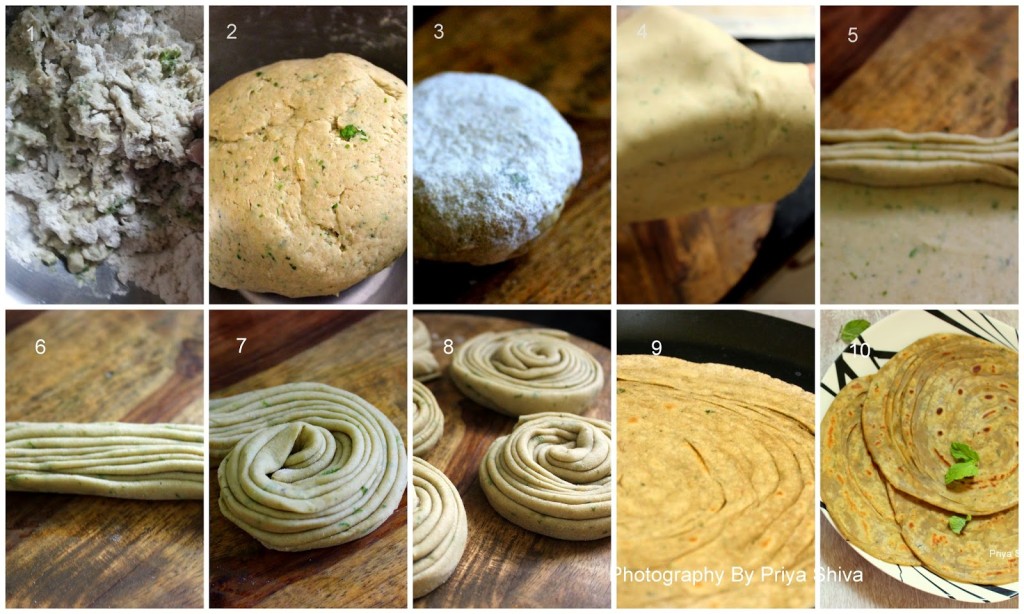 Pudina lachha Paratha / Mint Flavoured Layered Paratha
Author:
Prep time:
Cook time:
Total time:
Ingredients
Whole wheat flour/atta – 2 cups
Pudina/Mint – 1/2 cup
Vegetable oil or ghee – 2 tsp (to prepare dough)
Water as per requirement
Salt as per taste
Ghee or oil required for applying on the rolled dough and toasting on griddle – 4 tbsp
Instructions
Wash and mince mint leaves. Combine minced mint leaves, wheat flour, 2 tsp vegetable oil, salt in a mixing bowl.
Now slowly start adding water to form a smooth dough. Keep it aside for 20 minutes.
Take a medium sized ball of dough and dust it with dry flour.
Now flatten it as thin as possible. Don't worry even if little hole appear while rolling it. You can always use dry flour to dust the rolling board or platform. Spread some ghee or oil on the flattened disc. Sprinkle some dry flour on the top.
Now from the top edge, start to fold & pleat the paratha till the end as it to make a fan as shown in pic – 5, 6.
Roll the pleated edges as shown above in Pic-7. Follow the same above steps for remaining dough.
Lightly dust with dry flour and now roll into round parathas. Do not press very hard while rolling again or you will lose the layers.
Heat the tava or griddle for 1 minute as the griddle should be hot.
Place the paratha on the griddle and turn after a minute. Now again cook for a minute till both sides are lightly browned. Apply ghee lightly and flip again few times.
Serve it hot with Curry and Raita.
Yum