I love potatoes whether in a curry , starter or as a stuffing for bread. As a child, I made my mother's life miserable by being a fussy eater and always asking her to cook something with potatoes. Now that I have a child of my own, I can understand how tough it must have been for her as all mothers have one common worry and that is to all give fruits and vegetables to their child and make sure the child has a complete nutritious meal. I'm glad my boy is not that fussy though he also has a super liking for potatoes.
This is quick curry which I have made using baby potatoes. Its is one of the simplest curry with no onion and no garlic and cooked in tomato gravy.
Serves – 2
Ingredients:
Baby Potatoes – 10-12
Tomatoes – 2 (chopped)
Grated ginger – 1 tsp
Kasuri methi/dried fenugreek leaves – 1 tbsp
Cumin seeds – 1 tsp
Garam masala – 1 tsp
Red chili powder – 1 tsp
Turmeric Powder – 1/4 tsp
Salt to taste
Cooking Oil – 1 tbsp
Method:
1) Add tomatoes and ginger in a blender and blitz it to make a tomato paste.
2) Wash and pressure cook baby potatoes till they are soft and cooked. Peel the baby potatoes.
3) Add oil in a frying pan and when its warm, add cumin seeds.
4) Saute it for few seconds and then add the tomato paste to it. Saute it nicely for few minutes till oil separates.
5) Add baby potatoes,  1 cup water, garam masala, chili powder, turmeric powder, salt and mix it well.
6) When it starts boiling, add fenugreek leaves. Let it simmer on low flame for 2 minutes.
Transfer in a bowl and serve with rice or flat bread.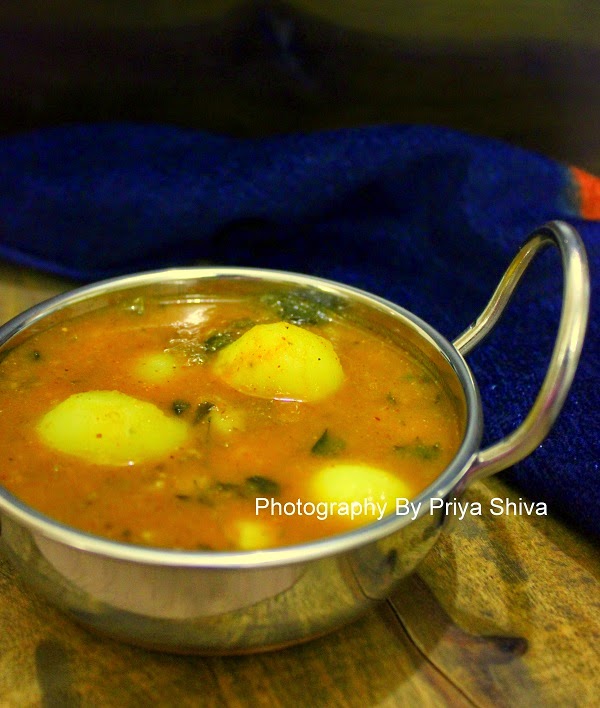 Yum