Chandrahara is a traditional sweet from state of Karnataka, India. This sweet is specially made for festivals, weddings and other special occasions. It is made with semolina and served with rabdi. 
Check out the complete video to make Chandrahara easily at home. 
I have a big sweet tooth and simply love Indian sweets. Few of my favorites are 7 cup burfi, Jalebis, Gulab Jamun etc. And festival times are just incomplete without sweets & desserts. I have used Idhayam Mantra groundnut oil for deep frying. I prefer using Idhayam products as they are pure and natural. Idhayam Mantra Groundnut Oil has high smoking point which makes it ideal for deep frying snacks etc.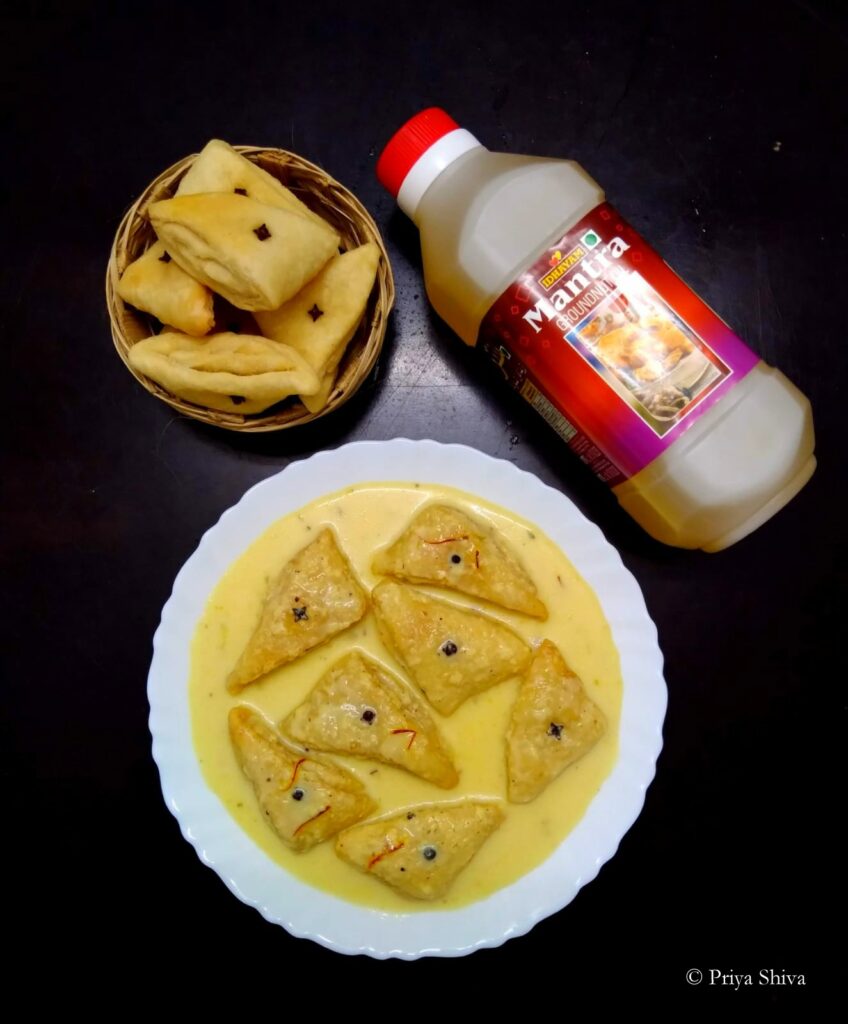 So, check out the detailed recipe for making Chandrahara and do try it out for this festival season.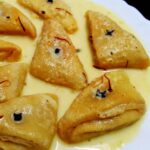 Chandrahara Recipe
Ingredients
Semolina - 1 cup

Salt - 1/4 Tsp

Ghee - 3 Tsp

Milk - 1 liter

Sugar - 100 gm

Cardamom powder - 1 Tsp

Nutmeg powder - 1/4 Tsp

Pistachios - 8

(crushed)

Plain Khova/dried milk - 100 gm

Kesar strands - 10

Rice flour 2 Tsp

Cloves - 15

Idhayam  Mantra Groundnut oil for deep frying
Instructions
Add semolina 1 cup in a bowl along with salt and 1 Tsp Ghee. Add sufficient water and combine to form a stiff dough. Rest the dough for 30 minutes.

Heat 1 liter milk. Once it starts boiling, let it simmer till it reduces to half quantity, then add sugar (100 gm), cardamom powder, nutmeg powder, few saffron strands, plain khova and finely chopped pistachios. Mix it well and let it cook on low flame for 5 minutes. Rabdi is ready.

 In another bowl add 2 tsp ghee, rice flour and mix well.

Take the rested dough and divide  into 4 equal parts. Roll one part of the dough into chapati size. Likewise roll all the 4 parts.

Apply ghee-rice mixture evenly over a chapati, place 2nd chapati on that and apply the mixture again. Repeat the same for all 4 chapatis. Roll it and give a rectangular shape. Cut it into equal parts in triangle shape. Pierce the clove in center. (Watch the video for more clarity)

Heat Idhayam Mantra groundnut oil in a frying pan. Deep fry them in oil in low to medium flame until it turns crisp and light brown.

Add rabdi few minutes before serving.
Yum