I love Indian sweets and some of my all time favorite are kaju burfi and gulab jamuns. I love 7 cup burfi and going to share an easy recipe to make it with you all today. It is a delicious fudge made with besan which is chickpeas flour. You combine ghee, sugar and freshly scraped coconut to it and 7 cup burfi is ready. It also has a flavour of cardamom which makes it even more scrumptious.
Check out the video to make fudgy 7 cup burfi:
I have added 1/2 cup of Idhayam Mantra groundnut oil to enhance its taste and texture. You can also check out the recipe to make colorful rose jalebis also from my blog. 
I have also sprinkled some musk melon seeds on top of the burfi. You can even sprinkle some crushed pistachios to give it a nutty flavor. This Indian sweet is also made for festivals like Diwali, Navritri etc.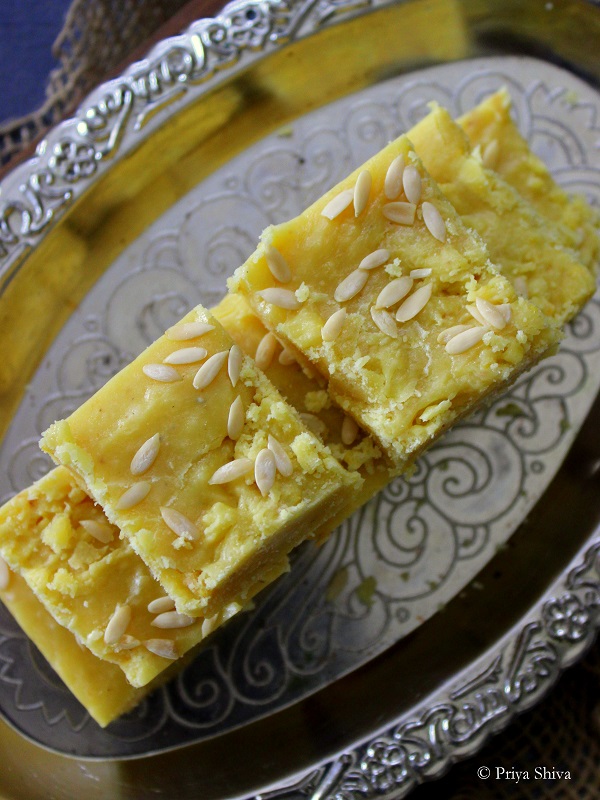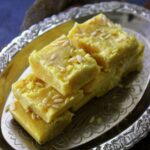 7 cup burfi recipe
Ingredients
Besan/Chickpeas flour – 1 cup

Freshly grated coconut – 1 cup

Melted Ghee/Clarified Butter – 1 cup

Idhayam Mantra groundnut Oil - 1/2 cup

Sugar – 2 + 1/2 cups

Milk – 1 cup

Green Cardamom – 2 (powdered)

Melon seeds - 2 tbsp
Instructions
Grease a bread loaf pan with ghee and keep it aside.

Combine chickpeas flour, coconut, milk, ghee, Idhayam mantra groundnut oil, sugar in a heavy bottom pan and mix it well.

Place the pan on the gas stove on low flame and stir continuously for few minutes.

Now you'll start seeing it bubbling and ghee leaving on sides.

Add cardamom powder and when when it thickens, transfer the content into the ghee greased pan and leave it for few minutes.

When it is still warm, sprinkle crushed pistachios, melon seeds on top and cut it into square pieces. When it cools down, keep it in an air tight container. 
Yum