Someone rightly said – greatest accomplishment is not in never falling, but in rising again after you fall. I watched you fail and be steady. I watched you struggle and rise again. I have seen you in deep pain and still smile. I'm talking about my first love, my inspiration – "My Mom". If I know love, it is because of you. If I'm what I'm, it is because of you. I have always looked upon you and you have always been there to hold me. I made these Pista Badam Burfi for my sweetest mom..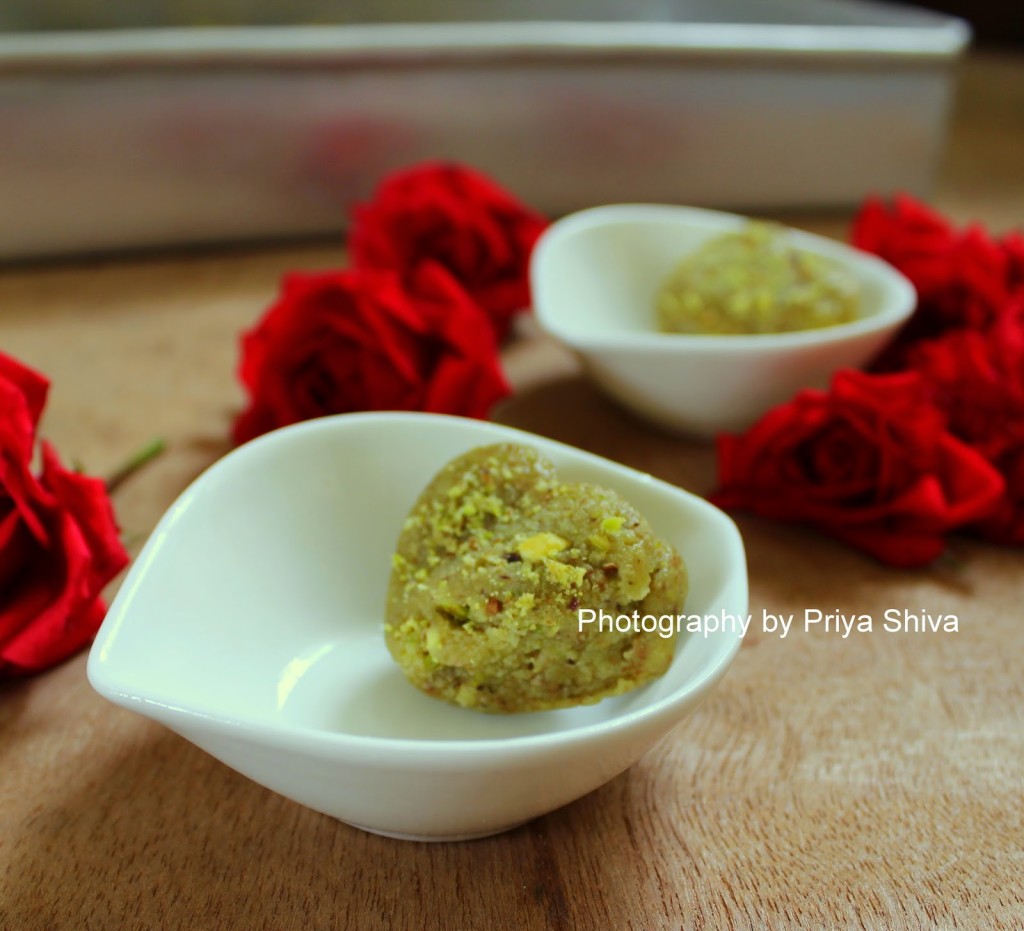 If I know anything about cooking, it is because of her. My passion for cooking started from her kitchen. I was a fussy kid and she will always make me eat by cooking beautiful dishes with so much of love. I'm allergic to egg and I learnt from her that cakes and cookies can be eggless too. I wish to give you all my strength and hope that whoever reads this post keeps you in their prayers.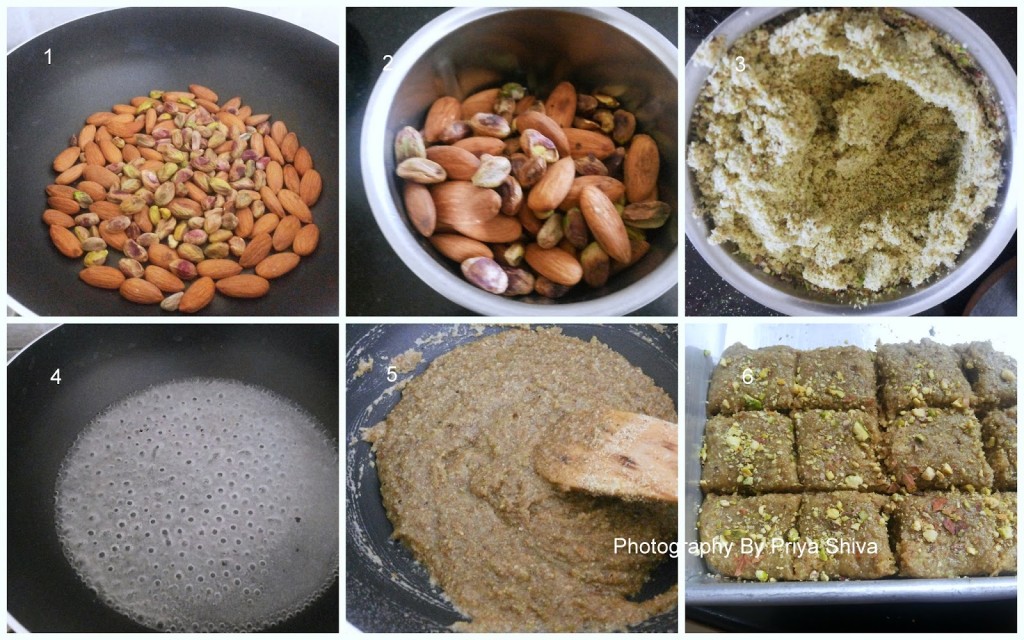 I have learnt to make these sweets from her and the way she makes these different kind of burfi are simply awesome. Burfi is a milk based Indian sweet which is very similar to a fudge. This is a burfi which is rich and delicious with a combination of pistachio and almonds. I have used dry milk powder as it simplifies making burfis. So, sharing a step-wise recipe for Badam Pista burfi and hope you all try it out and share the feedback with me! You can also try 7 cup burfi recipe from my blog.
Pista Badam Burfi
Make a delicious fudge with goodness of pistachios and almonds!
Ingredients
Pistachio - 1/2 cup

Almonds - 1/2 cup

Sugar - 1/2 cup

Water - 1/4 cup

Dry Milk Powder - 2 tbsp

Green cardamom powder - 1 tsp

Ghee/clarified butter - 2 tsp
Instructions
Roast pistachios and almonds on low flame for 2 minutes. Let them cool down completely. Grease a square plate with 1 tsp ghee and keep it ready.

Add all the nuts in your grinder and powder it in one go. If you take too much time to grind, it will start oozing oil and become sticky.

Boil sugar and water in a pan and when it comes to one string consistency, lower the flame.To check one string consistency, take a drop of the the water and sugar mixture and try making a string between your index finger and thumb.

Add powdered nuts, milk powder, cardamom powder and 1 tsp of ghee and keep stirring. In few minutes it will automatically turn into a dough.

Remove from gas stove and pour the mixture into a greased plate and spreads evenly.

When it cools down cut it into equal pieces and store it in a cool place. You can garnish with some chopped or powdered pistachios.
Recipe Notes
You can also use khoya in place of milk powder or avoid using it completely.
You can shape them in desired shapes using shape cutters.
Consume this sweet within few days.
If you're not able to cut into squares and its too soft, add it back in a pan. Cook for another 2 minutes, spread on a greased plate and then cut into shapes once it cools down.
Yum