Gobi Manchurian is a delicious Indo-Chinese dish which is served as a starter or snack. My husband loves Gobi Manchurian and I have been thinking of sharing this recipe for long. It is made with cauliflower cooked with in rich sauce. Its a perfect appetizer and usually loved by everyone.
Check out the video recipe for Gobi Manchurian and make it at home in minutes!
I have used Idhayam Mantra groundnut Oil to make it. Some of the other starters which you can try from my blog are – Cheesy Potato Bread Balls, Bread Paneer Cigar, beetroot cutlets.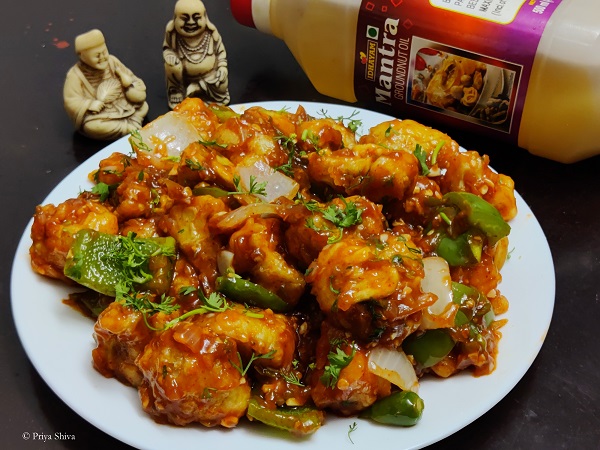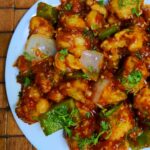 Gobi Manchurian
Ingredients
Cauliflower - 1 Medium sized

Onion - 2

Capsicum - 2 TBSP (cubed)

Garlic - 10  cloves (finely chopped)

Ginger - 1/2 inch

Green chillies - 5

Red chilli powder 1 tsp

All purpose flour - 2 tbsp

Rice flour - 2 tbsp

Besan flour - 2 tbsp

Cornflour - 2 tbsp

Tomato ketchup - 2 tbsp

Soya sauce - 2 tsp

Chopped coriander - 2 tbsp

Idhayam Mantra Groundnut oil - 2 tbsp and for deep frying

salt to taste
Instructions
Chop and clean cauliflower. Soak florets in warm salt water for 15 mins.

Add 2 tbsp of Idhayam mantra Groundnut oil in a pan, add 1 tbsp garlic,  2 slit green chillies , 1 cubed onion n capsicum and sauté. Transfer in a cup.

In the same pan, add 1 finely chopped onion, 2 tbsp chopped garlic, 3 chopped green chillies & chopped ginger and sauté until it gets cooked. Add salt to taste, Red chilli powder, soya sauce, tomato ketchup and mix well. Add corn slurry and adjust the consistency. Cook for a minute more and Manchurian sauce is ready.

In a bowl, add All purpose flour, rice flour, besan flour, corn flour, salt. Add water & mix well to prepare the batter. Do not make it runny or it will not coat the cauliflower florets.

Add the florets into the batter, mix and set aside.

Pour Idhayam Mantra groundnut oil in a frying pan and heat. Once the oil gets hot, drop the florets one by one in the oil & deep fry on medium flame until it gets crisp.

Heat the Manchurian sauce, add water if its thickened. Add the fried florets and saute for a minute. Add cubes of onion & capsicum, and mix well.

Garnish with chopped coriander and Gobi Manchurian is ready to serve.
Yum