I have connected to some amazingly talented bloggers in my journey of blogging and it is time again to introduce you all to one of them. She will tell you a story and make you drool with gorgeous food photography. I'm talking about my dear friend Sandhya who blogs at Sandhya's Kitchen. She has brought these delicious Soya Chunks Cutlet for all of us today.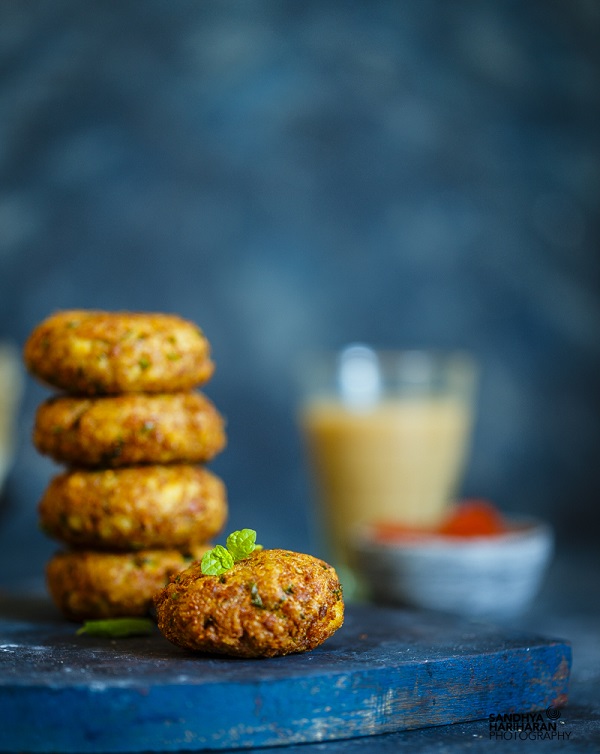 This is what she has to say to all of us – "Thank you Priya for inviting me to your gorgeous Space. Its a privilege for me to write for your readers who are used to delicious recipes every week! Oh what a fab time we had in Bangalore!!!! That's when we met in person, apart from our regular virtual meets. It has been wonderful to know the bubbly, cheerful, confident and determined Priya !! There is so much to learn from you and I totally take bow to you my dear mentor friend.  Cheers to many more lovely times together. "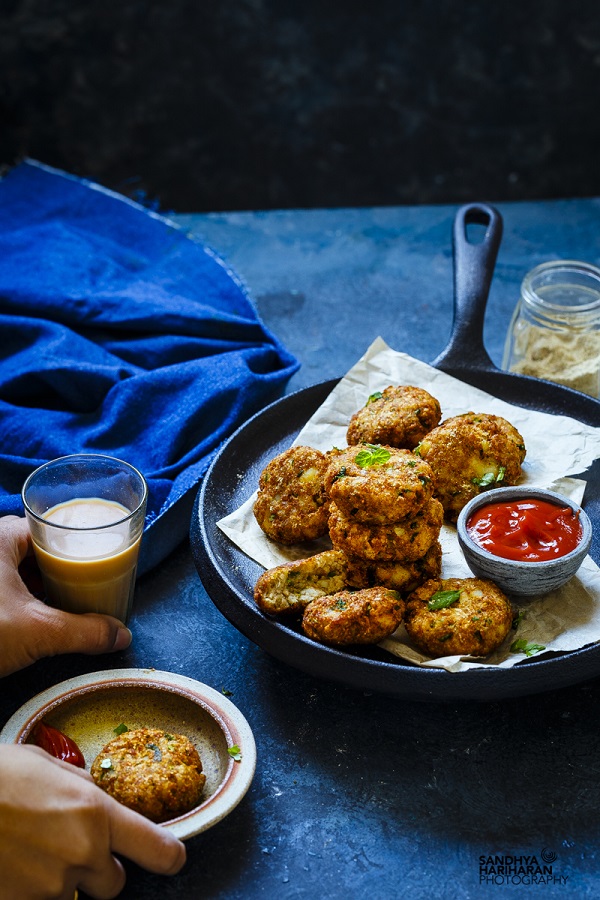 It is an amazing feeling when you get connected with like-minded people. Sandhya lives in London and we recently met during her visit to India. So, our friendship has grown even stronger and I always look forward to talk to her. Her passion for food flows in her images. I would have loved to devour these Soya Chunks Cutlet with her over a cup of ginger tea and talking about our passion for blogging. Cheers to our friendship!
Coming to this Protein Rich Recipe, Soya Chunks is often used as Meat Analog.. Being a vegetarian, incorporating them in our regular food is something I always look forward to. Sandhya has brought an easy Soya Chunks Cutlet Recipe that can be enjoyed as a tea time snack or even as a snack for your kid's lunch box. Thank you Sandhya for bringing this amazing recipe and sharing such beautiful food images. Thank you for the kind words..Do try out the recipe and share your feedback with us.
Do check out Sandhya's blog and connect with her.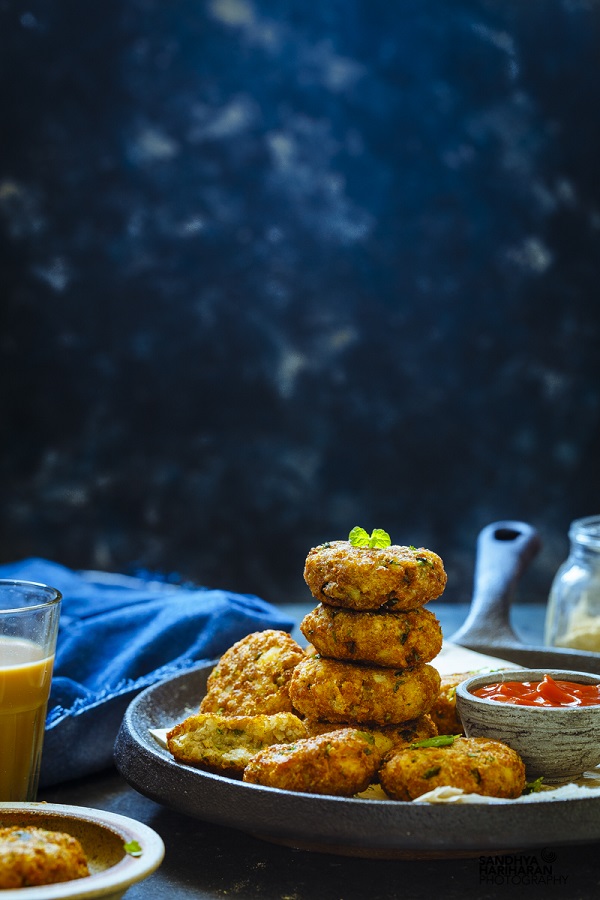 Soya Chunks Cutlet – Guest Post By Sandhya
Author:
Prep time:
Cook time:
Total time:
Ingredients
1 Cup Soya Chunks
1 Medium Sized Potato / 180 g
1+1/2 Bread Slice
2 Tbsp finely chopped coriander leaves
1 Tbsp finely chopped mint leaves
1 Tsp Freshly Grated Ginger
1 Tsp Freshly Grated Garlic
1 Green Chilli finely chopped
1/2 tsp Cumin Powder
1/2 tsp Chilli Powder
1/2 tsp Garam Masala
1/3 Tsp Cinnamon Powder
1/3 Tsp Cardamom Powder
3/4 Tsp Salt
2 Tbsp Cornflour
1/2 Tsp Oil
Vegetable Oil of Frying
Instructions
Soak Soya Chunks in 2 Cups of Boiling Water with a Pinch of Salt. Set it Aside for 30 minutes. Soya chunks nearly doubles up in size. Drain and squeeze out excess water. Bltiz them in a Blender to obtain a Soya Mince. This roughly weighs 180g.
Blitz Slice of bread in a blender to obtain bread crumbs.
Heat 1/2 Tsp Oil , Add Ginger, Garlic and saute until raw smell is eliminated. Add Soya Mince along with dry spice powders and mix well. Saute until all the moisture is reduced.Remove from heat and set the mixture said to cool down.
To the Spiced Soya Mince, add mashed Potatoes, bread crumbs, salt and cornflour. Mix them until they combine well. Shape them into round patties .
Heat oil for Deep Frying. Check for heat by dropping a small ball of the mixture into the oil. If it sinks, it means the oil needs to achieve the right temperature. If it springs up too quickly, it means the Oil is too Hot. Oil needs to be Medium Heated. Drop one patty into the oil and deep fry for 2 minutes until they turn brown on either sides. Repeat the process for the remaining 10 of them. You many fry them in batches after testing the first cutlet.
Serve these healthy Soya Cutlets Hot or Cold with Tomato Ketchup at Tea Time.
Notes
If you are cooking for kids, you may omit green chillies.[br]The mixture for Soya Chunks Cutlet needs to be well done, not runny. Even after adding 1 potato, if the mixture needs more binding agent, do add one more potato and pop them back to the pan. Saute until most of the moisture is removed.
Yum