As a part of our mandatory travel once in two months, we were looking this time for a longer holiday getaway. However, due to last minute planning we were unable to find any decent accommodation in locations we had shortlisted. That's when Grand by GRT Hotels offered us a two night stay which was too good to resist. Having lived in Chennai for close to 5 years, we had explored the entire nook & corner of Chennai and wanted to use these two nights just for relaxing at the hotel. It wasn't until after we had booked everything, a family member asked me why I hadn't looked at London. We had been talking about it before but it didn't cross our minds in our panic of last-minute planning! He said that there were the flemings mayfair hotels we could have stayed at… Lesson learned there, plan ahead and you could be in boutique luxury!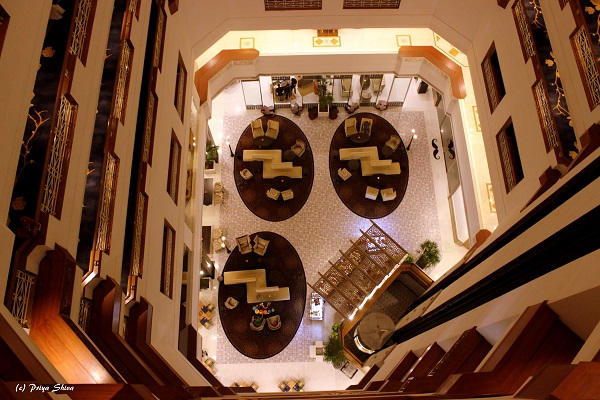 A little background:
Grand by GRT Hotels, Chennai was badly battered in the December 2015 rains and had to be shut down for close to three months for renovation. As it is true with all setbacks in life, GRT management decided to use this as an opportunity to bounce back more stronger and take the whole Hotel experience to an all new level and renovated the hotel with a lot of new vigor and ideas. This rise-from-the-ashes-phoenix-spirit, runs through the entire DNA of GRT now, that you will notice they have almost reinvented everything about them and as you read on you will find out that they are going to enthrall you with a great experience.
As we enter Grand Chennai by GRT, we are welcomed by its Grandeur and opulence. The Chandelier in the lobby designed by Gautham Seth is a spectacle to be witnessed when in full glow. The tall Lobby gives you an air of regality and makes you feel royal immediately.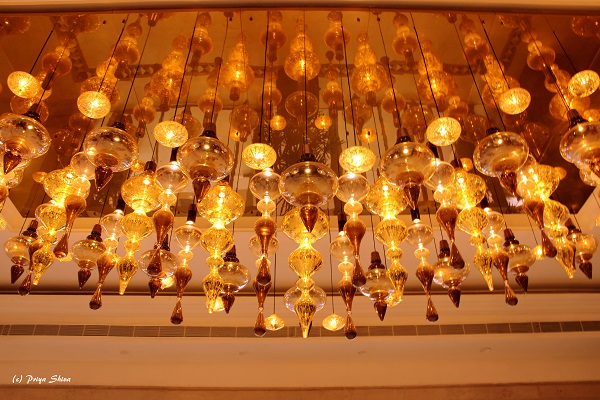 The Sunday Sundai Experience:
We checked in on a Sunday afternoon and were welcomed with two of their choicest welcome drink and after checking in, we were straight away ushered into the Sunday brunch.
The brunch is designed keeping in mind the lazy Sunday morning, when you feel like doing nothing at home. Just pull yourself up and present yourself at GRT around noon and the rest is taken care off. The Menu of the brunch is quite elaborate and comes with the tag line "A brunch that packs a punch" and stands true to its name. The Brunch happens in the lobby restaurant called "Bazaar – All Day Diner".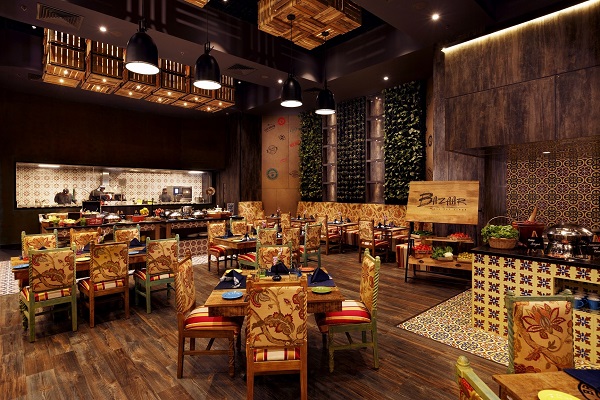 There are four live counters that kick start your gastronomic journey.
A live chat counter, where Chef entertains you with his acrobatic antics with food and gives you Nitorgen Pani Puri that are filled with a mango paani or beetroot paani and Liquid Nitrogen. It still has the tanginess of our regular pani poori , but is a new twist to the entire fanfare of eating a pani poori . The Liquid nitrogen keeps the entire episode entertaining and creates an impressive cloud of vapor.
A live mocktail counter that makes some astonishing drinks that kindle your taste buds and build an appetite.
A "Zero diet salad "counter for the calorie counters in you, where chef dishes out some fantastic salad with ingredients of your choice.
And finally the counter which they cook non vegetarian delights as per order .
They also have a "super bowl" counter which gives you the freedom to choose the contents that could go into your bowl and is cooked with different types of sauces.
Apart from the live counters, the spread on buffet is quite extravagant and the deserts are lip smacking.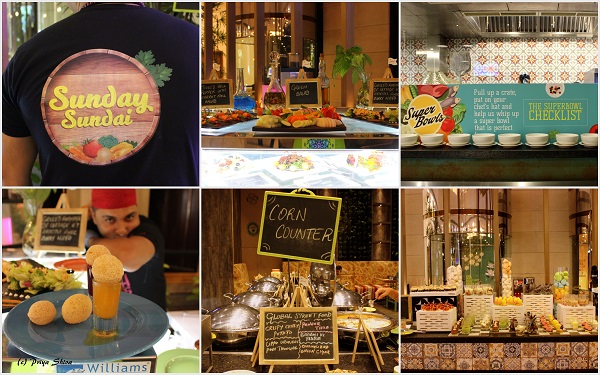 To keep the kids engaged, there is a balloon twisting counter & a tattoo counter. There is also a kid's special counter which serves small sized doughnuts & cupcakes along with some fries.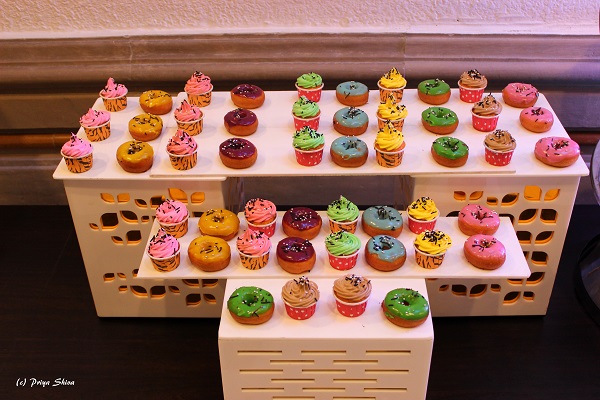 And to keep everyone entertained, the in house singer, Ryan Fernandez belts out all the popular English numbers and for a moment you feel Bryan Adams is in the hall.
Just when you feel, you have been enthralled enough and have soaked yourself in great food, royal decor & elegant ambiance are ready to just squeeze you into your rooms for a quick afternoon nap, the floor staff of "The Bazaar" break into an impromptu flash mob to the tunes of "oppo gangnam style". On the whole it was a mesmerizing experience which not only catered to the foodie in us but the experience lovers in us.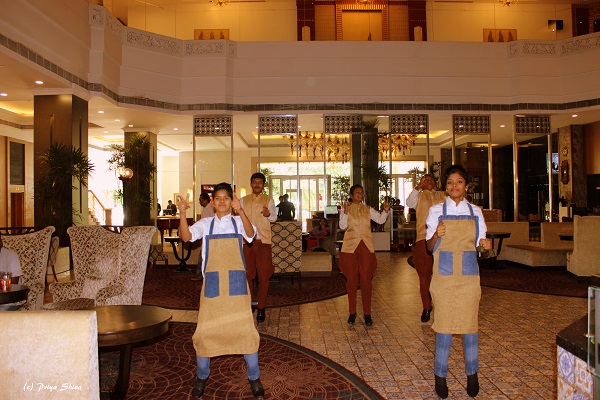 The corridor décor experience:
Having traveled a lot in the last two years, and checking in & out of hotels, we have always used the hotels as a resting place for the night, for a good shower in the morning and for some good complimentary breakfast zone for the wandering traveler in us. Since Chennai was not an alien place to us, having lived there for a long time, we dint feel like venturing out. As we just walked out of our room after a quick nap, the Grand Chennai by GRT Hotel management wanted us to take a look at all their floors which we happily agreed.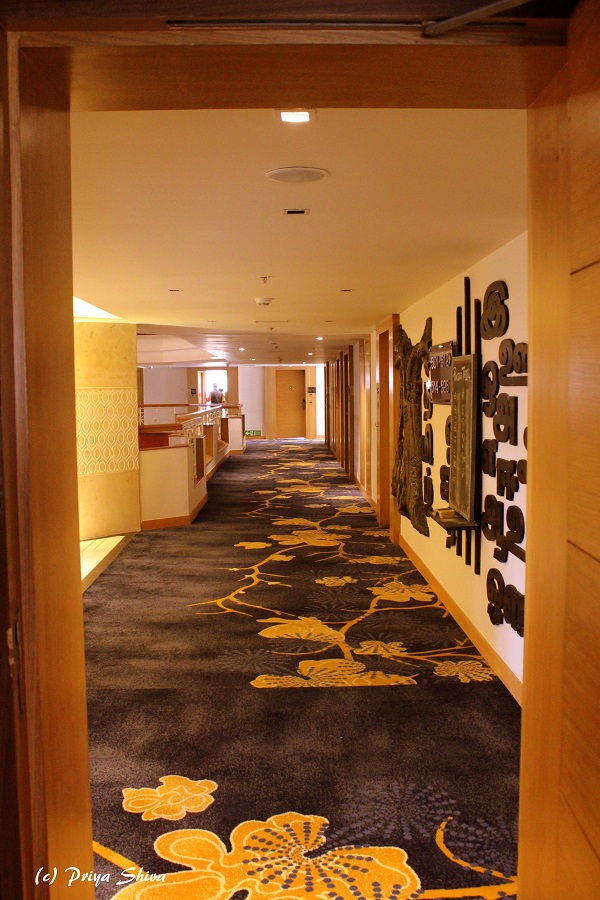 Each floor of Grand by GRT has a corridor theme, highlighting the life & culture of Tamil Nadu.
The 4th floor corridor has been designed with the "Jewelry theme" highlighting the jewelry of Tamil Nadu. You can see a few antique pieces of jewellery that has been part of the Tamil culture for decades, carefully embedded in the walls.
The 5th Floor, has a "Tamil language theme" where the alphabets of the Tamil script are artfully recreated in the wall , with a black board for practicing the script of Tamil . Being the direct descendants of the great Tamil scholar Vu. Ve. Swaminatha Iyer (fondly called the Tamil thatha) we felt a lot of pride seeing Tamil being splashed all over the place.
The 6th floor has the "Tamil Nadu art & crafts theme" where a lot of rare artistic sculptures and craft are displayed in a neatly stacked wooden shelf.
The 7th floor has the " Tamil Nadu Textile theme" , showcasing art made of the traditional attire of silk sarees .
The 8th floor has "Tamil cinema theme" with the wall being adorned with trivia's of Tamil cinema, tracking the history of cinema from the days of MGR , Sivaji to Rajini & Kamal.
The 9th and the topmost floor has the mural of important heritage sights of Tamil Nadu in the form of a wall mural , which apparently has been put together with a lot of effort showcasing, a typical Tamil agraharam, the Madurai Meenkashi temple and the Tiruvalluvar statue in Kanyakumari.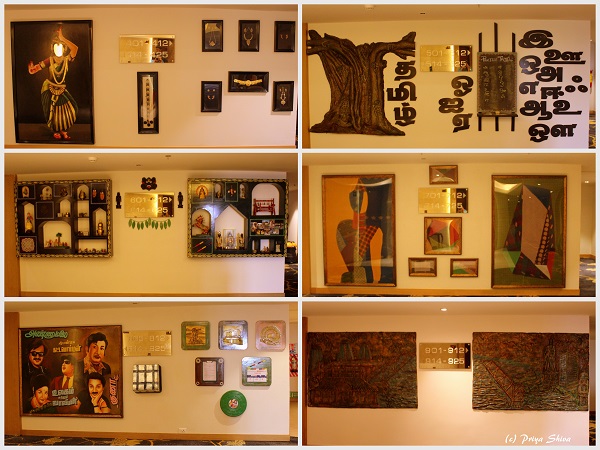 These corridors speak a story by themselves, and is a great insight to any traveler who is alien to the Tamil culture. We would like to give a good "pat on the back" to the Grand Chennai by GRT management for putting together such a theme for the corridors.
Apart from the above, the 1st floor houses three Banquet halls, the largest of them being the Southern Crown, followed by King stone hall and finally the small meeting room named Rubiana. These could hold approximately 350 to 500 people and can be used for any event or occasion.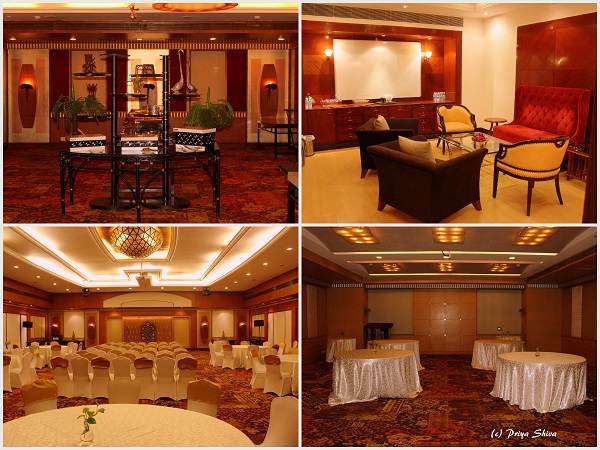 They also have the GRT Convention center next door which has close to five banquet halls with varying dimensions , which could be used for any event right from fashion shows to weddings to corporate get together.
As we strolled through each floor, we saw an elegant room designed in all bright red. The looks of it from outside gave an aristocratic look and we were soon drawn into that room.
Grand club Lounge: Situated on the 8th floor is the Grand Club Lounge, an exclusive lounge for the chosen few. You can play billiards, read a book from the mini library and sip on to your favorite drink in an all royal environment. Luxurious sofas in milk white color compliment the red décor and will transport you to an immediate trance like experience. Happy hours ahead …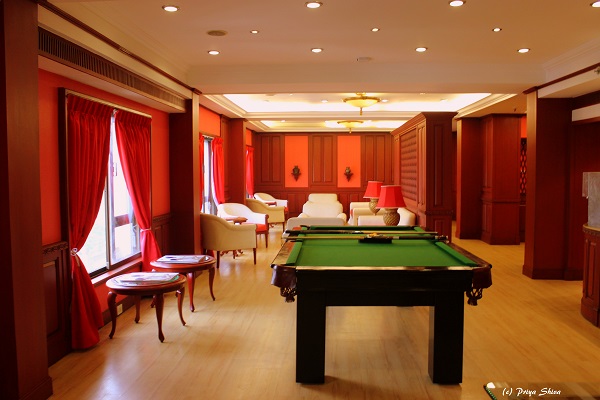 Art Bistro: Situated on the 1st floor is the "Art bistro – culture on a platter ". Bright orange /red colors announce the arrival of the art bistro , which attracts your attention from the other end of the floor. On inquiry, we found out this place serves different types of beverages (mostly non alcoholic). The highlight of the place is that it couples as art center where paintings by three artists are evenly displayed across the walls. I am sure more artists will be featured in the near future. The paintings would be on sale too and as time goes by I feel this will be India's own Sotheby's, auctioning some elite paintings and attracting the art connoisseurs. Hope to be there one day bidding for the paintings…..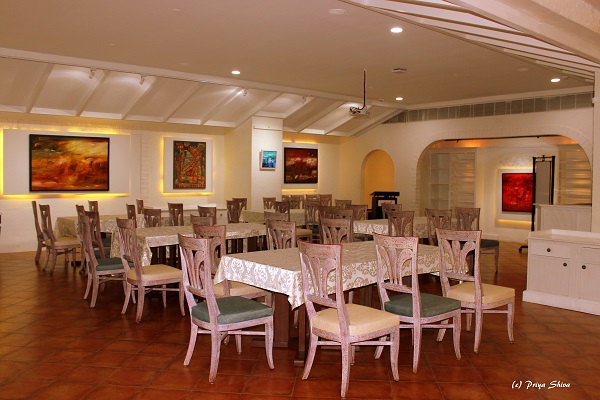 The Spirited experience:
Being done & dusted and having run out of STEAM by this exclusive show around the property we decided to hit the bar/pub for a few mocktails/cocktails.
Steams & Whistles bar: Aptly named the steams & whistles, this bar peps your steamed out soul and makes you whistle at the end of the drink. Steam and Whistles is a gastro-bar fashioned after the glorious American bars of the 1920's, and the menus offer fine wine, innovative cocktails and bar snacks. In an interesting juxtaposition of cuisine and character, guests can savor inventive Himalayan cuisine from the live kitchen.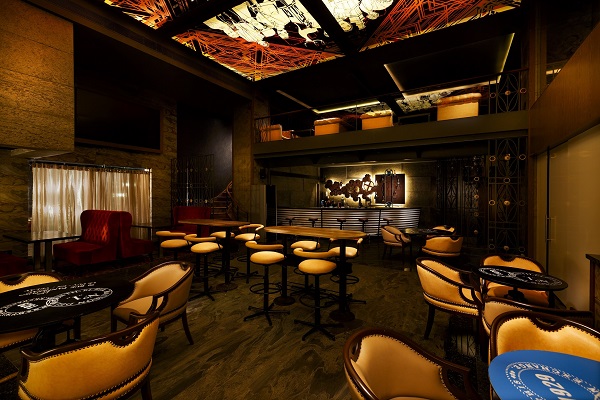 We tasted two mocktails and two cocktails, all in good spirit. The cocktails which they served us were Sewanea and Picaso. Both the cocktails were refreshing and we highly recommend them. They also served us Kesar Thandai and Drago mocktails which was all we needed to get us in the groove.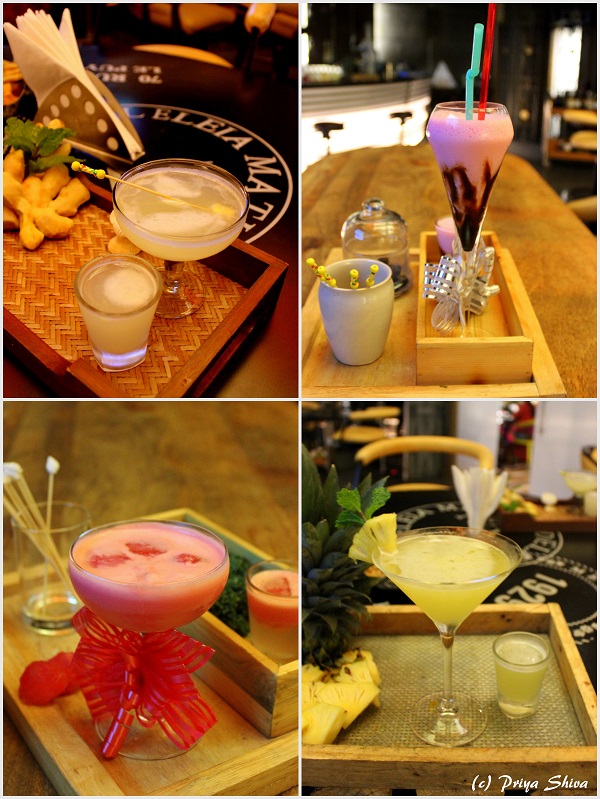 The code pub: The underground pub of GRT is named "The code". Only open over the weekends for the public, the décor looked grand and there is a ladies only night on Fridays. Hope the girls get to paint the pub blue.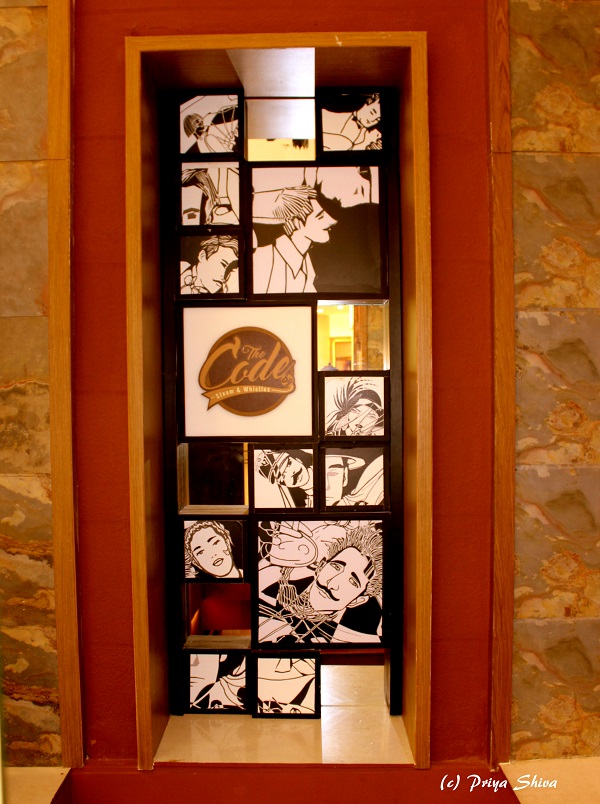 That brings us to the end of day 1 at Grand days ….
The wellness Experience:
After all the grind and continuously adding calories we decided to burn a few calories next morning. We did use the very well-equipped gym. After a few cardio rounds and little bit of weight lifting we felt we were ready for the next round of foodie in us. Our son who is a Piscean and takes to water like a fish had plans of his own. The moment he set his eyes on the indoor pool, he wanted to go for a splash. The swimming pool appears to be inspired by roman architecture. The 4.5 feet pool is neat and has got a shallow sit out structure on the other end. We spent some quality time in the pool too. The entire wellness experience would be incomplete if we dint allow us to be pampered in the "Bodhi Spa". Beautifully designed and visually engaging ambiance in the spa makes you feel serene and the mild music and aromas from the scented candles transport you closer to divinity. We did try the shoulder massage and foot massage. As we were about to leave we glanced upon the couples therapy room, where couples could take the spa session together. The bath tub with Jacuzzi near the couple's therapy room was very inviting. For lack of time we decided against the couple's therapy, but could assure you this could be one romantic experience if you believe in doing things together as a couple.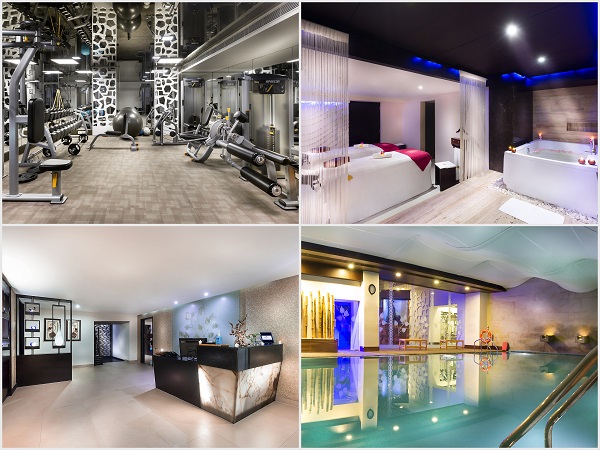 J Hind Restaurant Experience:
We continued our day with a scrumptious lunch at J Hind restaurant in Grand Chennai by GRT. J Hind restaurant is an experience to be lived. This is first of its kind restaurant which we have visited till date that uses a lot of different cooking techniques. It serves you fusion dishes blending Indian flavors with modern cooking techniques. We were mesmerized by the complete design, art and antiques in the restaurant. Each nook and corner has a story to narrate..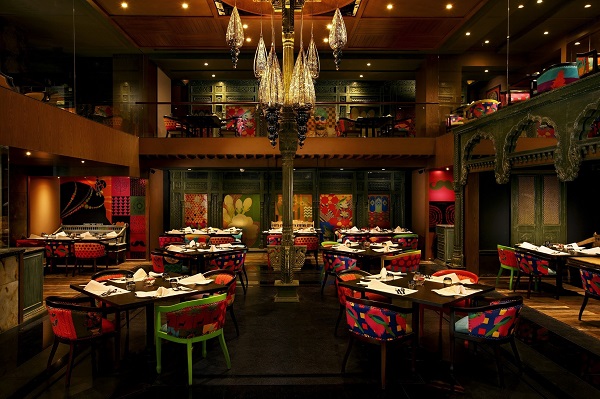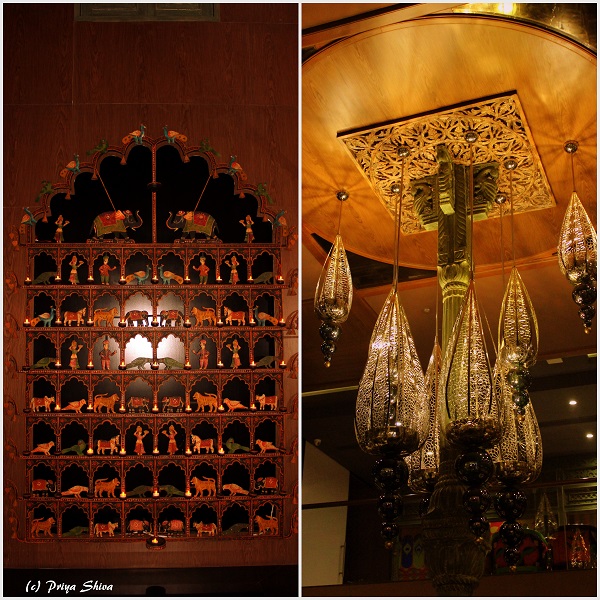 J Hind has a beautifully curated menu and it is a foodie's delight to dine there. We were the lucky ones to get some personal attention from Chefs who explained the different cooking techniques.
Sperification – The welcome drink which they have named as Humus Bush uses the magic of sperification. It transforms the dish into little spheres bursting with flavors. The Gulabi drink is served with saffron yogurt and mango pulp bursts with flavors and deliciousness. We also tasted some amazing Pani Puri using the same cooking technique. The Mint flavored water and tangy tamarind flavored water are filled into the cute little pooris using a syringe.
Foaming – We were served with a Tri-color soup which used the foaming cooking technique. The infusion of a beetroot foam adds an extra zing to the soup.
Searing – We were served Veg kebab platter which uses the searing cooking method. The kebabs are grilled at high temperature which forms a caramelized crust and different flavors just explode in your mouth..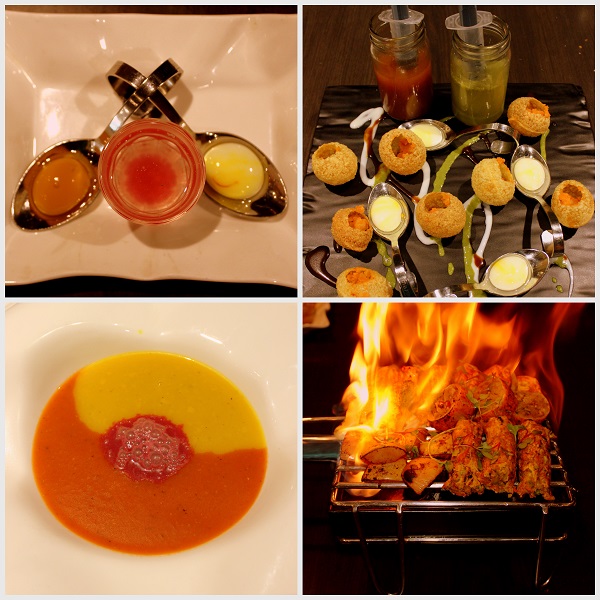 Wood Smoke Guns – We have seen wood fire cooking and even eaten food cooked on a firepit but we never expected to see a wood smoke gun used for infusing flavors into the dish..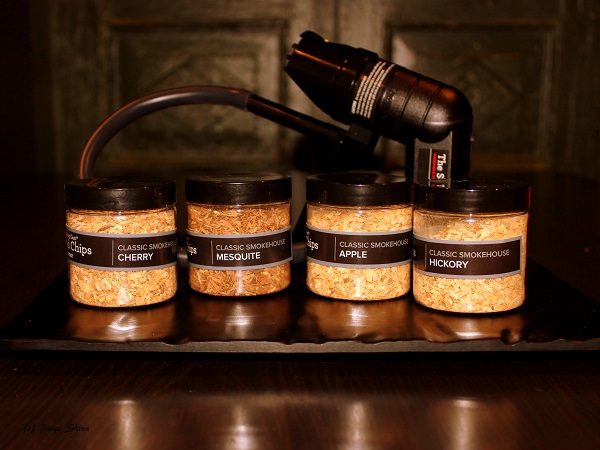 We were served some amazing dishes using wood smoke gun for smoky flavor like Magic Mushroom Malai Mutter with rumali roti and Vegetable Biryani. Both the dishes were beautifully presented and left us spell bound..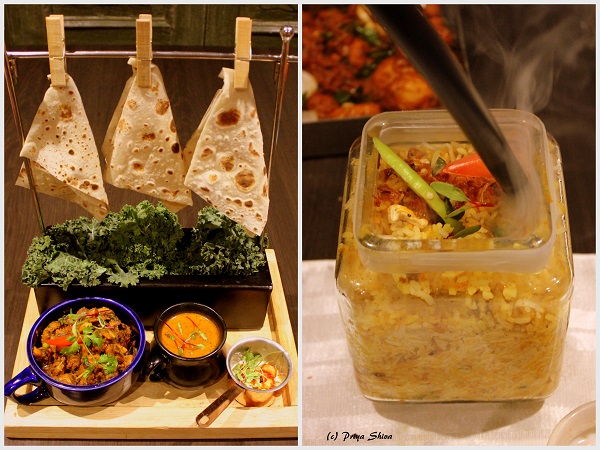 Blow Torch Roasting – The Chefs in J Hind restaurant love to play with fire and add the drama in your food. Who can think of serving a paneer sandwich with beetroot sauce and roast it with blow torching! Don't get me wrong, the excessive use of fire in the cooking of certain things did sometimes put me on edge, but I was relieved by the presence of fire extinguishers they had all around the premises (click here to see the advantages of having them in your business).
Sous Vide – The Sous Vide technique of using vacuum to slow cook meat evenly was perfected by the French but J Hind took this technique of cooking to the next level. You can enjoy some soulful Dal makhani cooked using this technique with some Amritsari Kulchas. I have fallen in love with this technique and currently searching for the Best Sous Vide Machine so that I can recreate these dishes at home.
Nitrogen Freezing – Everything starts and ends with a drama in J Hind restaurant. So, you are so captivated the whole time that you don't realize the calories you are gaining! You will love the climax as the chef brings out a trolley to show you how he prepares an amazing Dhokla chaat and Mango Froyo for dessert in front of your eyes using liquid nitorgen.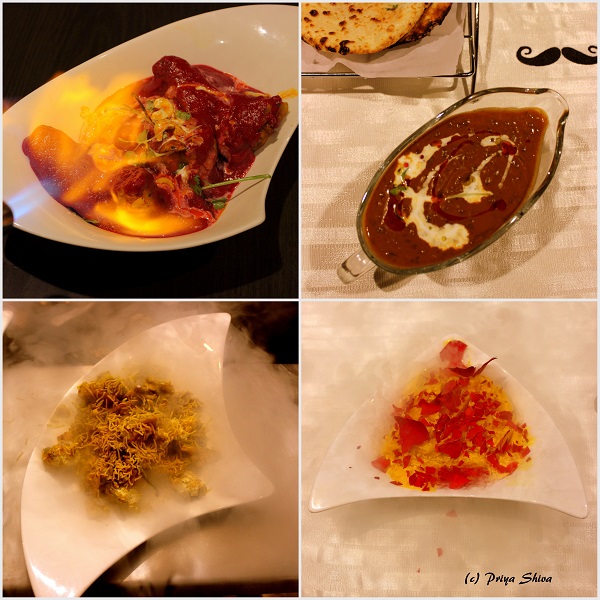 Gone are the days where eating out is all about food, people nowadays believe in experiences. Having said that, we would be willing to bet our last penny on what J Hind is going to do to the food scene in Chennai. If you have enough time and a strong hungry gang to accompany you, you should order all the dishes on their menu at J Hind and enjoy the exclusivity of this diner.
The personalized Experience:
As much as we have seen till date , we never experienced what is called the personalize preferences. Each room has got an option where you can chose the kind of pillow you want, you could get a good night teddy to keep company if you are a lady and travelling alone, and to top it all you get a complimentary hot chocolate in the night to put you to sleep. We were given a Serene room and we even enjoyed the city view from there..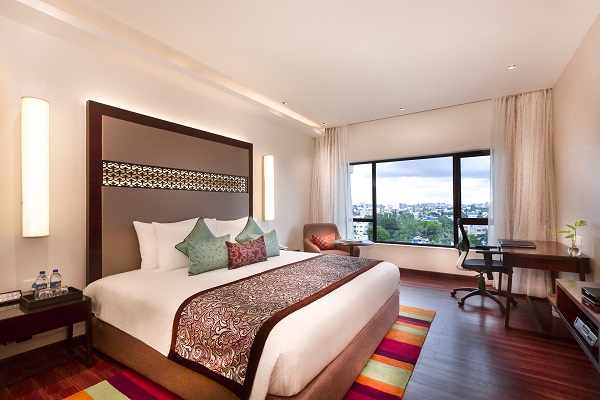 As many of you are aware, GRT hotels is a subsidiary of the GRT jewellery group. So, they also have a small set up in the lobby where jewellery from the parent company is showcased. On discussion, it appears they have made a few sales too from this counter (though many choose to get their jewellery online these days from adinasjewels.com/collections/chokers and similar retailers)They also have a complimentary pick & drop to the Jewellery showroom just in case you want to shop.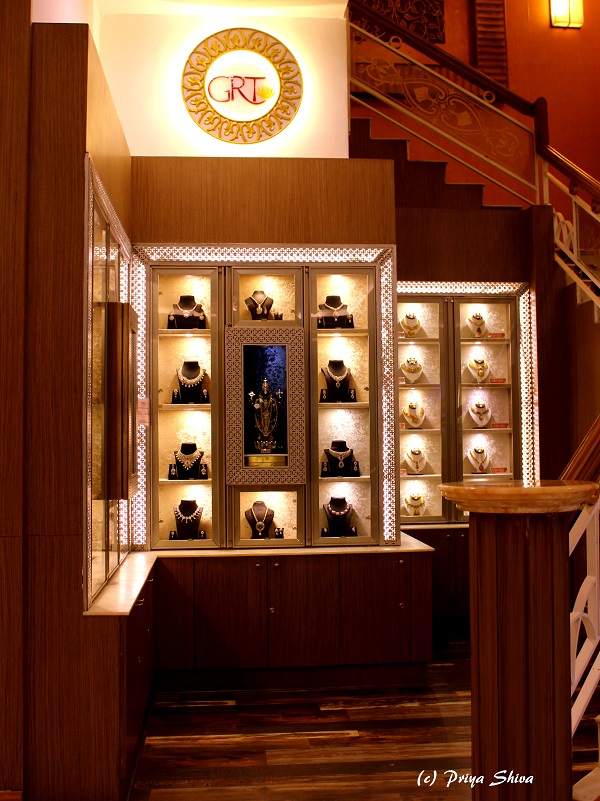 It is for all the reasons listed above we dint call this post a review, for it will stop with us pointing out the pros and cons. Grand by GRT Hotels is an experience that is to be felt , lived and cherished. We know this is the longest post on this blog till date, but no one held our attention for so long. So, whether you are planning a business or a holiday trip to Chennai, we recommend Grand by GRT hotels. It is a perfect place for your whole family. Click Here to Book now!
Until we decide to take a break and travel again, and wanting to hit the road again to explore more…. We would like to call it a Grand day in GRT Hotels.
Love,
Shiva and Priya
P. S: Watch this quick video for a virtual trip through Grand by GRT, Chennai ..
Yum