Sunday is meant for indulging into something sinful. I decided to bake something today for breakfast and made Eggless Coffee Chocolate Chip Muffin. Baking is a like a therapy. Whipping up treats in the kitchen not only creates yummy food, but also good for your mental health. In fact, cooking itself has been found to have therapeutic value which helps to ease depression and anxiety.
So, enter your kitchen today, cook or bake something for your family and get the satisfaction of feeding someone. There is no bigger happiness than seeing a big smile on the face of your loved ones. I'm sharing the recipe for sinfully chocolaty Eggless Coffee Chocolate Chip Muffin today and wish you all a great week ahead.
I just tweaked the earlier Eggless Chocolate Chip Muffin recipe in my blog. So, you can even avoid adding coffee or cocoa and make this muffins.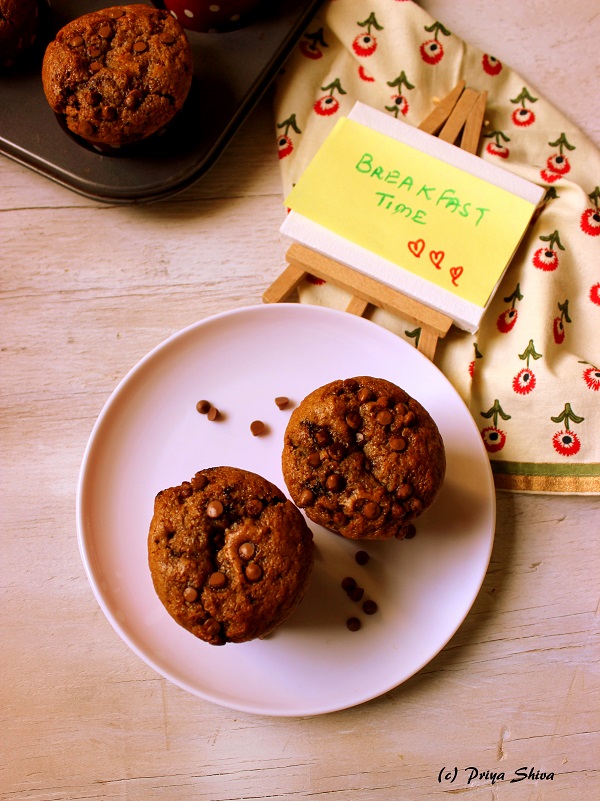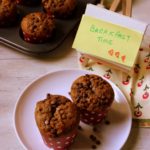 Eggless Coffee Chocolate Chip Muffins
Ingredients
All purpose Flour - 1+1/2 cup

Cocoa Powder - 2 tsp

Coffee Powder - 2 tsp (I used Instant Nescafe powder)

Yogurt - 1 cup

Chocolate Chips - ½ cup

Granulated Sugar - ¾ cup

Baking soda - ½ tsp

Baking powder - 1 + ¼ tsp

Vegetable oil - ½ cup

Vanilla extract - 1 tsp
Instructions
Sieve all purpose flour, cocoa powder, coffee powder into a bowl and keep it aside. Sift twice.

Add sugar and yogurt in a bowl and mix it well until sugar completely dissolves.

Add baking powder, baking soda to the mix and blend it well.

When you see bubbles appearing, add vanilla extract, olive oil and mix well.

Now add flour mix slowly into the wet mix and blend it well. Make sure there are no lumps in the batter.

Now add chocolate chips and give a quick stir.

Grease the muffin cups with some oil evenly and add the batter to it. Make sure to fill each muffin cup till ¾ cup. You can even use muffin liners.

Bake at same temperature for 25 minutes. Check after 20 minutes by inserting a toothpick at the center of the muffin. If it comes out clean, then your muffin is done or else continue baking for 5 more minutes and keep a watch on it.

Once it has cooled down, remove from the muffin cup and enjoy for breakfast.