I'm sharing one of my favorite breakfast recipe today for eggless chocolate chip muffins. Try them and trust me you can't stop at one! These muffins have no egg, no butter but still soft and a perfect treat for your family.
Breakfast is one of the most important meal of the day. If I'm happy with my breakfast, I'm happy the whole day. Now who can say no to some sweet muffins that too loaded with chocolate chips 🙂 .. So, sharing the recipe for eggless chocolate chip muffins and hope you enjoy making it too. Happy baking!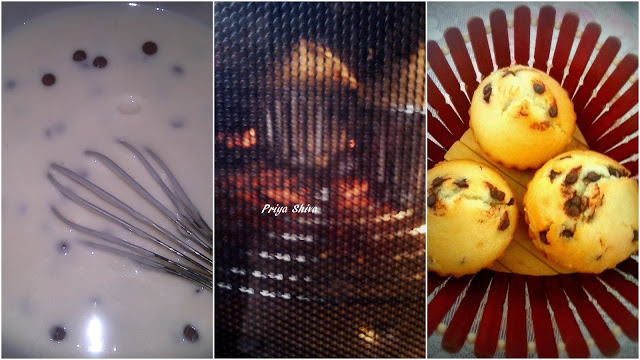 Eggless Chocolate Chip Muffins
Author:
Prep time:
Cook time:
Total time:
Ingredients
All purpose Flour – 1
wheat flour – 1/2 cup
yogurt – 1 cup
Chocolate Chips – 1/2 cup
Granulated Sugar – 3/4 cup
Baking soda – 1/2 tsp
Baking powder – 1 + 1/4 tsp
Olive oil – 1/2 cup
Vanilla extract – 1 tsp
Instructions
Sieve all purpose flour, wheat flour and keep it aside. Sift twice.
Add sugar and yogurt in a bowl and mix it well until sugar completely dissolves. Add baking powder, baking soda to the mix and blend it well.
When you see bubbles appearing, add vanilla extract, olive oil and mix well.
Now add flour slowly to the mix and blend it well. Make sure there are no lumps in the batter.
Now add chocolate chips and give a quick stir.
Preheat oven at 180 C. Grease the muffin cups with some oil evenly and add the batter to it. Make sure to fill each muffin cup till 3/4 cup.
Bake at same temperature for 20 minutes. Check after 20 minutes by inserting a toothpick at the center of the muffin. If it comes out clean, then your muffin is done or else continue baking for 5 more minutes and keep a watch on it.
Once it has cooled down, remove from the muffin cup and enjoy with a cup of coffee.
Yum