I'm in a lazy mood today and made some simple pomegranate rice for lunch. It looks colourful and has the sweetness of pomegranate and sweet corns to tempt your children. You will love this dish especially if you love pomegranate. So, sharing the recipe and hope you all enjoy it too..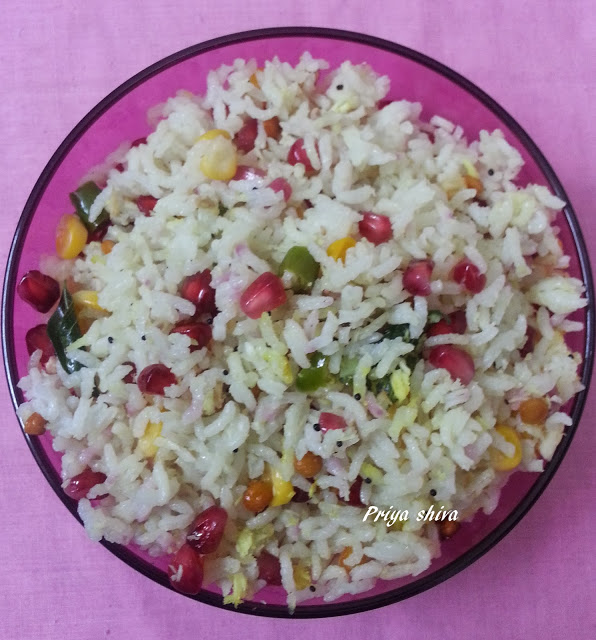 Ingredients to cook plain rice:
Raw rice – 1 cup
Water – 2 and 1/2 cups
Method to cook in pressure cooker:
If you're cooking directly in a small 3ltr cooker – Add washed rice and water and close the cooker. Cook it for 2-3 whistles and the rice is ready to be served.
If you're using basmati rice, add 2 cups of water for 1 cup of rice.
Ingredients to prepare Pomegranate rice:
Cooked rice
Peeled Pomegranate – 1 cup
Pomegranate juice – 1 tbsp
Sweet Corn – 1/4 cup
Freshly Grated coconut – 1 tbsp
Mustard seeds –1 tsp
Channa dal/Bengal Gram – 1 tbsp
Urad dal/white lentil – 1 tsp
Red chillies – 2
Chopped Green chillies -2
Curry leaves – 1 sprig
Ginger finely chopped  – 1 tsp
Asafoetida – 1/4 tsp
salt to taste
Cooking oil/Coconut oil
Method:
1) Spread the cooked rice in a plate a and keep it aside.
2) Boil sweet corn till soft and keep it aside.
3) Heat oil in a pan and add mustard seeds and a pinch of asafoetida.
4) When they crackle, add bengal gram, white lentil and roast till it becomes slightly brown.
5) Add red chillies, green chillies, ginger and curry leaves and sauté for a few seconds. Lower the flame and add grated coconut and sauté for a minute till it becomes slightly brown.
6) Add Pomegranate seeds, boiled sweet corn, cooked rice and salt and mix it well.
7) Switch off the gas stove and add pomegranate juice and mix gently.
Transfer it into a serving bowl/plate and serve it hot with some chips or papads or any side dish with gravy.
Tip: You can also add grated carrot and boiled green peas with it.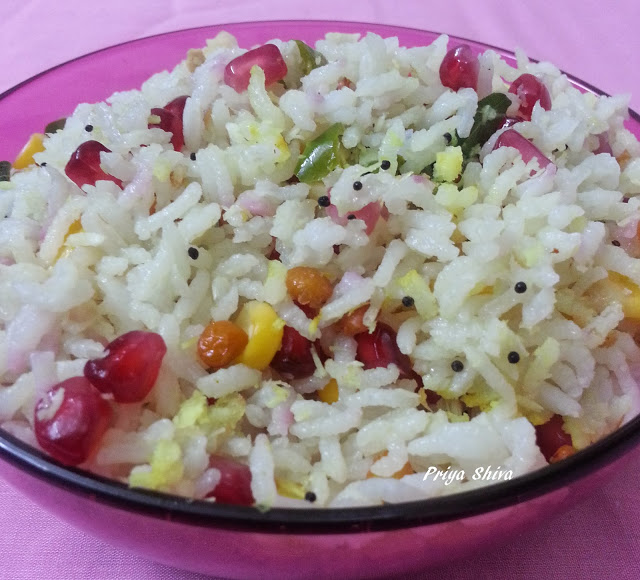 Yum