Betel leaves are widely used in India for religious ceremonies. These leaves are consumed as paan with some gulkand and betel nuts. I love adding them in smoothies and already shared a recipe for Betel leaves Kiwi Green smoothie on my blog. I'm going to share yet another interesting recipe with betel leaves today. Betel leaves are known as Vetrilai in Tamil and we make a flavorful rice dish with it known as Vetrilai Sadam. Betel leaves rice is aromatic and absolutely healthy.
Betel leaves help in digestion and even aids in curing common cold. You can simply boil some betel leaves in water with grated ginger, strain the juice and consume it to get relief from common cold and chest congestion. So, sharing an easy recipe to make some aromatic Betel leaves rice. I hope you all try it out and enjoy. You can simply serve it with some raita and papad.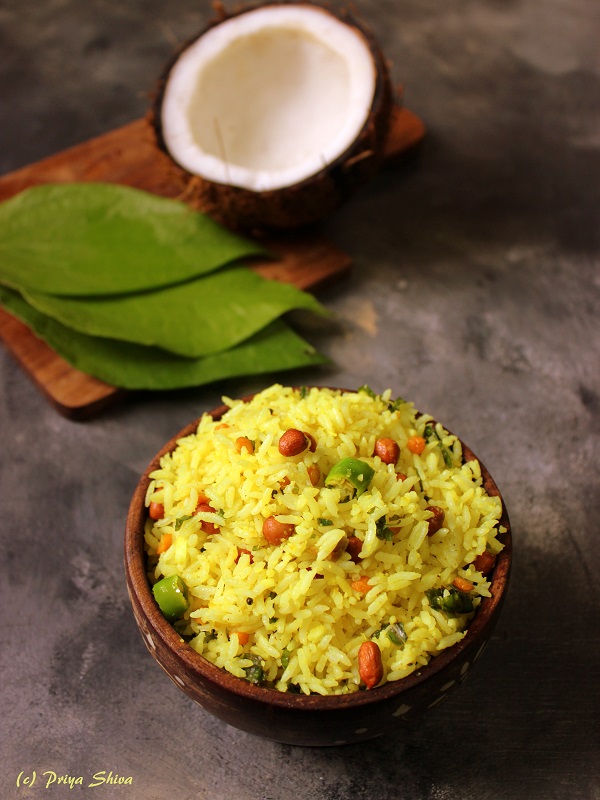 Betel Leaves Rice / Vetrilai Sadam
Ingredients
Raw Rice - ½ cup
Betel leaves - 5 (finely chopped)
Grated coconut – ¼ cup
Mustard seeds –1 tsp
Channa dal/Bengal Gram – 1 tbsp
Urad dal/white lentil – 2 tsp
Red chillies – 2
Green chillies - 1 (finely chopped)
Turmeric Powder - ¼ tsp
Curry leaves – 1 sprig
Ginger finely chopped – 1 tsp
Asafoetida – ⅛ tsp
Peanuts - 15
salt to taste
Coconut oil/ vegetable oil - 1 tbsp
Instructions
Pressure cook cleaned ½ cup of raw rice with 1+1/4 cups of water.
Spread the cooked rice in a plate and keep it aside.
Heat oil in a pan and add mustard seeds and asafoetida. When mustard seeds crackle, add chana dal, urad dal, peanuts, red chilli and roast till it becomes slightly brown.
Add green chilies, ginger and curry leaves and sauté for a few seconds.
Lower the flame and add chopped betel leaves, turmeric powder, grated coconut and sauté for a minute.
Add cooked rice and salt and mix it gently.
Transfer it into a serving bowl and serve it warm.
Yum