Mixture is a snack in India which is just mix of different savory items. We usually enjoy this snack with our evening tea/coffee with family and friends. We also make this for special occasions like diwali. Festivals are always fun specially with all the sweet and savory items. This time I decided to make some cornflake mixture for Diwali. I prepared sev and boondi and kept it ready before I started frying Cornflakes. I have already shared the recipes for sev and boondi.
I hope you all enjoy try this and enjoy for this festival season. Wish you all a happy Diwali!!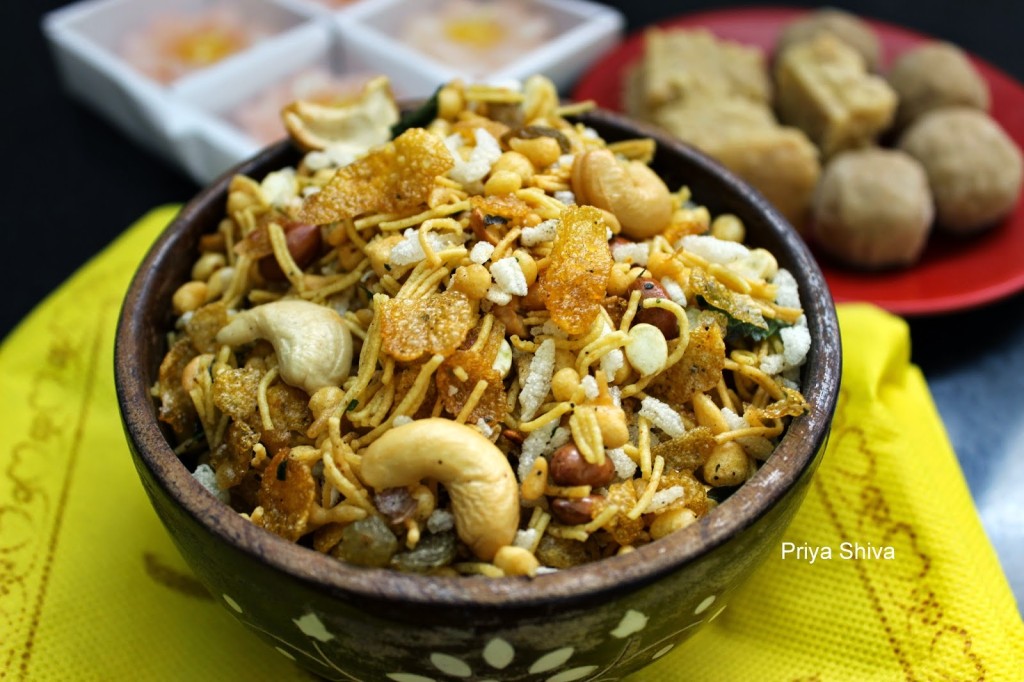 Cornflakes Mixture
Author:
Prep time:
Cook time:
Total time:
make a delicious nack using cornflakes!
Ingredients
Raw Cornflakes – 2 cups
Sev – 1 cup
Boondi – 1 cup
Roasted peanuts – 1/2 cup
Roasted Cashews – 1/2 cup
Raisins – 2 tbsp
Curry leaves – 2 sprigs
Beaten rice – 1 cup
Roasted Gram – 1/4 cup (optional)
Cooking Oil as per requirement for deep frying
Salt to taste
Red chilly Powder – 1 tsp
Black pepper Powder – 1 tsp
Powdered sugar – 1 tbsp (optional)
Instructions
Heat a frying pan with 2 cups of oil in it. To make sure to check if oil is ready, add few cornflakes to the hot oil. If it puffs up right away, oil is ready for deep frying.
Take a deep slotted ladle and add a fistful of cornflakes in the ladle. Dip the ladle carefully in the oil. The cornflakes will puff up immediately as the oil is hot. You can lightly stir with a spoon. Drain the excess oil and place the fried cornflakes on to a tissue to remove excess oil. Fry the remaining cornflakes similar way. When the cornflakes cool down completely, sprinkle powdered sugar on top of it and mix it well.
Deep fry beaten rice the same way we fried cornflakes by adding them in deep slotted ladle till it puffs up. Drain the excess oil and keep it ready in a bowl.
Make Sev and boondi and keep it ready.
Add 1 tsp cooking oil and roast peanuts for few minutes on low flame and keep them aside.
Now add 1 tsp of oil and roast some cashews in the same frying pan and roast till they turn light golden brown and keep it aside. Roast raisins with 1/2 tsp of oil till it puffs up.
Wash and dry curry leaves by sun-drying or spreading them on towel and leave it for an hour. Add 1 tsp cooking oil in the same and roast curry leaves on low flame for few minutes.
Mix all the prepared ingredients and add roasted gram, salt, black pepper powder and red chilly powder to taste and enjoy it with your evening tea/coffee.
Once the content cools down completely, store the mixture in air-tight container. You can store this for upto 2 weeks in a cool place. Do not refrigerate.
Notes
You can alter the proportions of boondi, sev as per your preference.[br]Keep the flame on medium level and you can lower it if oil starts getting smoky.
Yum