During my recent trip to Andaman Islands, I enjoyed some apple streusel muffins  for breakfast with my morning tea. I was just waiting to try these especially when I got the recipe from the chef. So, finally I made them today for breakfast.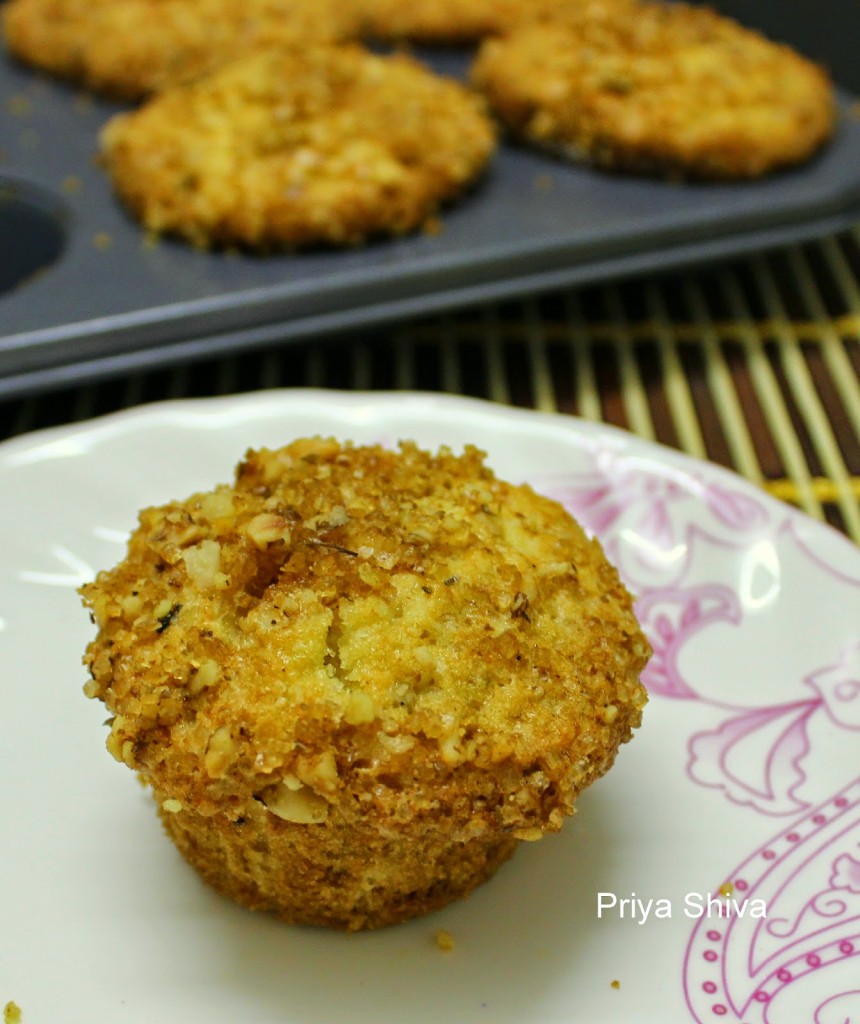 Eggless Apple Cherry Streusal Muffins are one of the best muffins I have baked and very addictive. The streusal topping with walnuts adds a nice crunch to the muffins. This can also be a snack for your kids :)..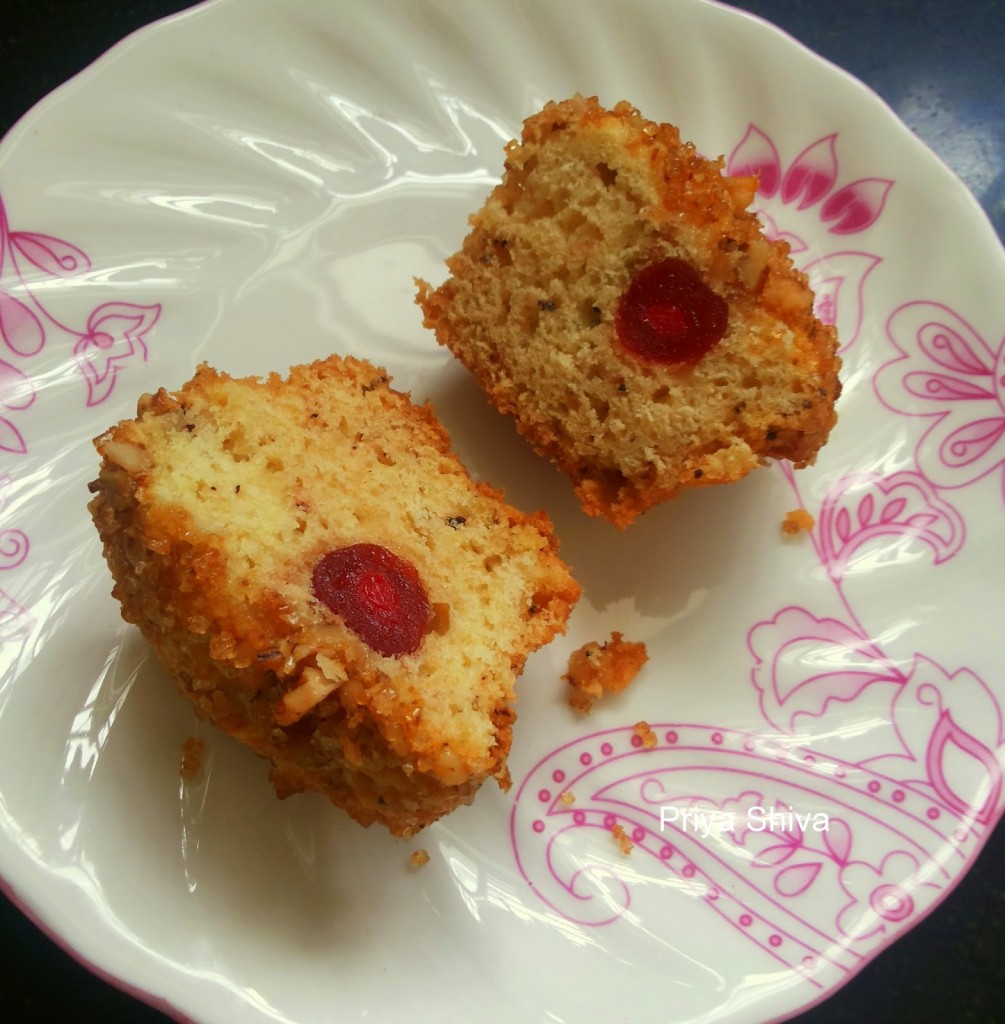 Enjoy these eggless apple cherry streusal muffins for breakfast with your family and do share the feedback with me.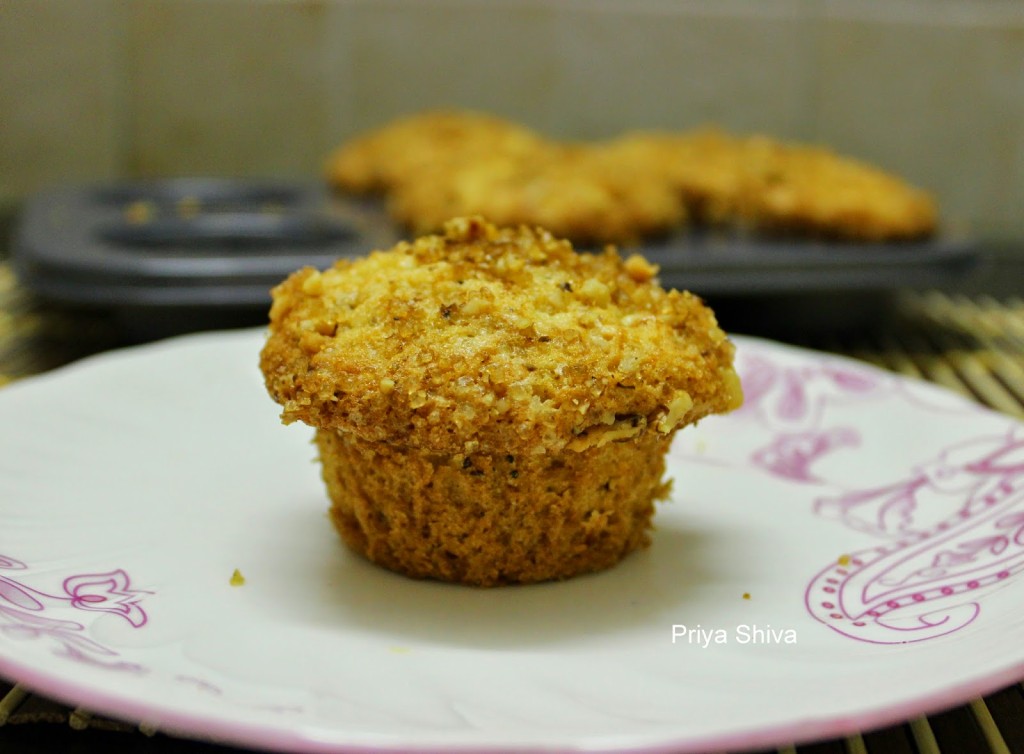 Eggless Apple Cherry Streusal Muffin
Author:
Prep time:
Cook time:
Total time:
Ingredients
All purpose flour – 1 cup
1 apple (peeled and grated)
Cherries – 1/3 cup (pitted)
Unsalted butter – 1/4 cup (softened)
White Sugar – 1/2 cup
yogurt – 1/4 cup
Baking soda – 1/2 tsp
Salt – a pinch
Vanilla essence /extract – 1/2 tsp
Cinnamon – 1 inch stick (powdered)
Brown sugar – 2 tbsp
Broken Walnuts – 3 tbsp
Instructions
Preheat oven to 180 degree Celsius .
Grease a 6-cup muffin tray with cooking oil or use cup-cake papers.
Sift together flour, baking soda, salt and cinnamon and keep it aside.
In a separate mixing bowl, beat together butter, sugar, yogurt and vanilla until smooth. Fold in apples and cherries.
Add flour mix and mix slowly. Do not over mix.
Spoon the batter into your muffin pan, filling tins about 3/4 full.
In a separate bowl, mix brown sugar, walnuts and mix in softened butter until it looks well-mixed and crumbly. Sprinkle over tops of muffins.
Bake at same temperature for 25 minutes. Check with a toothpick inserted in the center of muffin and if it comes out clean, muffins are done or bake for 5 more minutes.
Let it cool down completely and then remove from the muffin tin and enjoy with you cup of tea/coffee.
Notes
Do not over bake these muffins or they will be dry.
Yum