Its Friday and I was in a mood to have something sweet for breakfast. If you have been reading my blog regularly you would know one thing about me is that I love sweets :)I'm already in a weekend mood and finally decided to bake some muffins. This is one of the easiest muffins you can make as a treat for your kids. They are soft and moist and usually children love tutti frutti.Happy Friday Friends!!!!
Ingredients:
All purpose flour/Maida – 1 Cup
Unsalted Butter – 1/4 cup + 1 tbsp (melted)
Milk – 1/2 cup + 2 tbsp
Powdered Sugar – 1/4 cup
Baking Powder – 1 tsp
Vinegar – 1 tsp
Vanilla Extract/Essence – 1 tsp
Tutti Frutti – 1/3 cup
Method:
1) Preheat Oven at 180 C.
2) Sift all purpose flour, baking powder and keep it aside. 
3) Add butter, sugar and vanilla essence in a mixing bowl and mix well till sugar dissolves.
4) Add vinegar and milk and fold.
5) Now add all purpose flour with baking powder slowly to the mix and fold. Do not over mix. The flour must get moistened.
6) Add Tutti frutti and give a quick stir.
7) Grease the muffin cups with some oil evenly or use liners and add the batter to it. Make sure to fill each muffin cup till 3/4 cup and sprinkle some nuts on top.
8) Bake at same temperature for 25-30 minutes or till it turns light golden brown.Once it has cooled down, remove from the muffin cup and enjoy!!Tips:
You can replace tutti-frutti with choco-chips, raisins or nuts of your choice.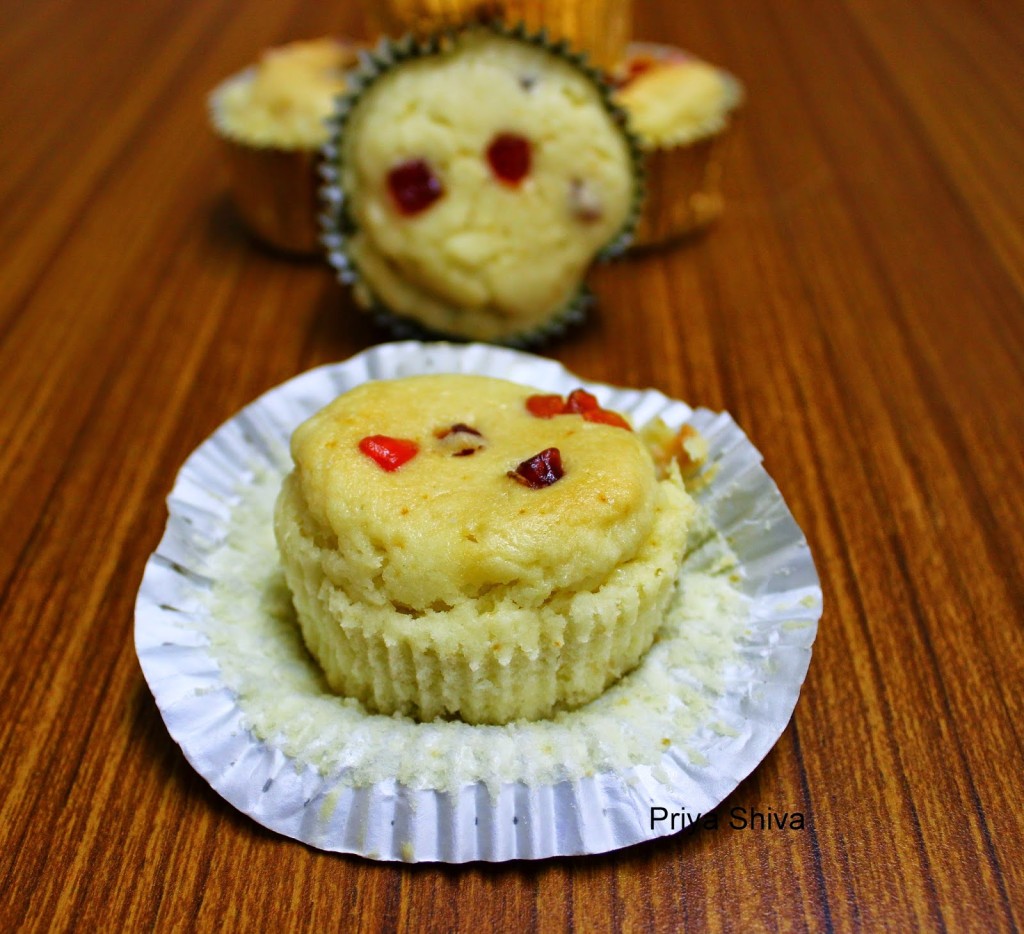 Yum