Its our Tamil new year today and the best part is that I'm at my parents house today. So, getting to eat lots of goodies like coconut rice, puliyodharai rice, parappu vadai, Sakarai Pongal, and Manga Pachadi.I'm sharing an easy recipe to make manga Pachadi which is made with Raw mango, coconut and other simple ingredients. For all other recipes, just simply click on its name.Happy New year to all Tamil friends!!!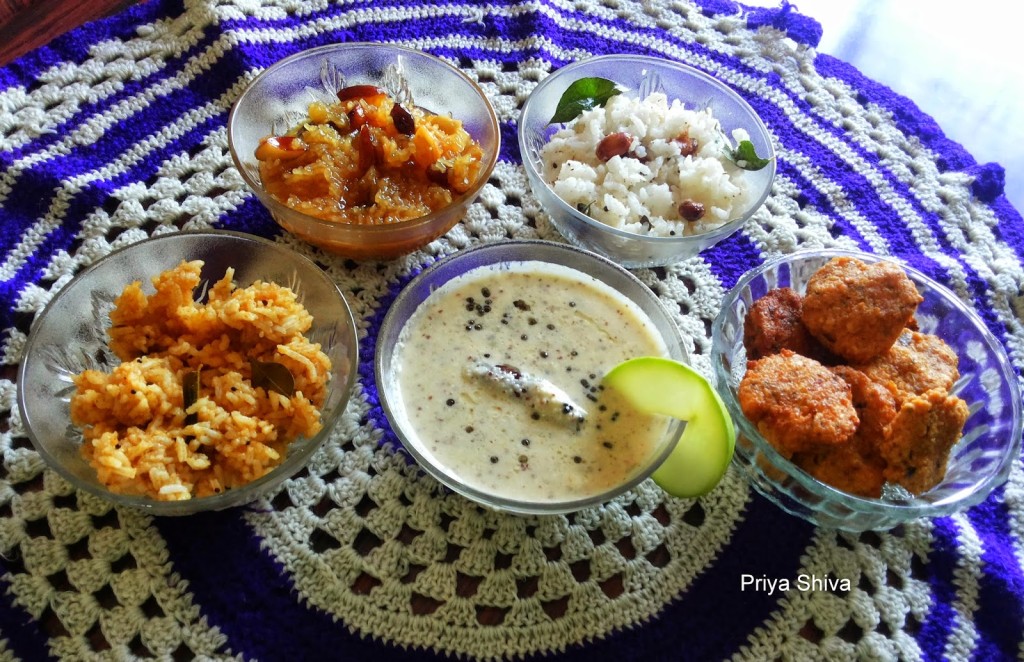 Raw Mango Pachadi
Author:
Prep time:
Cook time:
Total time:
make a delicious pachadi with raw mango!
Ingredients
Scraped Coconut – 1 cup
Raw mango – 1/4 (finely chopped)
Scraped Ginger – 1 tsp
Yogurt/dahi – 2 tbsp
Scraped Jaggery – 1 tsp
1 Green chilly finely chopped
Mustard seeds – 1 tsp
White lentil – 1/2 tsp
Dried red chili – 1
Sesame Oil/Cooking oil – 1 tsp
Salt to taste
Instructions
Add coconut, raw mango, ginger, 1/2 tsp mustard seeds, jaggery, green chilly in your grinder and grind it by adding little water to make a smooth paste.
Transfer the content in a bowl, add yogurt, salt to taste and mix it well. Keep it aside.
Add sesame oil in a small frying pan and when its warm add mustard seeds, red chili and white lentil.
When mustard seeds crackle add it to the coconut chutney and serve.
Yum