Mint is known to be good mouth freshener but it has many more health benefits. It helps in curing indigestion and boosts immunity. Mint added in any dish enhances its flavour and aroma. So, sharing an easy recipe to make some mint chutney which is a good accompaniment with dosa, idli etc. It is easy to prepare, usually loved by everyone and a nice variation from usual coconut chutney.
Serves – 4
Ingredients:
Mint Leaves – 1 cup
Scraped Fresh Coconut – 1 cup
Roasted Gram – 1/4 cup
2 Green chilly (finely chopped)
Mustard seeds – 1/2 tsp
White lentil – 1/2 tsp
Asafoetida – 1/4 tsp
Sesame Oil/Cooking oil – 1 tsp
Salt to taste

Method:
1) Add mint leaves, coconut, roasted gram, green chilly in your grinder and grind it by adding little water to make a smooth paste.
2) Transfer the content in a bowl, add salt to taste and keep it aside.
3) Add sesame oil in a small frying pan and when its warm add mustard seeds, white lentil and asafoetida.
4) When mustard seeds crackle add it to the coconut chutney, mix and serve.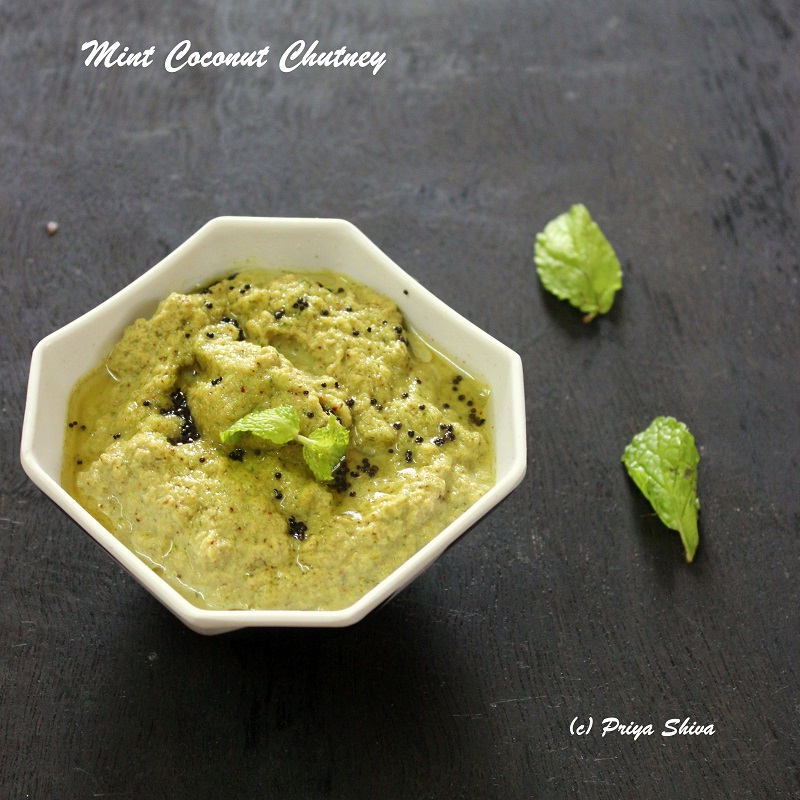 Yum