I recently did a guest post for Shruti who is author and blogger for Cooking with SJ. I would like to thank Shruti her space to share my recipe. I recently connected with Shruti and simply love her recipes. She is an adorable blogger who is always helpful and filled with enthusiasm. I'm glad I connected with her and found a loving friend. Do visit her website as she has some lovely recipes to share and share love for food.This is what she has to say – "Hello Foodies, I'm Shruti!!! Errr… SJ from cookingwithsj.com  All what I love is 'Cooking & Clicking' n of course, gobbling up after that found many friends in blogosphere and a few got quite close in short time-span… And this beautiful lady is one of them! Thank you so much for being a part of my series and hope to run some food campaign with you soon!!! "Its season for mangoes and this is an easy recipe to make some egg-less, butter-free Vegan Muffins. They are filled with goodness of ripe mangoes, raisins and nuts and perfect to serve as breakfast.
Ingredients:
All purpose Flour – 1 cup
Ripe Mango Puree – 1 cup
Granulated Sugar – 1/2 cup
Baking soda – 1/2 tsp
Baking powder – 1 tsp
Cooking oil – 1/4 cup ( I used Sunflower oil)
Vanilla essence – 1 tsp
Raisins – 1 tbsp
Chopped Cashews – 1 tbsp
Method:
1) Sift all purpose flour, baking soda and baking powder into a bowl.
2) Add sugar and mix it well. Now add mango puree, cooking oil, vanilla essence and fold. Do not over-mix, only the flour needs to get wet.
3) Add raisins and cashews and give a quick stir.
3) Preheat oven at 180 degree Celsius.
4) Grease the muffin cups with some oil evenly or use liners and add the batter to it. Make sure to fill each cup till 2/3 cup.
5) Bake at same temperature for 20 minutes. Check after 20 minutes by inserting a toothpick at the center of the muffin. If it comes out clean, then your muffin is done or else continue baking for 5 more minutes and keep a watch on it.
Once it has cooled down, remove from the cup and enjoy!!
Tips: Peel the mango and remove the seed. Chop and add it in your blender to make puree.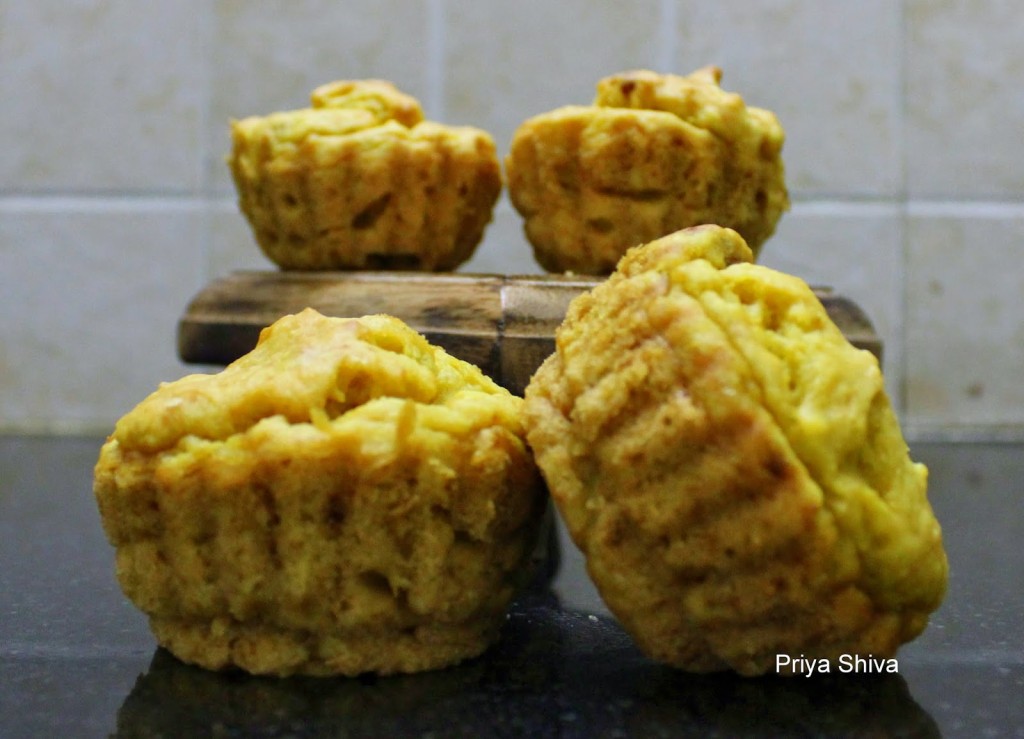 Yum