It was a busy day for me as I was out the whole day spending time with my family. Its my mother's birthday and we decided to take her out to visit a temple. Then we took her for shopping and lunch to her favorite restaurant. So, for dinner we decided to make something simple and made some Potato eggplant stir fry with some phulkas and curd rice. Eggplant deeply fried is another delicacy which I personally love and can be made in a easy and simple way. Eggplant potato is a great combination and can be served as a side dish with phulkas/rotis/Indian flat bread..
Ingredients:
Chopped eggplant- 1 cup
Peeled and Chopped potatoes – 1 cup
Finely chopped onion – 1/2 cup
Cumin seeds – 1 tsp
Mustard seeds – 1/2 tsp
Turmeric powder – 1/2 tsp
Red chilli powder – 1/2 tsp
Sambar Powder – 1 tsp (click here for recipe)
salt to taste
cooking oil – 2 tbsp
asafoetida – a pinch
curry leaves – 1 sprig
Method:
1) Heat a frying
pan and add 1-2 tbsp oil. Add cumin seeds, mustard seeds and saute. When
the mustard seeds crackle add onion.
2) When onion turn light golden brown, add a
pinch of asafoetida and curry leaves and saute for few seconds.
3) Add
potato, eggplant and turmeric powder and mix
it well. Saute it for few minutes and cook on low
heat for few minutes. Keep stirring from time to time. Now add red chili powder and sambar powder and salt.
4) Mix it well and  sprinkle some water and close the pan with a lid. Cook till the vegetables are totally cooked and tender. Serve it hot with some phulkas and raita.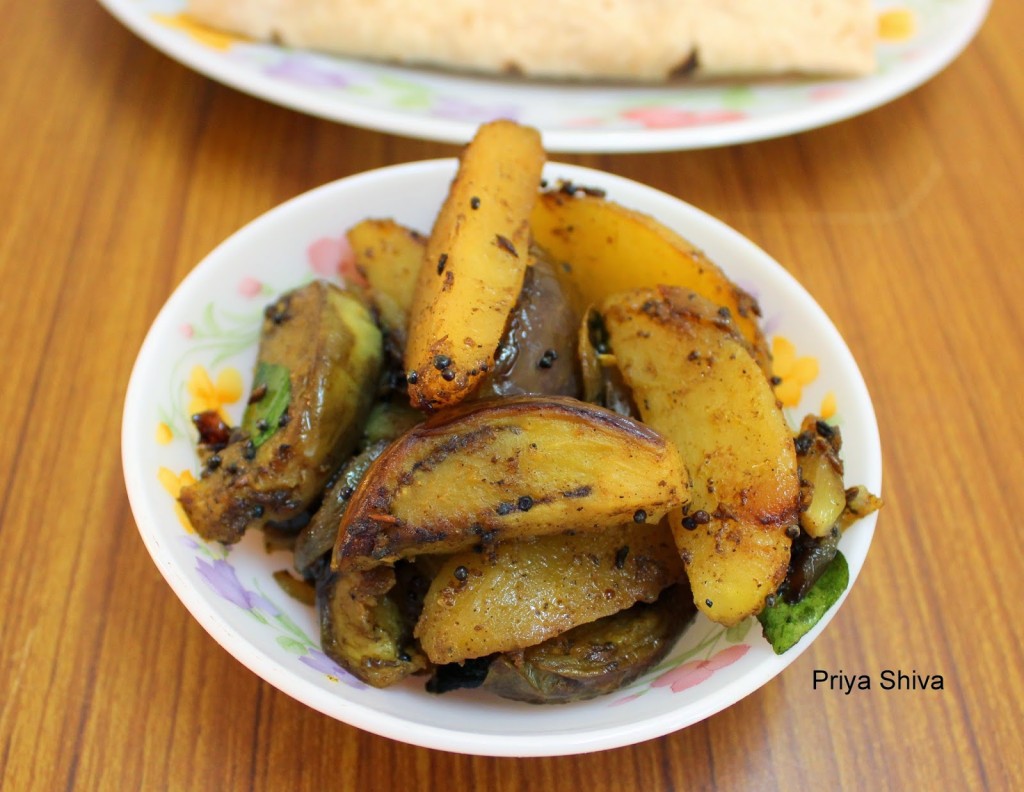 Yum