Its always fun to bake something specially when kids are around. I made some double chocolate banana muffins today for my nephew and family. I was able to put some over-ripe bananas for some good use and everyone loved it. So, sharing the recipe hoping you all will try and enjoy as I enjoyed it with my family.
recipe reference – egglesscooking.com
Yield – 12 muffins
Ingredients:
All purpose flour – 1 and 1/2 cups
Cocoa powder – 1/4 cup
Baking soda – 1 tsp
Baking powder – 1/4 tsp
Salt – a pinch
Granulated sugar – 1 cup
Chocolate chips – 1 cup
Ripe bananas – 1 cup (mashed)
Milk – 1/4 cup + 1/4 cup
White vinegar – 1 tsp
Vanilla essence – 1 tsp
Cooking oil – 1 /3 cup (I used sunflower oil)
Method:
1) Preheat the oven to 180 C for 15 minutes. Line a 12 cup muffin pan with paper liners or grease it with cooking oil.
2) Mix together 1/4 cup milk and vinegar and set it aside for curdling.
3) In another large bowl sift together the flour, cocoa, baking soda, baking powder and salt. Add sugar and mix it well.
4) In another bowl combine together the mashed bananas, curdled milk, vanilla essence, oil and remaining 1/4 cup milk.
5) Add this wet mixture with the dry ingredients and mix until just combined. Add chocolate chips and give a quick stir.
6) Pour the batter in  muffin cups about 2/3rd cup of batter per muffin.
7) Bake at same temperature for 20 minutes. Check after 20 minutes by inserting a toothpick at the center of the muffin. If it comes out clean, then your muffin is done or else continue baking for 5 more minutes and keep a watch on it.
Once it has cooled down, remove from the muffin cup and enjoy with a cup of milk or your morning cup of tea/coffee.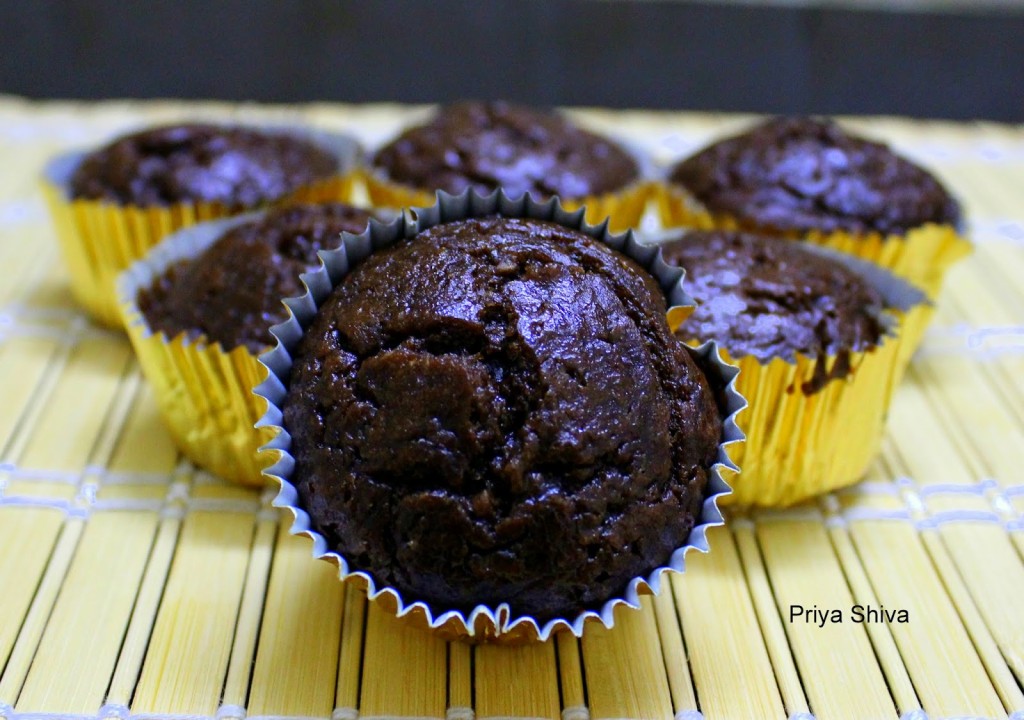 Yum