Dal Bukhara is a simple dish made Black Lentil (urad dal) which can be served with rice or Indian flat bread. I have shared a creamy dish – Dal makhani earlier using Black lentils and thought of making it this time in pressure cooker with no cream.
Ingredients:
Black Lentil/whole urad dal – 1 cup
Chopped onions – 1 cup
Chopped tomatoes – 2 cups
Grated ginger – 1 tsp
Finely chopped garlic – 1 tbsp
cumin seeds – 1 tsp
Carom Seeds – 1 tsp
Garam masala – 1 tsp
Red chilly powder – 1/2 tsp
Turmeric Powder – 1/4 tsp
Salt to taste
Oil – 1 tbsp
 Coriander leaves for garnishing
 Method:
1) Soak dal in some water for 5-6 hours. I usually soak it overnight. Drain the water and keep it aside.
2) Add oil in the pressure cooker and when the oil is warm add carom seeds, cumin seeds, grated ginger, finely chopped garlic and onion.
3) When onion turns golden brown add tomatoes and saute it for few minutes. Now add black lentil, garam masala, red chilly powder, turmeric powder, salt to taste and 3 cups of water and mix it well.
4) Once it starts boiling, close the cooker and let it give 4-5 whistles.
5) When the pressure comes down transfer it into a bowl and garnish it with coriander leaves.
Serve it with rotis or rice.Tips:
Add more water if you feel its too thick. Always taste the food before serving to check if its cooked and adjust salt and spices.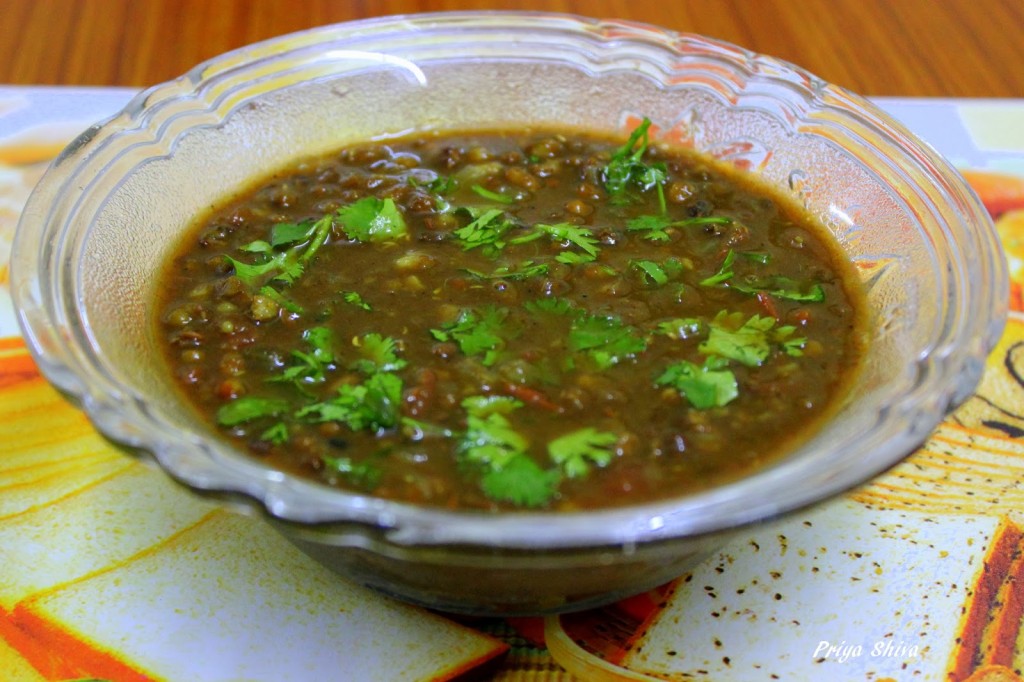 Yum