This is a simple recipe to make cabbage stir fry also known as band gobi ki sabzi in Hindi.  Cabbage is low calorie, fiber-rich, leafy vegetable which makes it an excellent addition to any diet. I had a busy weekend as I usually pile-up groceries and shop over the weekend. So, decided to cook something quick and simple. I also visited an old temple outskirts of Chennai. It felt so good to sit peacefully in the temple hearing the temple bells ringing and my little one also had fun simply running around inside temple..I served band gobi ki sabzi with some phulkas and raita..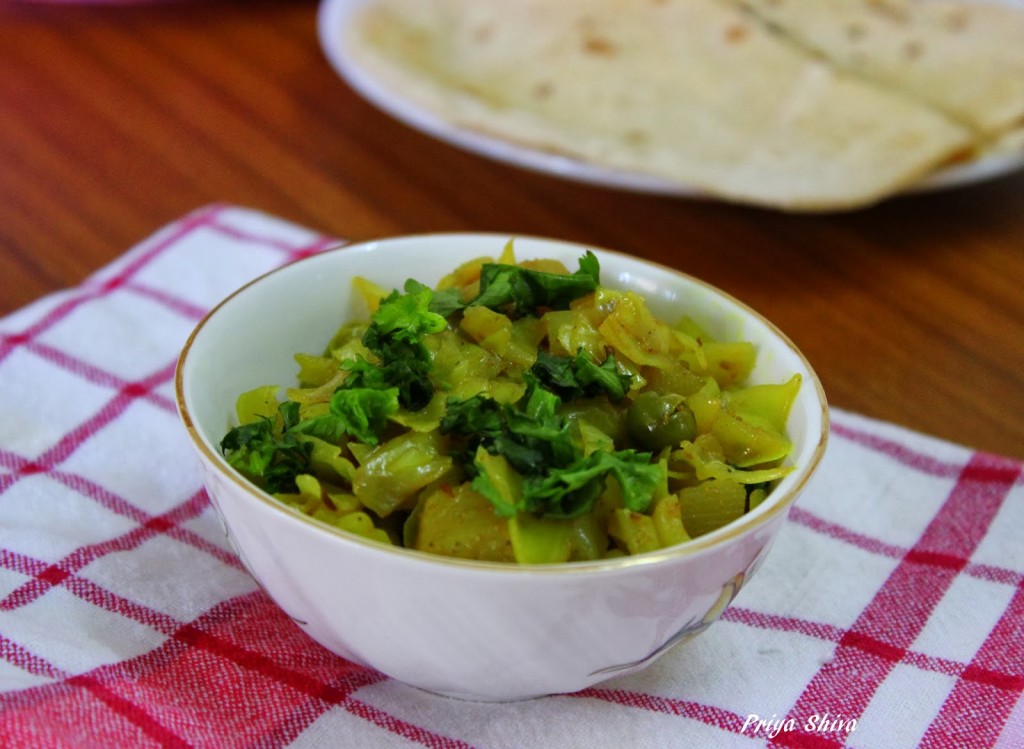 Cabbage Stir Fry / Band Gobi ki Sabzi
Recipe Type
:
Stir-Fry veggies
Author:
Prep time:
Cook time:
Total time:
make quick stir-fry veggies with cabbage, potatoes and green peas!
Ingredients
Finely Chopped cabbage – 2 cups
Peeled and chopped potatoes – 1 cup
Green peas (shelled) – 1/2 cup
Grated Ginger – 1 tbsp
Asafoetida – a pinch
Cumin Seeds – 1 tsp
Carom Seeds – 1/2 tsp
Turmeric powder – 1/2 tsp
Red Chilli powder – 1/2 tsp
Garam Masala – 1 tsp
Cooking Oil – 1 tbsp
Salt to taste
Fresh Coriander leaves for garnishing
Instructions
Heat oil in a non-stick pan and add asafoetida, carom seeds, grated ginger and cumin seeds.
Saute for few seconds and add chopped potatoes, cabbage, peas and mix well. Fry them for 2-3 minutes on medium flame and keep stirring.
Add turmeric powder, garam masala and red chilli powder, and mix.
Add salt to taste and 1/4 cup of water. Close the pan with a lid and let it cook on low flame till the vegetables are cooked and soft. Keep stirring in between.
Transfer it in a bowl, garnish with coriander leaves and serve hot with Indian flat bread.
Yum