Gujarati kadhi is a popular dish from Gujarat, India made with curd and gram flour. This dish is easy to prepare and has a combination of sweet and spicy flavour. I have served it with some Mint theplas.
Click here for Mint thepla recipe.
Check out this detailed video to make Gujarati Kadhi:
You can prepare this dish in flat 15 minutes. Do not over cook as there is curd in it and it might curdle. So, sharing a quick Gujarati Kadhi Recipe and hope you all love it too.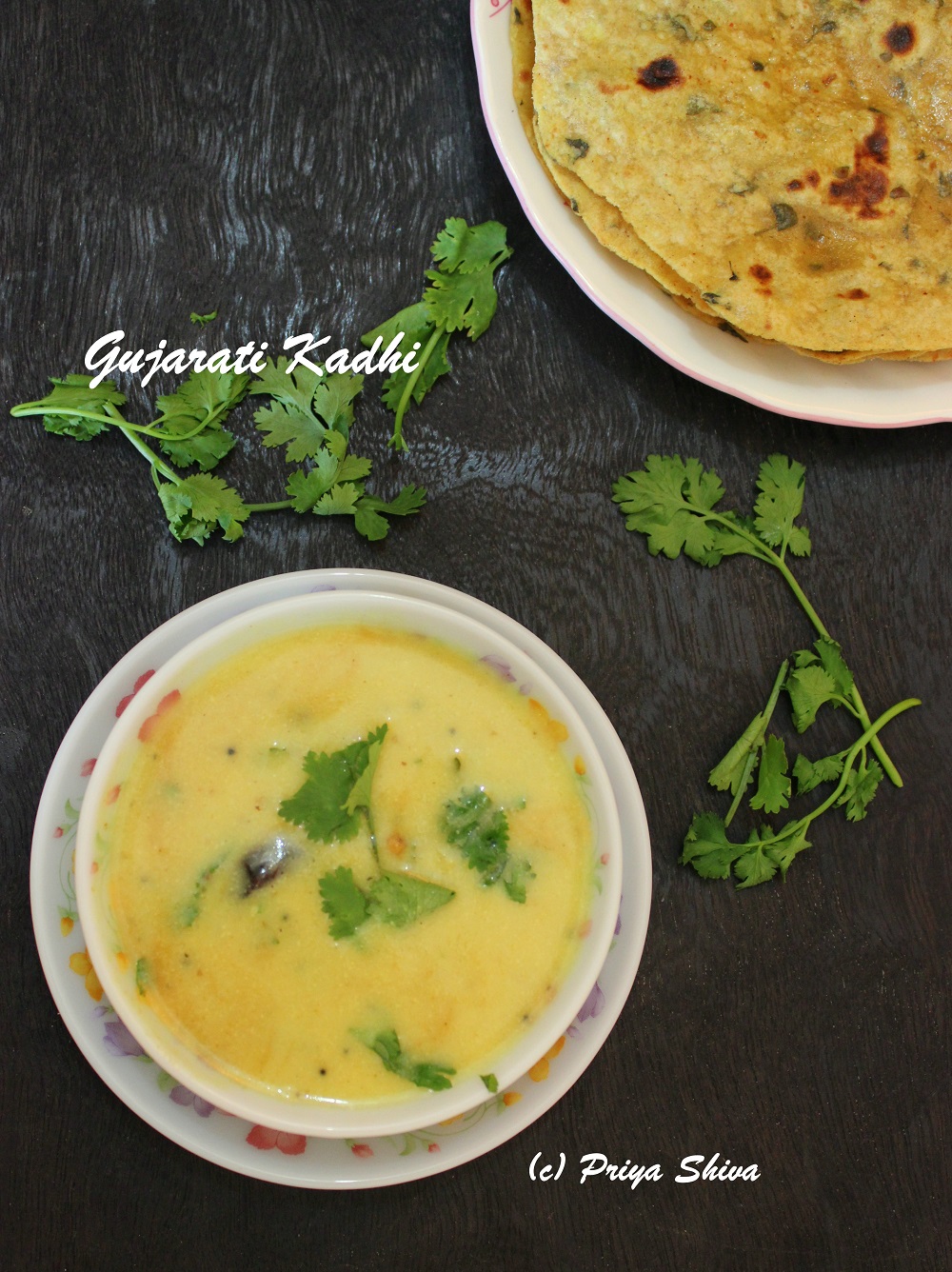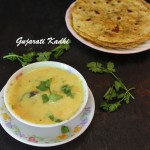 Gujarati Kadhi Recipe
Ingredients
Dahi/ curd - 1 cup

Besan/gram flour - 2 tbsp

Asafoetida - 1/8 tsp

Turmeric powder - 1/4 tsp

Sugar - 1 tbsp

you can also add jaggery in place of sugar

Mustard seeds - 1 tsp

Fenugreek seeds - 1 tsp

Grated ginger - 1 tbsp

Green chillies - 2

chopped

Curry leaves - 1 sprig

Coriander leaves for garnishing

salt to taste

Vegetable Oil - 1 tbsp
Instructions
Add gram flour 1/2 cup of water and mix well. Make sure there are no lumps.

Add curd with 1 cup of water in a bowl and blend it using a hand blender.

Heat oil in a pan and add mustard seeds, fenugreek seeds, asafoetida and allow them to crackle.

Now add grated ginger, curry leaves and green chillies and stir for a few seconds.

Add the curd mixture, turmeric powder, gram flour and keep stirring to avoid curdling.

Once it starts boiling, lower the flame and simmer the mixture for few minutes.

Add sugar and salt to taste and mix well.

Transfer the content into a bowl and garnish with coriander leaves. You can serve it  some rice or flat bread.
Yum