Jeera rice is a simple recipe for cumin seeds flavoured rice which you can serve with any Lentil or curry with gravy. I'm going to enjoy this with some Rajma today and hope you all have a wonderful weekend…
Click Here
 for Rajma recipe.
Serves – 2-3
Ingredients:
Basmati Rice – 1 cup
Cumin seeds – 2 tsp
Bay Leaf – 2
Black Cardamom – 2
Salt to taste
Cooking Oil/Ghee – 1 tbsp
Method:
1) Wash rice in some water and soak it in water for 30 minutes. Drain the water and keep it aside.
2) Heat Ghee in a pan and when ghee is warm, add cumin seeds, bay leaf, black cardamom and saute till cumin seeds crackle.
3) Now add soaked rice, salt, 2 cups of water and mix it gently.
4) When it starts boiling close the pan and let it cook on medium flame for 4-5 minutes. keep checking in between. Do not stir frequently or the rice will break.
5) When the rice is completely cooked and water has been soaked by rice, transfer  the content in a plate and serve it hot.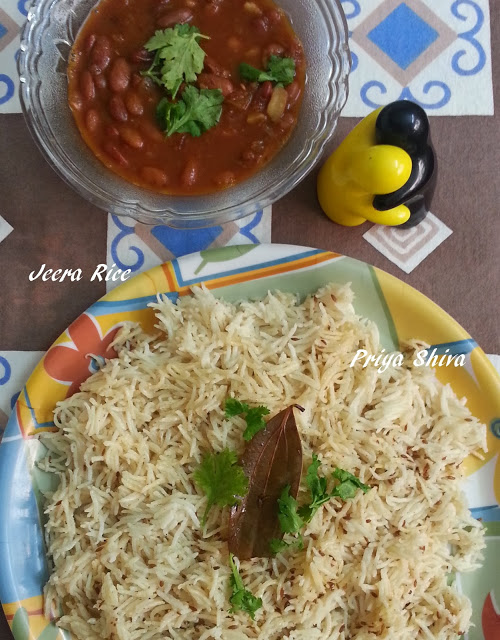 Click here for other variety rice.
Yum