Aloo matar masala is a scrumptious curry where potato and peas are cooked in a delicious tomato gravy. Peas are packed with many health benefits. They are low on fat but high on fiber, proteins and other nutrients. They help in weight management, lowers the risk of stomach cancer and also helps in building strong immune system. This is a quick curry made with goodness of peas and potatoes in tomato gravy. This curry can be served with rice or flat bread.
 Ingredients:

Peas – 1 cup
Potatoes – 2 (peeled and chopped)
1 Onion (finely chopped)
2 tomatoes (finely chopped)
grated ginger – 1 tsp
Cumin seeds – 1 tsp
Garam masala – 1 tsp
Red chilly powder – 1 tsp
Turmeric Powder – 1/4 tsp 
Cornflour – 1 tsp
Milk – 1/4 cup
Salt to taste
Cooking Oil – 1 tbsp
Method:

1) Add onion, tomatoes, ginger in a blender and blitz it to make a paste. 
2) Mix cornflour in milk and keep it aside. 
3) Add cooking oil in a frying pan and when oil is warm, add cumin seeds and saute for few seconds. 
4) Now add onion tomato paste and saute for few minutes till oil separates from the gravy. 
5) Add chopped potatoes and peas and 1/2 cup of water. Lower the flame and close the pan with a lid.
6) Let it simmer till vegetables are cooked and soft. Keep a watch and stir in between.
7) Now add turmeric powder, garam masala, red chilly powder and salt and mix it well. 
8) Add milk and mix it well and let it simmer for a minute. If you feel the the gravy is too thick, add little water. Transfer into a bowl and serve it hot with rice or flat bread.
Tips:
1) You can add garlic and blend it along with onion tomatoes.
2) You can use fresh cream in place of cornflour and milk.
3) Adjust spices according to your taste.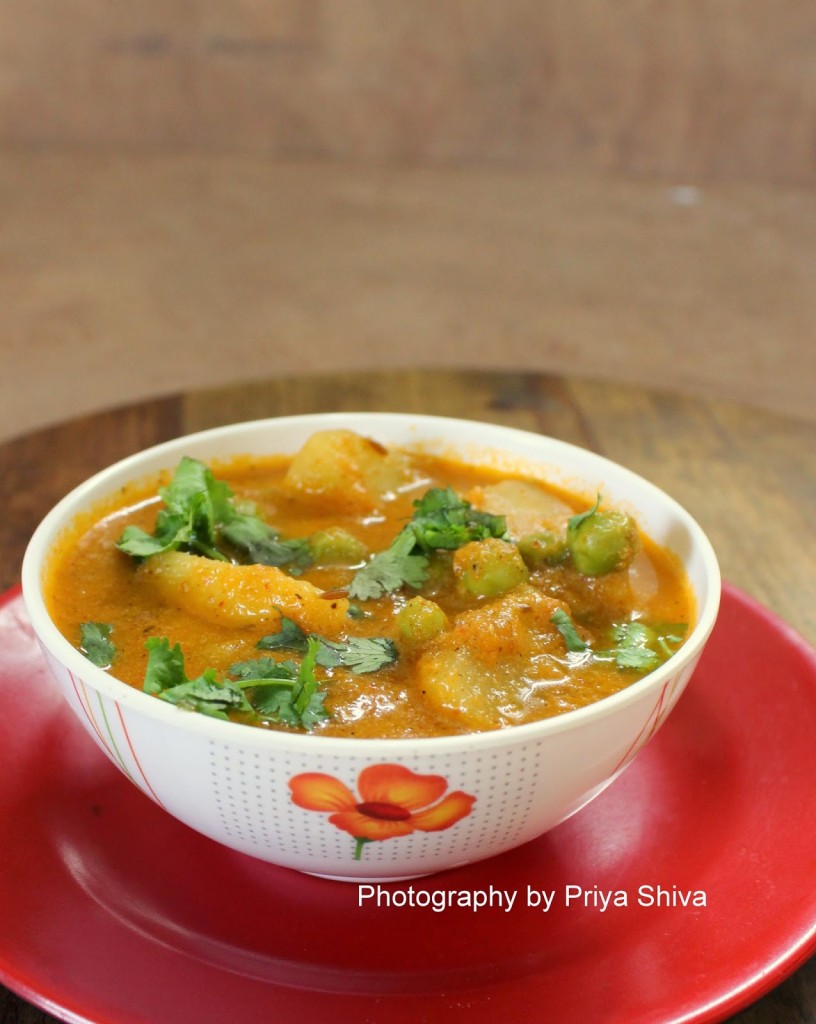 Yum