Agathi keerai poriyal is a stir-fry vegetable made with agathi keerai which is also known as hummingbird tree leaves. I got some Agathi Keerai fresh from my In-laws garden and nothing like cooking with fresh organic vegetables. It is also called august tree leaves and rich in calcium, iron and vitamins. Its very good for the bones, helps in curing constipation and helps in digestion, helps new mothers in breast feeding. It is also used as a medicine to cure fever. So, sharing a healthy recipe today..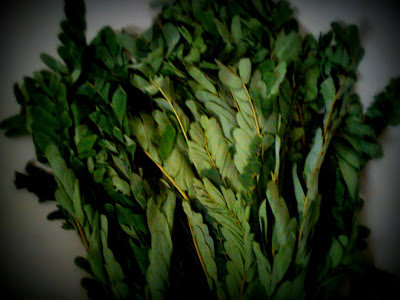 Ingredients:
Agathi Keerai/Hummingbird tree leaves– 2 cups
Mustard seeds – 1 tsp
Urad dal/white lentil – 1 tsp
Red chillies – 3
Turmeric Powder -1/4 tsp
Asafoetida – 1/4 tsp
Cooked Toor dal/Pigeon peas spilt – 2 tbsp
Grated Coconut – 2 tbsp
Cooking oil/coconut oil – 1 tbsp
Salt to taste
Method:
Remove the leaves from its stem. Just hold the stem between your thumb and index finger and slide down to remove leaves. Wash and chop the leaves and keep it aside.
In a pan add 1 tbsp of coconut oil and add the mustard seeds, asafoetida. When mustard seeds crackle add white lentil and the red chillies and saute till lentil turns golden brown and then add chopped leaves and 1 tbsp water, turmeric and salt, and mix well. Close the pan with a lid and cook on low flame till it is cooked. Once it is cooked add 2 tbsp of cooked toor dal and stir well. When the water drains completely add freshly grated coconut and mix well.
Transfer the content in a bowl and serve it hot with rice and sambar/rasam.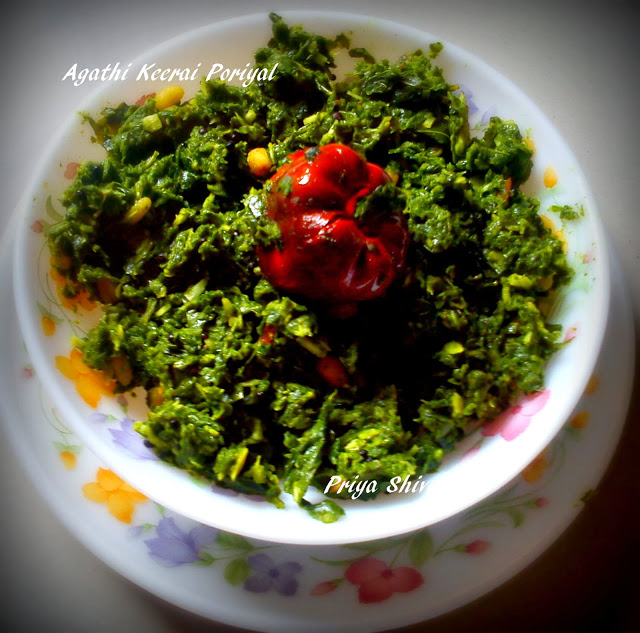 Yum