Gobi Ajwain paratha is one of my family favourite. Paratha is an Indian flat bread. It is  highly popular in North India where they make stuffed parathas for breakfast. The stuffing used in this paratha is grated cauliflower with carom seeds. Cauliflower is a versatile vegetable which can be enjoyed as a curry or a stuffing. Serve these lovely parathas for breakfast along with some curd and mango pickles. How to make Gobi Ajwain Paratha in easy steps?
 Its pretty simple. Firstly prepare the filling..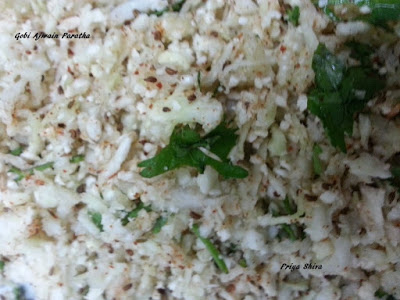 Prepare the dough and divide them into equal balls.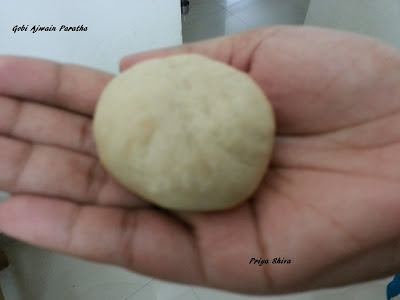 Roll out the ball, place the filling in the middle, close and roll again.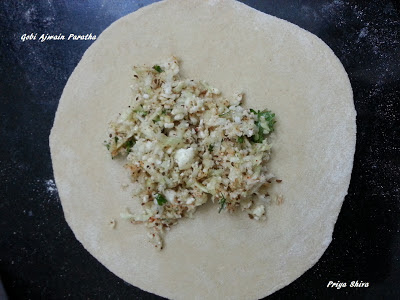 Cook them on a griddle till they are golden brown and serve with pickle and curd. Read complete instructions, make them and enjoy with your family for breakfast.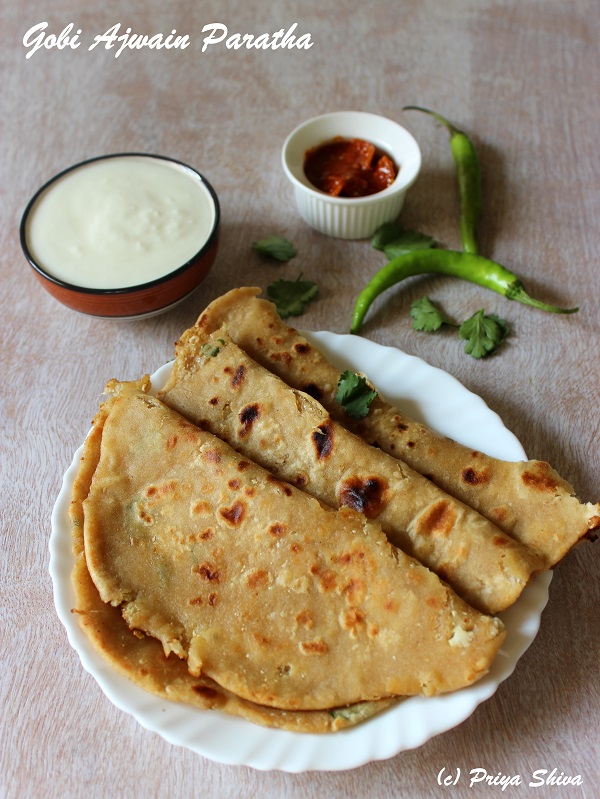 Gobi Ajwain Paratha
Author:
Prep time:
Cook time:
Total time:
Ingredients
Whole Wheat Flour – 2 cups
Grated Cauliflower – 1 cup
Ajwain/ Carom Seeds – 1 tbsp
Garam Masala – 1 tsp
Green chilies – 2 (finely chopped)
Salt to taste
Coriander leaves – 2 tbsp (chopped)
Ghee/Butter – 4 tbsp
Instructions
Take a bowl and add grated cauliflower, carom seeds, salt, garam masala, green chilies, chopped coriander leaves and mix it well. Keep this aside for filling.
Add whole wheat flour and salt in another bowl and knead it by adding little by little water to make a smooth dough. Roll it into medium sized balls as shown in above picture and keep it aside.
Roll out a portion of dough using rolling pin and add the cauliflower filling into it as shown in the picture.
Now close it and roll out again using rolling pin into a round shape.
Cook this on a tawa/griddle on low heat by adding little ghee on both sides until the paratha turns golden brown on both sides.
Serve it hot with some curd and pickle.
Yum