Curry leaves is a wonder herb and has its own health benefits. My family usually picks out curry leaves from any dish. So, I usually end up making some chutney out of it. Thengai karuveppilai Sevai is a quick and easy breakfast recipe made with rice noodles. I have added grounded curry leaves and it really enhances the flavors of the dish.
There are 2 ways to make sevai. You can use store bought rice noodles or you can make Sevai from scratch soaking rice and making rice flour at home:
Clean and Soak 1 cup raw rice in water for 30-45 minutes. Drain the water and spread the rice on a clean towel.

Grind the rice to make a fine powder. Sift the flour twice and spread it on a paper for 1 hour. Store it in a clean jar.

Boil 1+1/2 cup water in a pan. Once water starts boiling, add a little salt and 1 cup of rice flour. Add it slowly and keep stirring to combine. Remove from stove and make hand size balls. Grease sevai press and add 2 balls. Press it on a idli plate and steam it for 5 minutes.

You can temper this sevai as per your taste. I have also given instructions to make sevai using store bought rice noodles.
Coconut Sevai is easy to make and you can serve with any chutney of your choice. I have served it with some coriander chutney. I made some tomato uttapam too for my kid.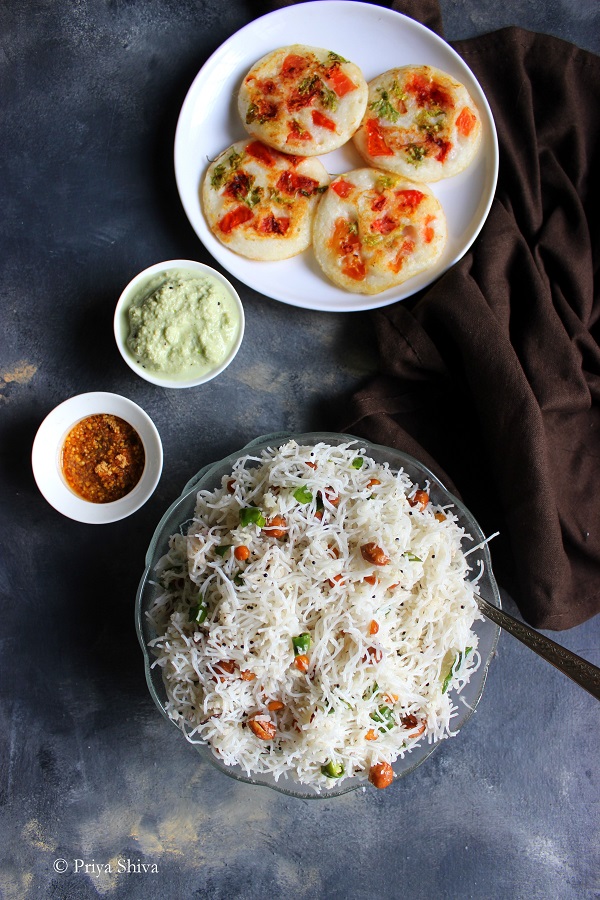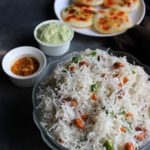 Coconut Sevai Recipe
Ingredients
rice noodles/arisi sevai - 2 cups

mustard seeda - 1 tsp

Green chillies - 2 (chopped)

Peanuts - 1/4 cup

shredded coconut - 1 cup

Finely chopped ginger - 1 tbsp

Curry leaves - 1/4 cup (coarsely grind it)

Urad dal/white lentil - 1 tbsp

Salt to taste

Asafoetida/hing - 1/8 tsp

Coconut oil - 1 tbsp
Instructions
Boil 4 cups of water in a pan. Once water starts boiling, remove from flame and add rice noodles in it. Let it soak in this water for 5 minutes. Drain the water and set aside.

Heat oil in a frying pan and add mustard seed and a pinch of asafoetida.

When mustard seeds crackle, add peanuts and white lentil and saute till lentil turn brown.

Add chopped ginger and chopped green chilies and saute for few seconds.

Add coconut, coarsely grounded curry leaves and saute for a minute.

Now add cooked rice noodles, salt to taste and mix well. Serve hot with chutney.
Recipe Notes
Thengai karuveppilai Sevai - Coconut Sevai
Author:
Yum