Lehsuni Dal tadka is a comforting dish with strong flavors from garlic and made using pigeon peas split lentil. Lehsun means garlic and dal is just another name for dried pulse (lentils). Lentils and legumes are good source of fiber and proteins. So, it is important you include them in your daily diet. I enjoy all comforting food and love to cook. This reason is enough for me to make some lehsuni dal tadka.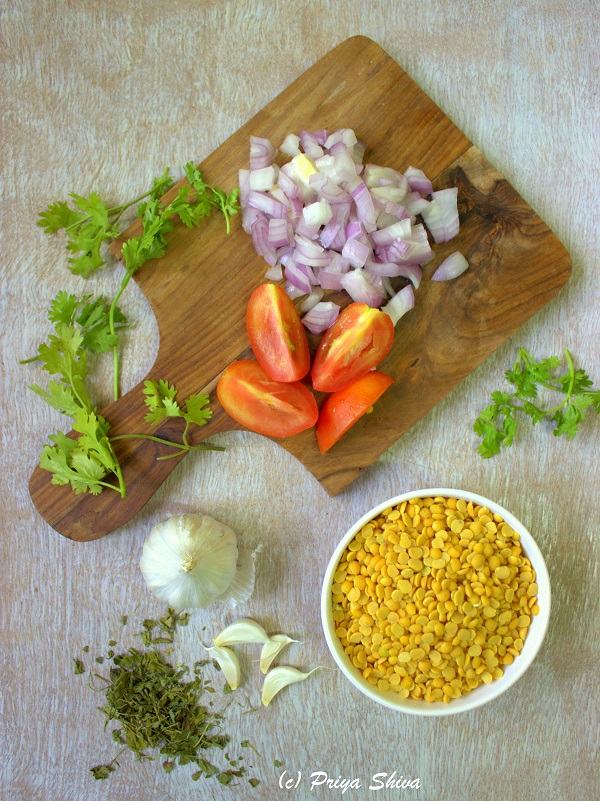 I usually gather all ingredients before start making the dish. It saves time especially when you are multitasking in the morning getting your kid ready for school, packing lunch for hubby etc. You can serve dal with flat bread or rice. I enjoyed Lehsuni Dal Tadka today with Vegetable pilaf and waterlemon Lassi.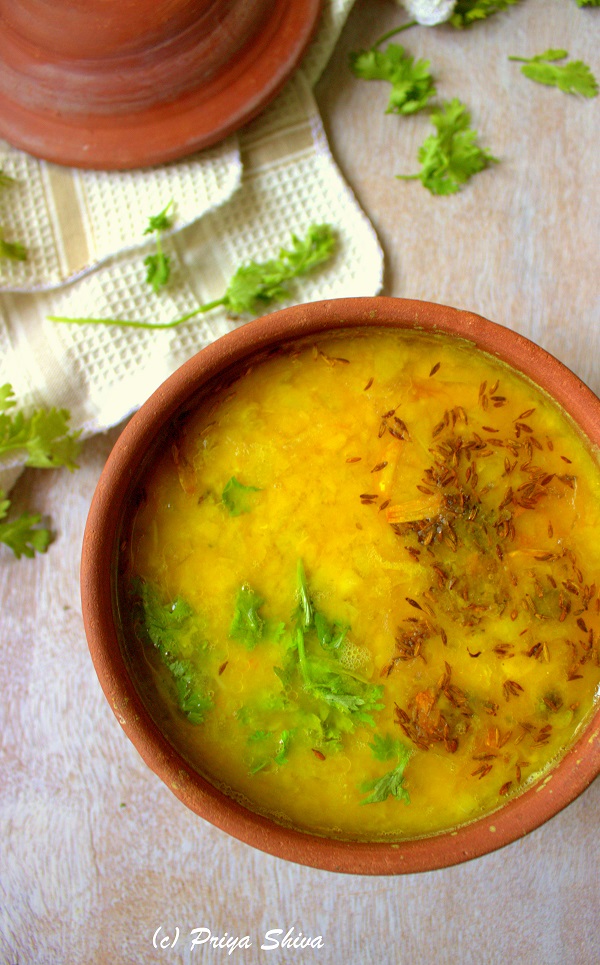 Lehsuni Dal Tadka Recipe
Enjoy comforting dal with strong flavors of garlic!
Ingredients
Toor Dal/yellow split pigeon peas – 1 cup
1 Onion (finely chopped)
1 Tomatoes (finely chopped)
Garlic cloves – 10
Jeera/Cumin seeds – 1 tsp
Green Chillies – 1 tbsp (finely chopped)
Turmeric powder – ½ tsp
Kasoori Methi/Dried fenugreek leaves – 1 tsp
Coriander Leaves for garnishing
Lemon - 1 (small one)
Salt to taste
Vegetable Oil – 1 tsp
Ghee - 2 tsp
Instructions
Clean and soak dal and in some water for 30 minutes. Drain water and keep it ready.
In a 3 liter pressure cooker, add oil and fry onions till translucent.
Add chopped tomatoes, green chilies, 4 chopped garlic and saute for 2 minutes.
Add soaked dal with 3 cups of water, salt, kasuri methi and turmeric powder.
When the water starts boiling, close the cooker and give 2-3 whistles or till lentils are soft and cooked properly.
Add ghee in a small frying pan and when ghee is warm, add cumin seeds and 6 chopped garlic. Add this tempering in the dal, add juice of 1 lemon, and mix well.
Garnish coriander leaves and enjoy.
Yum