Thengai Poli is a flat bread usually prepared for the first day of Pongal – Bhogi. Pongal is a festival celebrated in Tamil Nadu to mark the harvest season. It's a 3-day celebration and celebrated to Thank mother Earth. I have earlier shared a recipe to make Parrapu Poli in my blog. This is another variation and mainly prepared with coconut and jaggery with a hint of cardamom. It is also known as Puran Poli, holige or Obbattu. Festivals bring positive vibes to our homes as we decorate our house, prepare delicious goodies, buy new clothes, light up diyas and incense sticks. Pongal is more special to me as I met Shiva for the first time in Coimbatore during Pongal festival. Five years have flown by since I have met, married him and each day has passed as a blessing…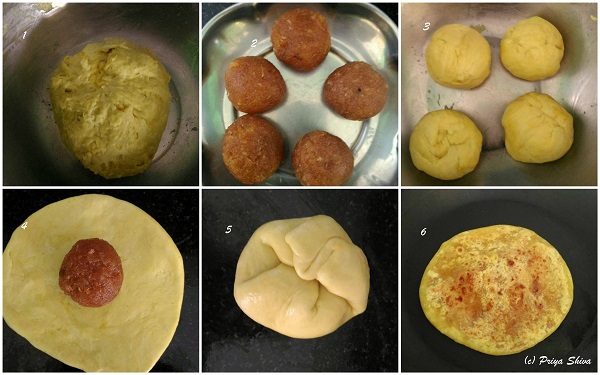 I'm again travelling to Coimbatore tomorrow for the pongal holidays and going to relive each moment with Shiva. Isn't it fun to remember the old days when you were newly in love and so lost in each other 🙂 … So, I'm sharing the recipe for Thengai Poli and wish you all a very Happy Pongal and Sankranti <3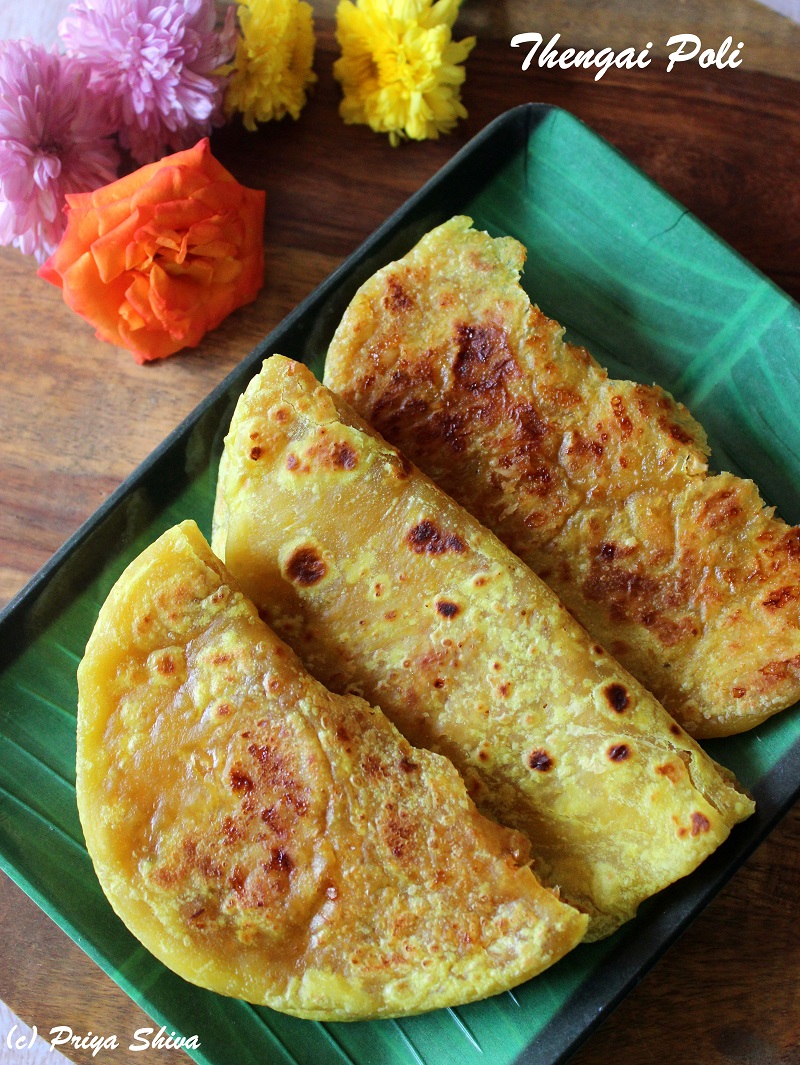 Thengai Poli / Coconut Puran Poli
Make delicious puran poli with coconut, jaggery and a hint of cardamom!
Ingredients
Maida/All purpose floor - 1 cup
Vegetable Oil - 2 tbsp
Salt - a pinch
Turmeric Powder - ½ tsp
Grated Jaggery - ½ cup
Fresh grated Coconut - ½ Cup
Cardamom - 2 (powdered)
Ghee/Clarified butter - 1 tsp
Instructions
Add all purpose flour, salt and turmeric powder in a mixing bowl. Add oil and start kneading the dough. Add little water and make a soft dough. Keep it covered for 1-2 hours. Divide the dough into equal size balls.
Heat a pan and add jaggery and 2-3 spoons of water. When the jaggery melts, add coconut, ghee and mix well. When it starts thickening, add cardamom powder, mix and remove from the flame.
Once it cools down, take a portion of the stuffing and make lemon size balls.
Now take a portion of the dough and flatten it with a rolling pin or hands. You can grease the rolling pin or yours hand with oil..
Keep the poornam ball which we prepared earlier and close it. Flatten it again softly and keep it ready.
Heat a griddle/tawa and slowly transfer the flattened poli onto it. Cook it on low flame till golden brown on both sides.
Remove from the griddle and serve it hot. You can smear some ghee over it before serving.
Yum