Samosa is one of our family favorite tea-time snack. It is so filling that we almost end up skipping our dinner itself. Now, you cant expect us to stop ourselves with just one samosa, right?! I'm sharing an easy recipe to make aloo samosa today.
Check out the recipe to make vegetable Samosa today:
Samosa originated in middle east and central Asia. It became the most popular fried pastry in India and Africa. You can even bake it but I prefer the fried version. I use Idhayam Mantra groundnut oil for deep frying snacks. It is pure and natural groundnut oil and the snacks remain so fresh for hours. The high smoke point of Idhayam mantra groundnut oil makes it ideal for deep frying. You can also check out recipes for Mangalorean buns or ribbon pakoda for snacking.
So, check out the recipe and follow the video to make delicious samosa at home. You can serve samosa with hair chutney and sweet tamarind chutney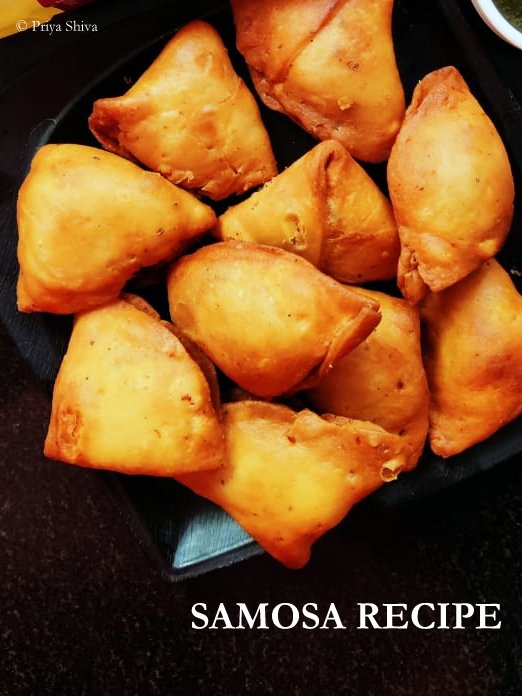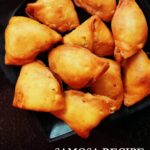 Samosa Recipe
Ingredients
1 Cup All purpose flour/ Maida

1 TSP Ajwain/carom seeds

1/4 Cup Hot Ghee

1/2 Lemon

1 TSP Jeera/cumin seeds

1 Onion  

1 cup green Peas

2 TBSP ginger garlic green chilli paste

3 potatoes (boiled and mashed)

1 TSP Red chilli powder

1/2 TSP Garam Masala powder

1/2 TSP Amchur powder

1/2 TSP chat masala powder

3 TBSP Chopped coriander

Salt to taste

2 TBSP Idhayam Mantra groundnut oil

Idhayam Mantra Groundnut oil for deep frying
Instructions
Add all purpose flour, carom seeds, salt to taste in a mixing bowl. Add hot melted ghee, juice of half lemon and mix well. Slowly add water and knead to form a tight dough. Leave it to rest for 30 minutes.

Head 2 TBSP oil in a frying pan. Add jeera and let it splutter. Now add onion and let it become translucent.

Add peas and fry for few minutes. Now add ginger garlic green chilli paste and sauté.

Add mashed potatoes, red chilli powder, amchur powder, chat masala powder, salt and combine well. Finally add chopped coriander and mix well. Stuffing is ready.

Knead the dough or a minute again and divide them into equal parts. Take one part of the dough, roll them like chapati. Cut the chapati into half. Apply water to the edges and give shape of cone by pressing with your fingers carefully. Fill the stuffing inside the cone. Pack all the corners neatly and deep fry in Idhayam Mantra Groundnut oil. 

Serve with Mint chutney and sweet tamarind chutney or ketchup.
Yum