Tea is always a good idea when you feel gloomy. You can brew a cup of tea for yourself. I'm a tea lover and I can be poetic with a cup of tea. I was thinking about my love for tea as I brewed this Kahwah green tea today and I could only smile. Tea is an experience in itself.  It is a cup which holds the blend of taste, aroma and colour.
Tea has the power to stir your mind and give you comfort. Tea warms you, tea calms you and it even cheers you up.. You share a cup of tea with a friend and end up talking for hours..So, why don't you brew this Kahwah green tea today? Kahwah Chai is a popular tea from the state of Kashmir. The addition of dried roses, green cardamom, cinnamon, cloves and saffron makes it very soothing and comforting. So, sharing the recipe of Kahwah green tea today with some peanut butter almond cookies and wish you all a happy day ahead..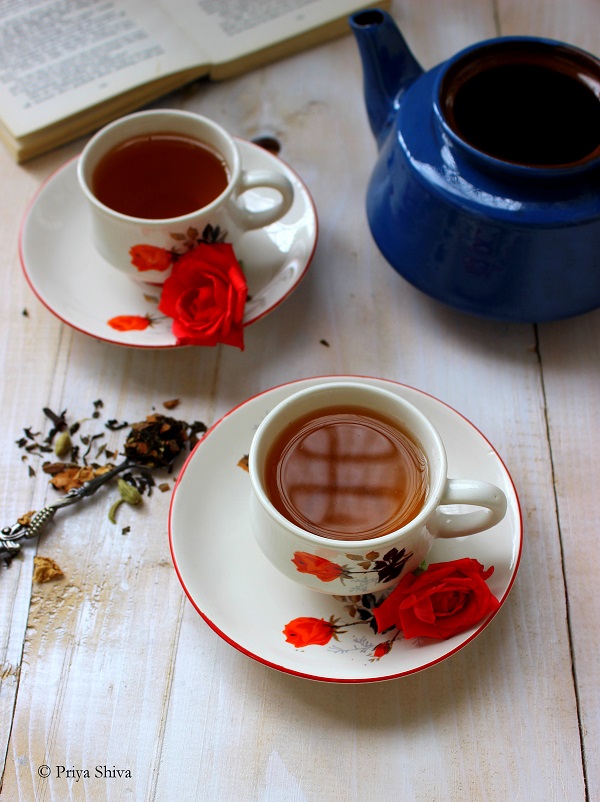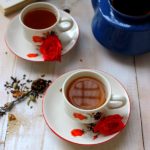 Kahwah Green Tea Recipe
Ingredients
Green tea - 4 tsp

Dried pink rose petals - 10-12

Saffron strands - 6-8

Green Cardamoms - 2

cinnamon - 1 inch stick

cloves - 2

Sugar/honey - 4 tsp

optional
Instructions
Boil 4 cups of water along with rose petals, saffron, cinnamon, cardamom and cloves.

Add green tea once water starts boiling and lower the flame.

Let the tea brew over a low flame for few minutes.

Strain the tea and enjoy.
Recipe Notes
You can adjust sweetness according to your taste.
Yum