Chennai is one of my favorite city. I have visited this city as a tourist, lived there for couple of years and often visit this city for work now. Chennai always brings fond memories of the famous Marina beach, the shoppers paradise – Pondy bazaar and the ever-crowded Parrys corner for street shopping freaks like me. Above all , what attracts me to the city is it's people and culture. Chennai is a city that has a heart and mind of its own. It is a city which could enthrall you with its history, surprise you with its warmth, shock you with its climate and kindle you with emotions. Overall this city is a fodder for the imaginative mind. So here I am, back in this city trying to etch one more good memory …. an invitation to review Feathers Chennai hotel. I was more than glad that I decided to stay there and enjoyed the warmth and royal treatment at Feathers.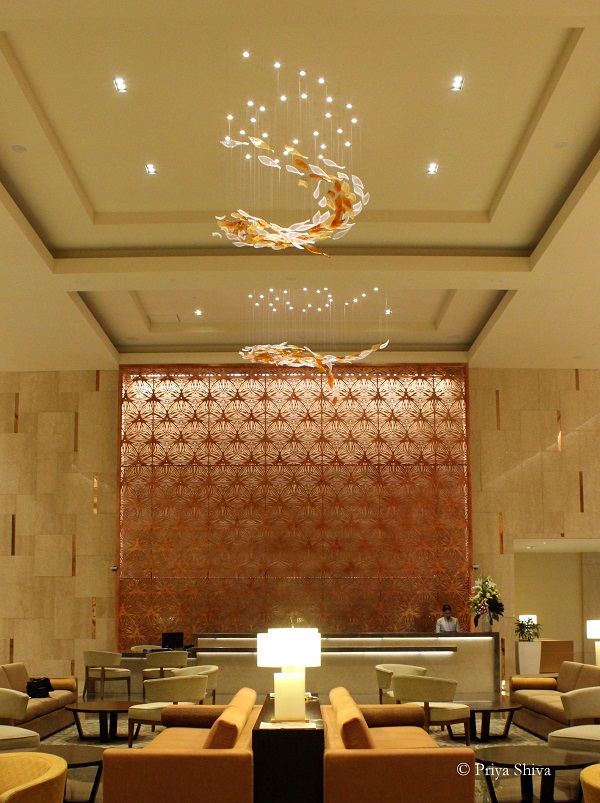 The Ambience:
The hotel is located very near to the airport and I was promptly picked up from the airport by their staff. I was welcomed by the smiling staff at the elegantly designed hotel lobby.
When I inquired about the paintings and the designs, I learnt that the hotel interiors have been designed by Meagan Jacobi from Cobico Interior Design Firm. The designs are inspired by copper tableware, spices, jaali screens and rangoli designs. The design has the fusion of Indian culture and modern art. I loved the spacious lobby, elegant paintings and beautifully designed chandeliers. This hotel is really full of interior that some people might love to steal. For example, some people might be interested in brightening up their walls with some wall stickers. This hotel seems to have some wall art, so people could consider trying to find some similar designs.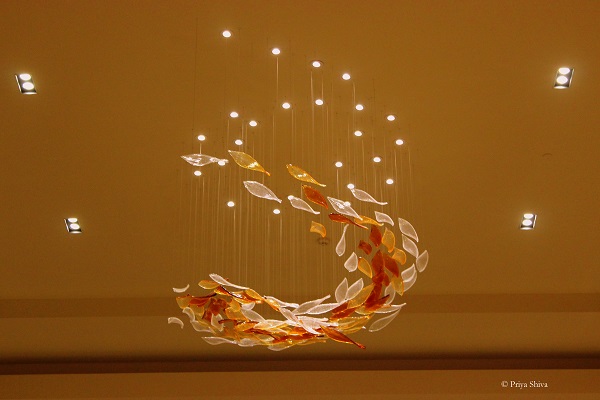 I checked out their Tea lounge – Truffles as soon as I entered and enjoyed a freshly brewed cup of tea at the lobby. I'm a tea fanatic and simply could not resist myself checking out what this Tea lounge had to offer. You can simply relax at the lobby and grab a quick cup of your favorite beverage . The pastries and cakes that are on display will definitely tempt you if you have sweet tooth like me :)..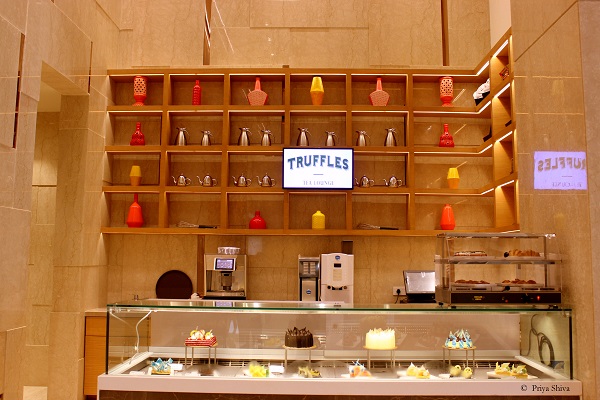 Metropolitan Suite:
I was escorted by the staff to my Suite which was breathtaking! The Metropolitan Suite as the name suggests is spacious and decorated in a cosmopolitan style. There is a partition to separate the living room and the bedroom. The living room is perfect for your small business meetings or spending time with your friends. There was plenty of seating space and a fluffy rug, which made the living room that little bit cozier. If you are looking for a rug to bring the look of your room together, or to make your room homier, then you could consider checking out the rug collections, designed by Bazaar Velvet. Additionally, there is a separate powder room attached to the living room and a large marble floor bathroom attached to the bedroom which has a very inviting, spacious shower complete with glass shower doors, and a bathtub too!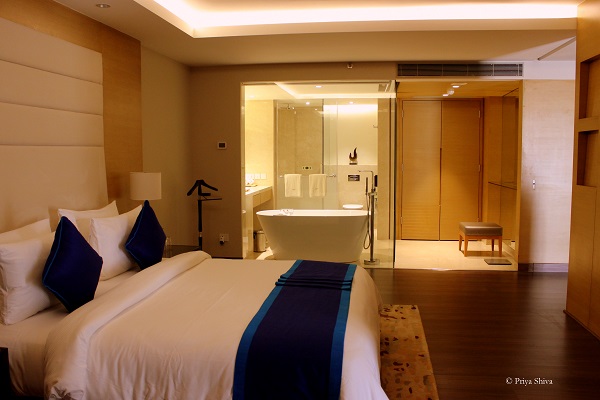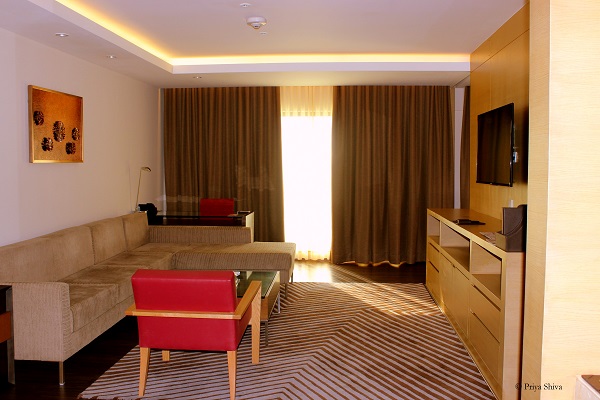 Metropolitan suite has two 49′ LED interactive televisions. You can check out the hotel information, watch your favorite channel, browse internet or even stream a video from YouTube and connect your gadgets for video conference calls etc.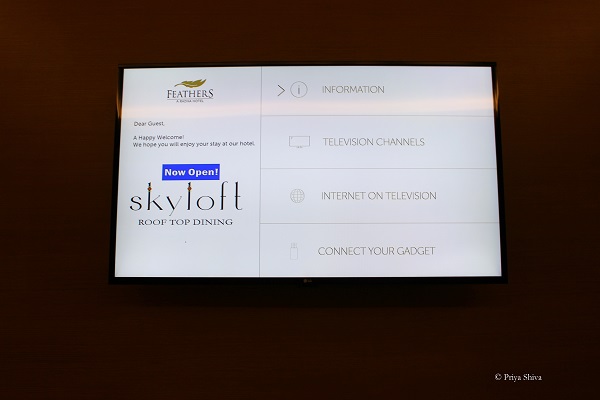 The hotel has 186 rooms & suites and every room has an 49′ LED interactive television. All rooms come with coffee and tea making facilities, in-room safe, individually controlled air-conditioning and spacious work desks. You can even get a crib for baby on request. All rooms come with a bath tub and the glass partition concept in the room allows the bedroom and the bathroom to flow together as one. The bathroom is well equipped and pull down the shades for privacy if required. It's definitely one of those bathrooms that you would show to a contractor like Thomas Buckborough & Associates (https://www.tbadesigns.com/sudbury-design-build/) to give them an idea of how you would like your own bathroom to be remodeled.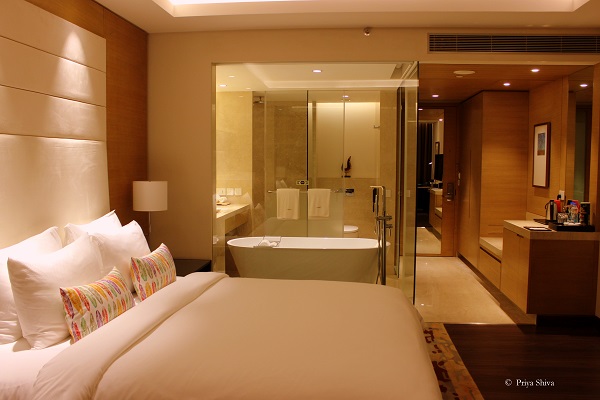 ?After soaking in the luxury of the room , and getting freshened up , I took a stroll into one of their restaurants for a quick breakfast ..
Waterside – All Day Dining
Waterside Restaurant is an all day dining restaurant which is open 24 hours, stylishly designed and serves global cuisines. I enjoyed few meals there from breakfast to lunch and it was a foodie delight to enjoy food from there. I can vouch for the whole experience from the aroma to flavors to ambience and service.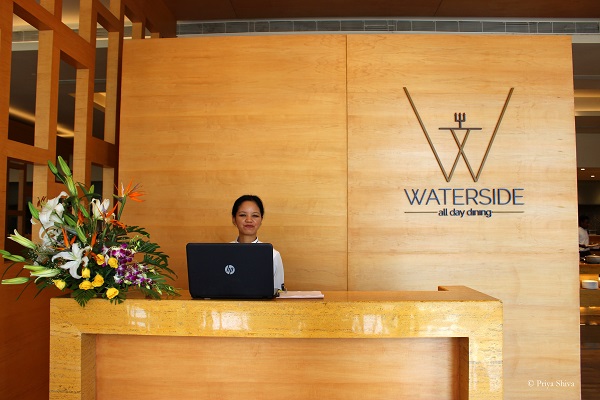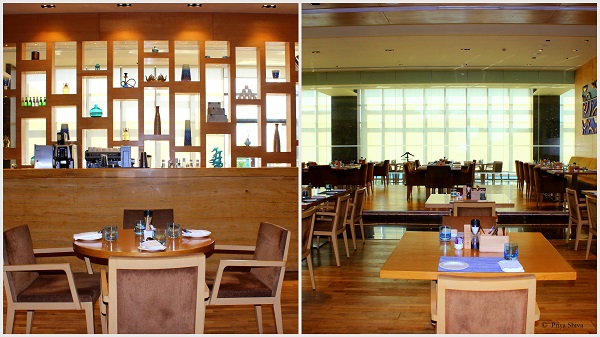 The Sunday brunch is a "Must try" at Waterside restaurant. You can enjoy the live band music and a mind blowing spread. You can try different kind of the freshly baked breads, in-house cheese ranging from Babybel Cheese, Cheddar, Parmesan, Bocconcini, Gouda etc.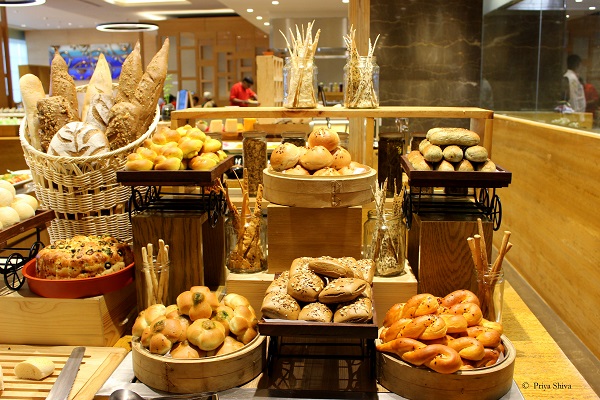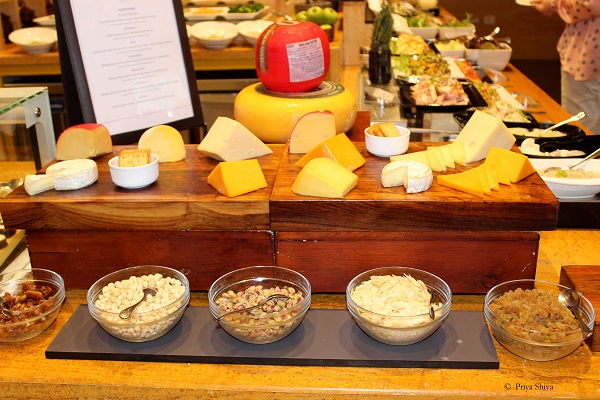 You can move to other live counters to enjoy some sushi or salads. There is a live counter for street food lovers, appetizers or enjoy a freshly baked pizza. Your palates will be teased , tested and tempted with the varied flavors and satisfied with the freshness of the food served.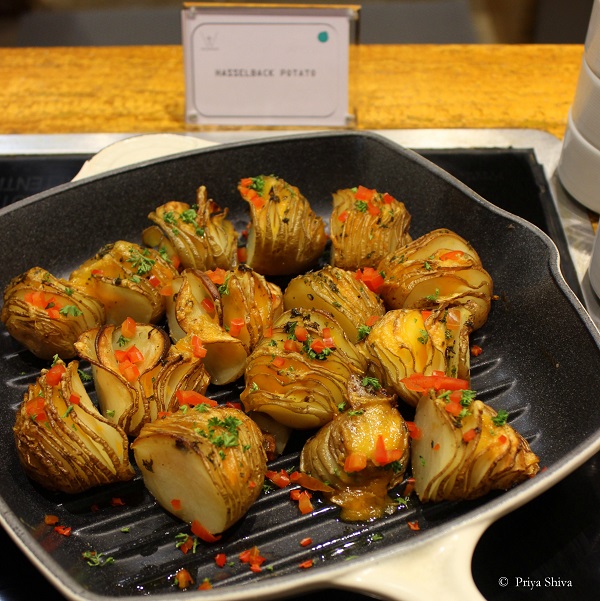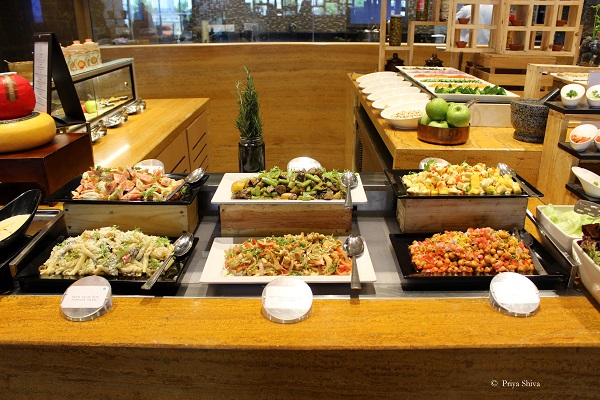 The main course serves you varieties of rice and mouth-watering curry from different regions of India. You might end up confused like me whether to enjoy the biryani or a rich curry with Indian assorted breads.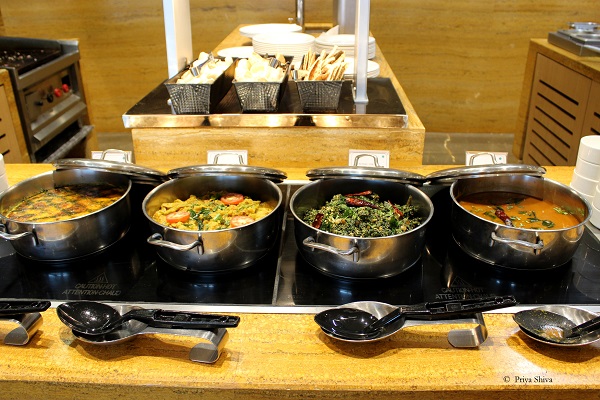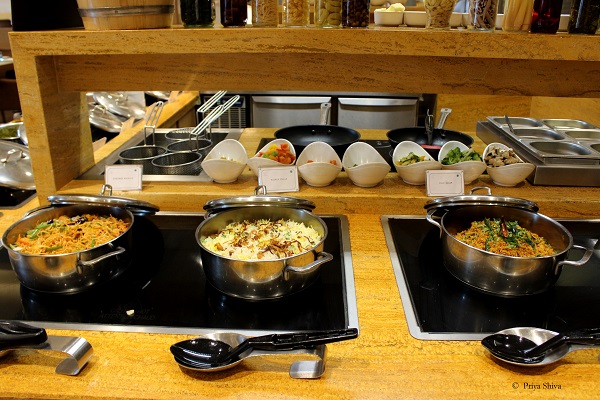 I was eyeing the dessert counter from the time I entered . Dessert's are my weakness and I can skip the whole meal to just savor the desserts. Waterside restaurant satisfied my dessert craving big time! You can enjoy wide variety of cakes, brownies or dip yourself in Indian sweets like chum chum, jalebis and rasmalai. I could not take my eyes and mind off from the red velvet cake.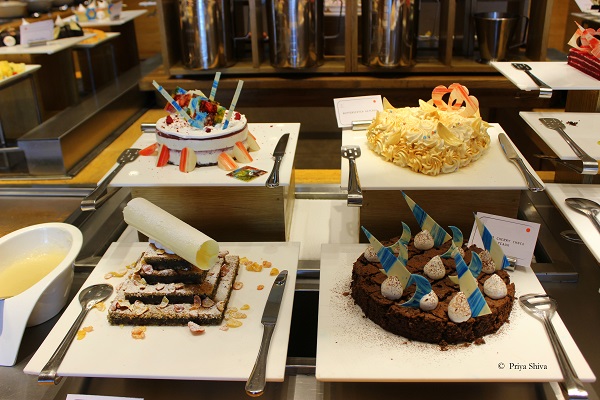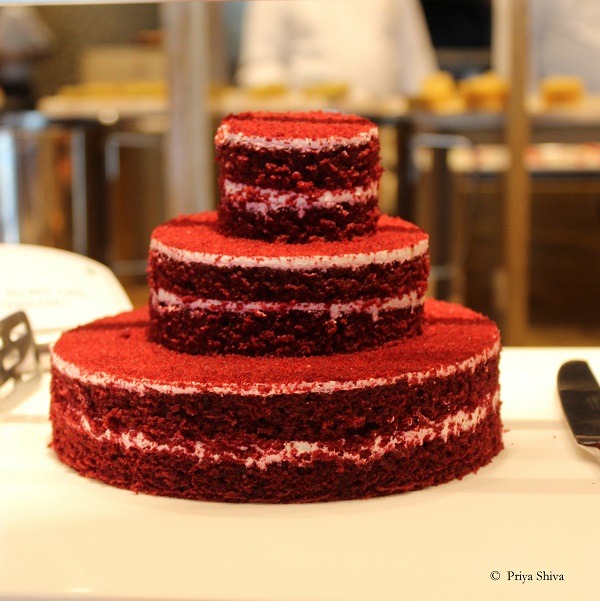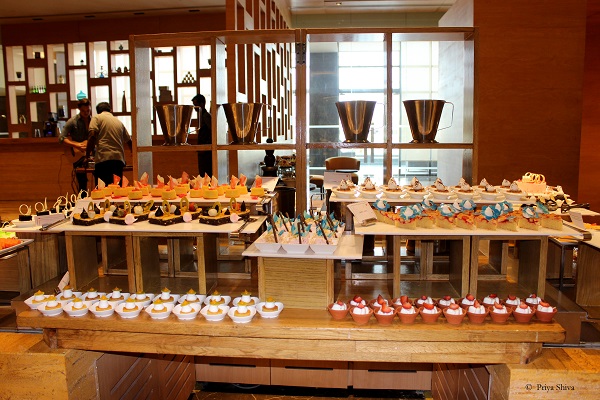 All I can say is , Waterside restaurant is a foodie's paradise! So, be there on an elegant Sunday when you have all the time in the world, get pampered and enjoy the whole experience as a foodie. I also had the opportunity to meet some awesome chefs – Chef Paul, Chef Ganesh, Chef Amoris. Their passion flows in the food which is served in the hotel.
Recreation:
After feasting on such a lavish spread, I needed some recreation. I could have paid a visit to Chennai trade center which is located very near to the hotel as they always have some interesting exhibitions going on there, but I finally decided to stay at the hotel and check out what they have to offer. I was tempted to burn some calories in their well-equipped gym or take a dip in their 52-feet swimming pool, but did neither of it..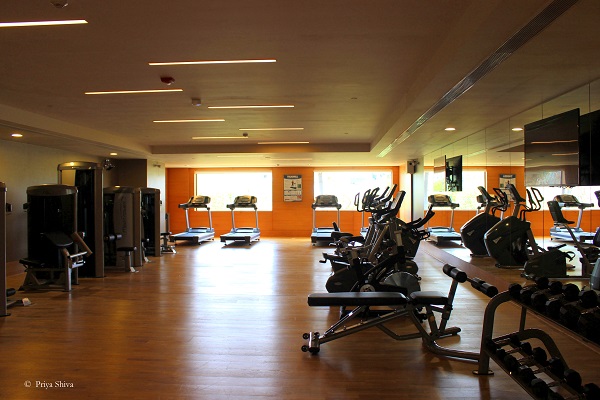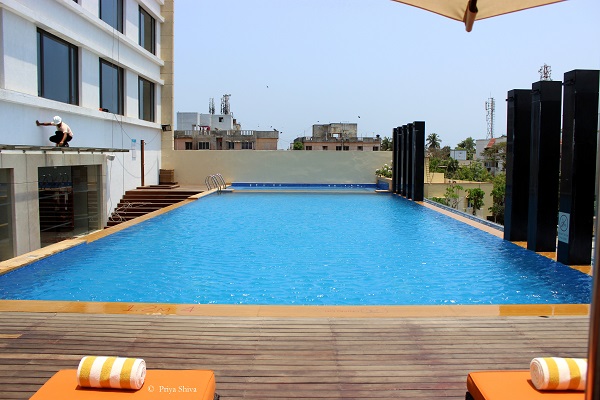 I'm sure you can imagine me with a lemonade at the pool side, my eyes closed and probably think of nothing else..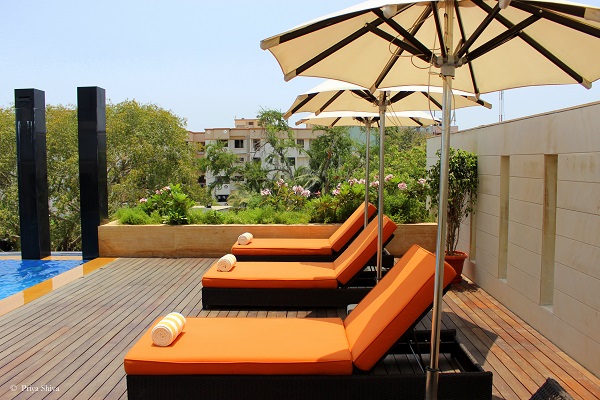 I moved on to check out their Spa center. Sohum Spa center at Feathers has Four single treatment rooms, Communal relaxation area and Couple treatment room as the name suggests for couples. I always had the feeling that Spa treatments in 5 star hotels are expensive but when I checked at the offerings at Sohum Spa, I realized they were rightly priced.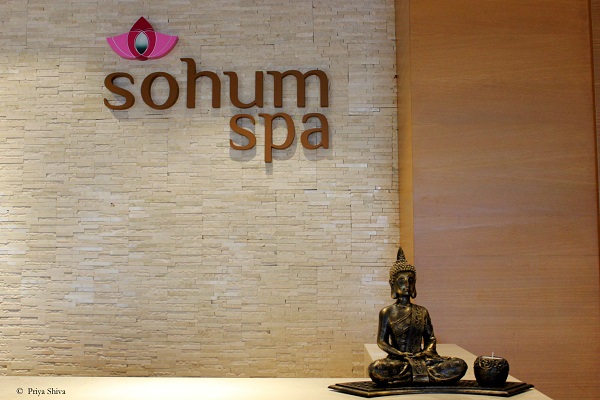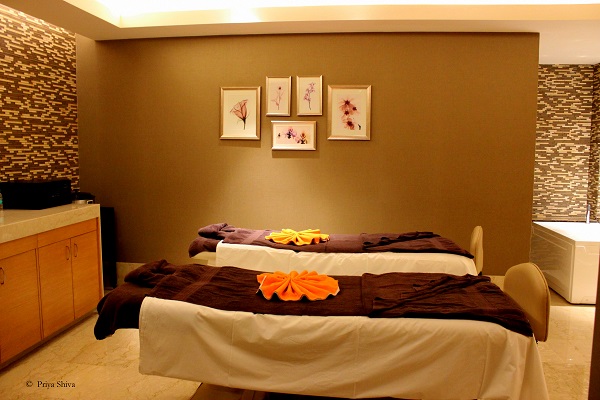 The management asked me to try their "Bali Spa therapy". I must say that it was one of the best massage which I enjoyed after a long time. The therapist was courteous and polite. Bali Spa included a 60 minute aromatic oil massage and 15 minute steam. You can enjoy a warm shower and a soothing green tea after the therapy. I definitely felt rejuvenated and light as a feather after the massage..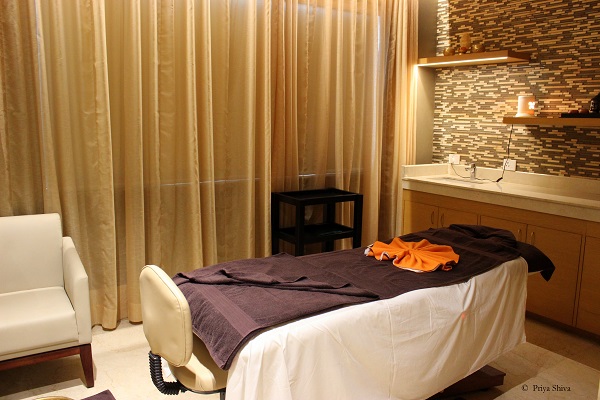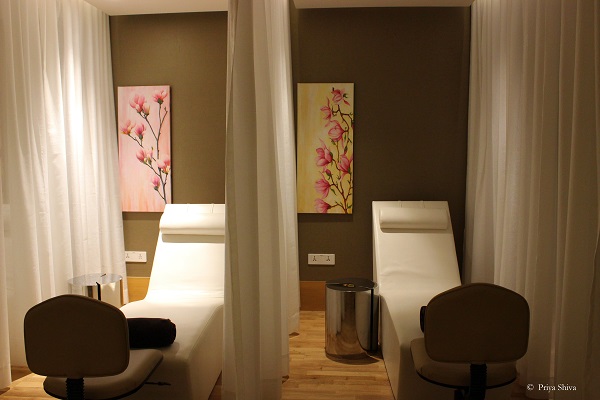 Board room and banquet halls:
I often travel to Chennai for work which involves conferences and workshops. So, I decided to check out the board rooms and banquet halls at Feathers hotel Chennai as it is ideally situated near Airport, DLF IT Park and Chennai Trade center. I firstly checked out Carnation which is 9,250 square feet banquet hall. the hall can be divided in 3 parts with walls to cater for small gatherings or clubbed together for large events, marriages, and product launch parties. Carnation banquet hall is designed beautifully and the ceiling is lit by these colorful glass works. There is a bridal room and a guest room close to the hall.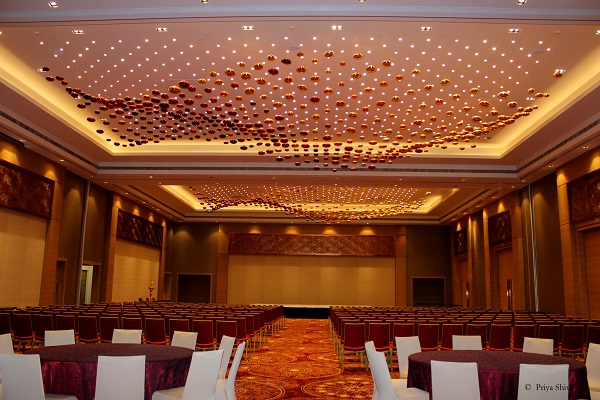 The hall has a separate entrance from the back side of the hotel. Parking area is spacious and a separate entrance avoids a chaos at the lobby of the hotel.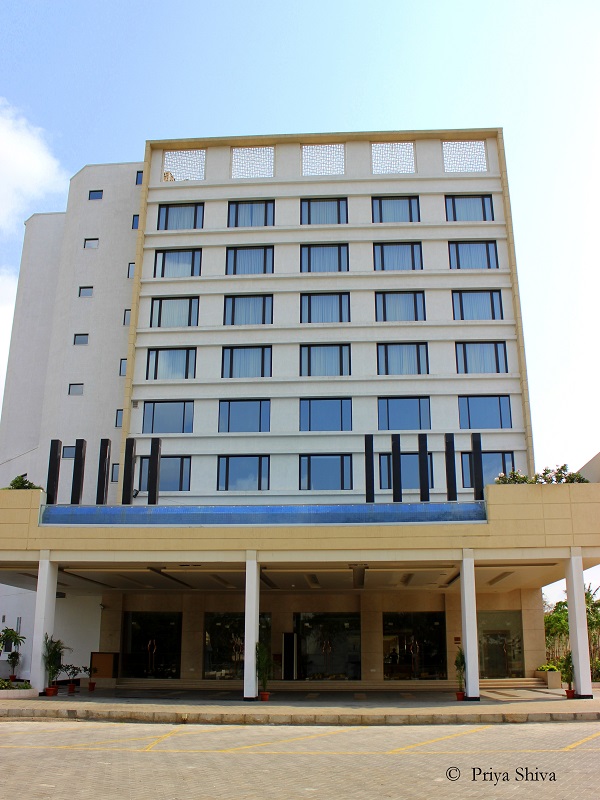 The executive board room is stylish and well equipped with in-built state of the art AV facilities which can easily accommodate 16 guests.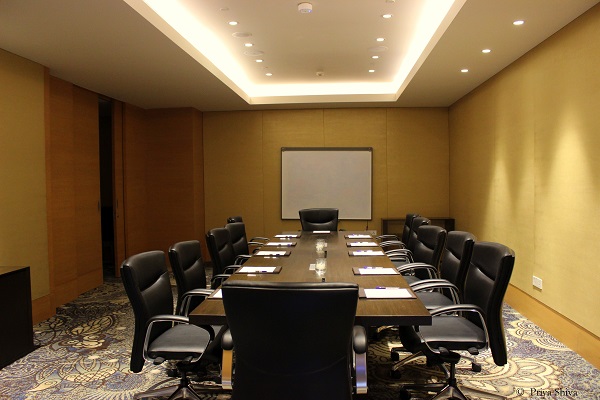 Skyloft Restaurant:
It was evening time and I quickly went to my room to freshen up and then headed towards their roof top restaurant. Skyloft restaurant is a perfect place to relax after a hectic day. The city view is breathtaking and you can experience open air dining.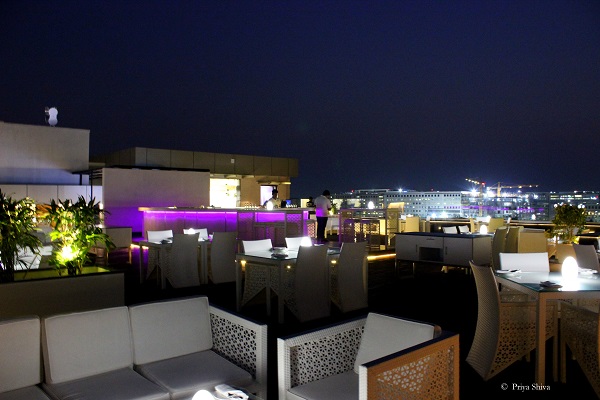 The star lit sky and some soulful music by Elliot and Georgie was perfect to get me in the groove. You can spend the whole evening listening to the live band with delectable food. The choice is yours to be there with family, friends or enjoy some "me time"…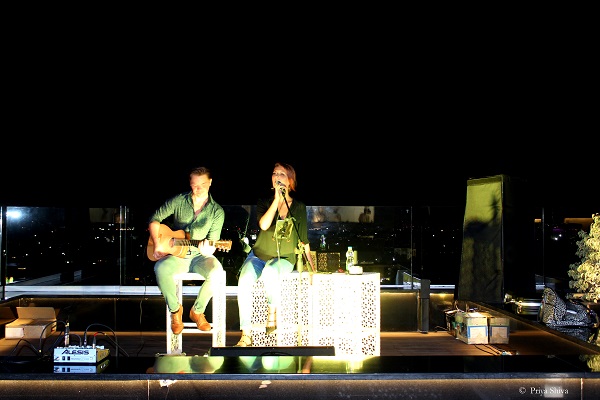 You can refresh yourself with mojitos, order some delicious kebabs or even enjoy some yummy tacos!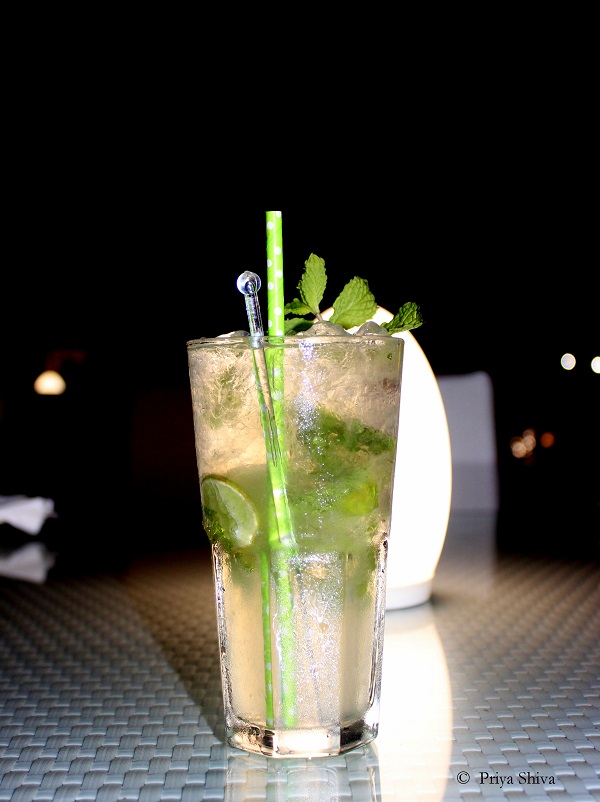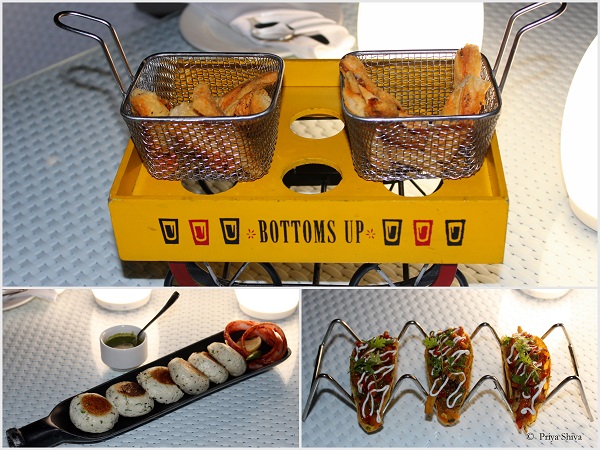 I thoroughly enjoyed my stay at Feathers hotel Chennai and hope to keep visiting them during my Chennai visits. This hotel is a perfect place to relax during business travel stay or a holiday with your family.
Click here to check out more details and connect with Feathers.
Fly like a feather and land at Feathers Chennai to enjoy some authentic hospitality experience. Not to mention it's a feather in Chennai's hospitality cap. We always exclaim about the "feather touch". So, it will be apt if I end this post on a note that "I was touched by the entire experience of Feathers hotel".
Love,
Priya Shiva
Yum