Sunny days are here! Yes, it is time of the year when water is the need of the hour. I just want to sit in a swimming pool whole day and keep sipping some lemonade. Schools have also closed down. So, I'm trying hard to stay sane and keep my kid busy with some activities. I bought this big watermelon today and thought of making some watermelon crush. Then I decided against it and ended up making Watermelon Gazpacho. Gazpacho is a cold soup and very popular in Spain especially during summer time.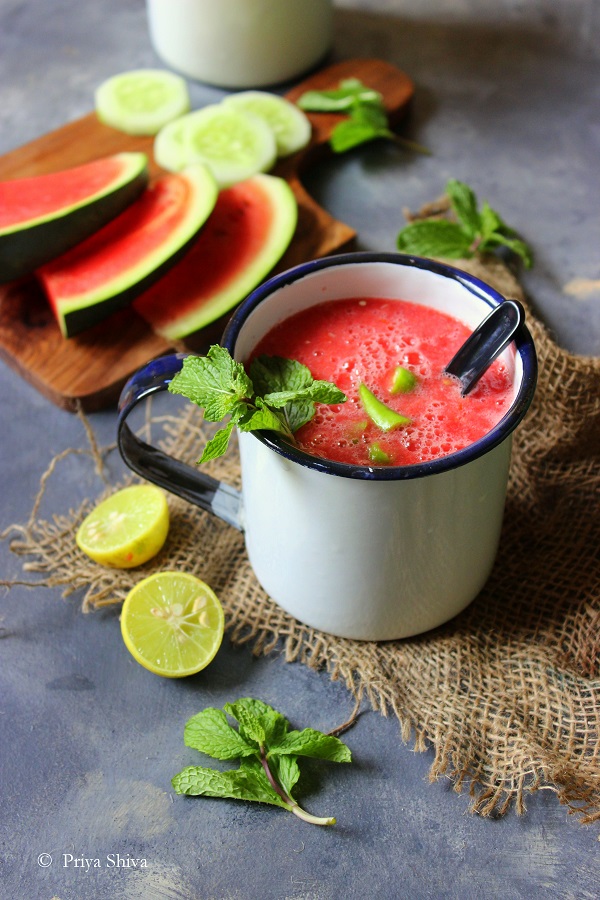 Gazpacho is usually made with tomatoes. Chopped cucumber, onion, jalapenos, garlic is added to enhance the taste. I decided to give a twist with watermelon and enhanced the taste with ginger in it. So, check out the recipe for Watermelon Gazpacho today. It is refreshing, healthy and absolutely yum!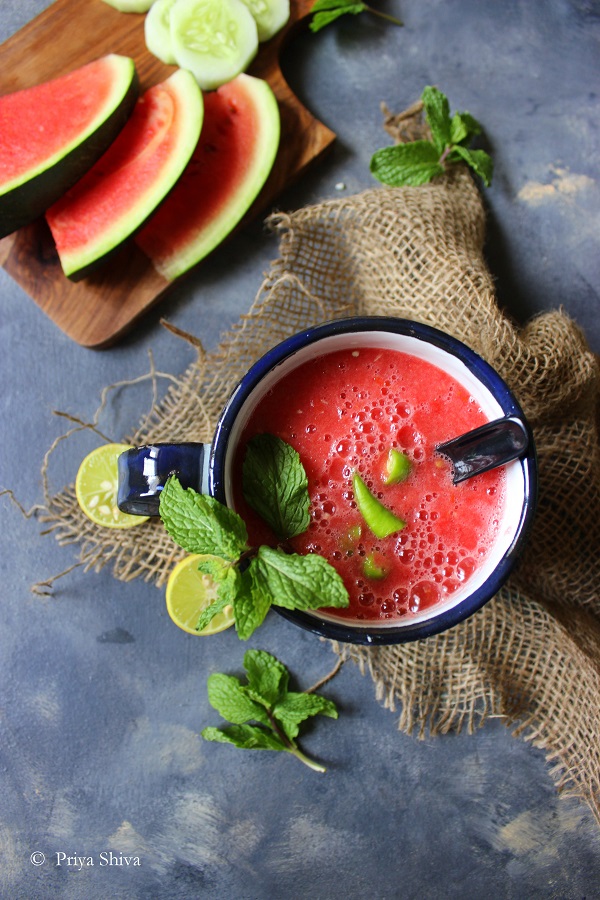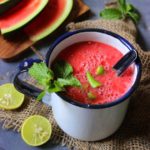 Watermelon Gazpacho - Watermelon Cold Soup
Ingredients
Watermelon - 2 cups

cubed and remove seeds

Tomato - 1

chopped

Cucumber - 1

peeled and chopped

Red onion - 1

finely chopped

Ginger - 1 tbsp

grated

Jalapeno - 1

minced

Black pepper - 1/2 tsp

Lemon juice - 1 tbsp

Mint leaves for garnishing

Salt to taste

Olive oil - 1 tbsp
Instructions
Add watermelon, tomato, cucumber, ginger, salt to taste, lemon juice, olive oil in your blender and blitz it.

Transfer this in 2 serving bowl. Add chopped onions, jalapeno, sprinkle some black pepper, garnish some mint leaves and serve.

You can even chill it for few hours or add ice cubes.
Yum