My blogger friends play an important in my growth and learning. They always have an encouraging word to share and I always get to learn something new from them. It also makes sense to introduce you all to them so that you can get connected to them too. So, I'm going to introduce you all to Binjal Pandya today who blogs at Binjal's Veg Kitchen. Her blog is the image of her passion towards cooking and food. I love her photography, food styling and always find something drool worthy on her blog. She has brought these summer special Mango Pineapple Smoothie Popsicle for us today..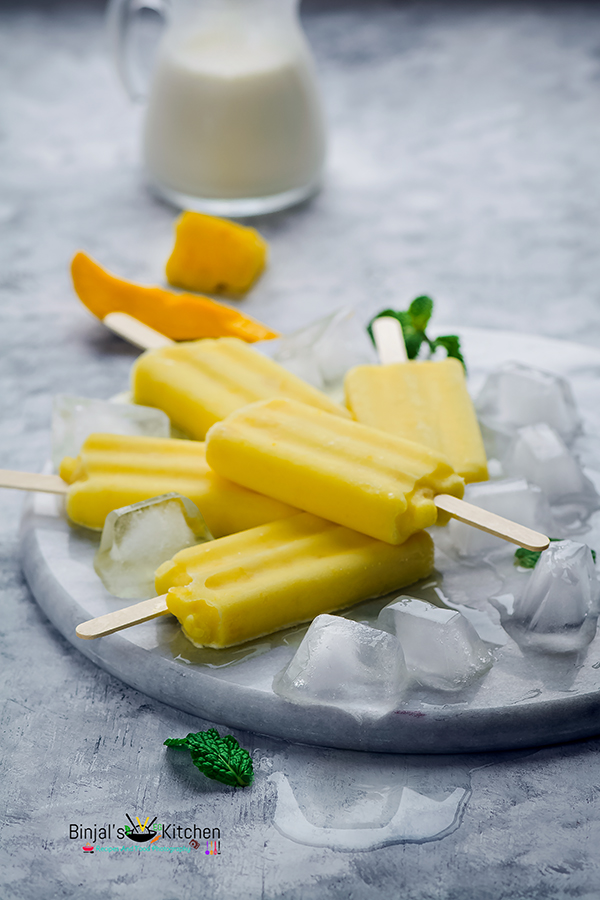 Here's something Binjal wants to share with you all – "Hi everyone! Priya and I met on Facebook through our blogging and became friends. She is such a wonderful person and well known Indian food blogger. Last month when she asked me for a guest post I agreed immediately. Thanks to Priya for giving me this wonderful opportunity to share my recipe with her readers. I'm super excited to share this Popsicle recipe with you all today, yippee!! Mango Pineapple Smoothie Popsicle is seriously refreshing, delicious and mellow. Can you believe how simple it is to make these Popsicle? So, easy to make but a pain to photograph and style, especially when kids around you! These Popsicle are so smooth and creamy and quite attract everyone! "
Thank you Binjal for bringing these sunshine Popsicle to my blog. Mango, pineapple, and yogurt is the right combination of tropical flavors and natural sweetness. So, check out the recipe and do drop by her blog to connect with her.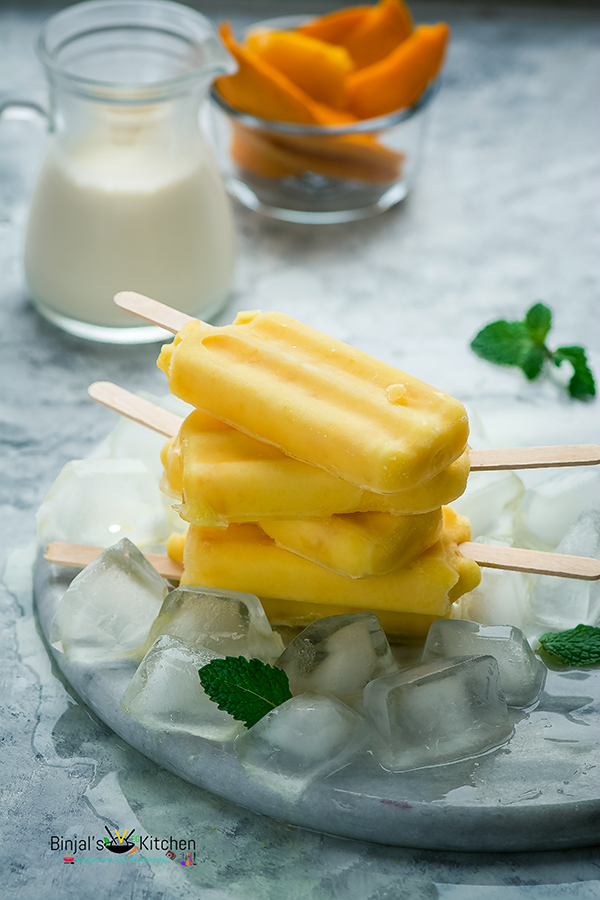 Mango Pineapple Smoothie Popsicle – Guest Post By Binjal
Recipe Type
:
Snack, Popsicle
Author:
Prep time:
Total time:
Ingredients
1 cup Chopped Fresh Pineapple Chunks
1 cup Chopped Ripe Mango Cubes
½ cup Low Fat Yogurt
2-3 tbsp Sugar or 1-2 tbsp Honey
2-3 Pinch of Salt
Popsicle Mold
Instructions
First add all the fruits in a blender or juicer and blend them till smooth puree. If you don't already own a blender, you can learn about the best ones to buy on websites like Kitchen Habits. I use a Ninja blender when I'm making these popsicles and it works brilliantly!
Take a bowl, pass the puree through a sieve so that the small remains of the strand get removed.
Now add the sieved puree into the same blender, add low fat yogurt, sugar and blend it till smooth smoothie.
Take a Popsicle mold and pour the prepared smoothie into the molds till full.
Cover it with plastic wrap and insert the Popsicle sticks (its depends on molds type) and place it into the refrigerator for 7-8 hrs or till hard like ice.
After 7-8 hour, pour lukewarm water all over the mold, turn the mold upside down then carefully remove the Popsicle from mold.
Mango Pineapple Popsicle are ready, serve chilled and enjoy the summer in healthy way
Notes
If you like fruit fibers then no need to sieve puree you can add all ingredients together in a blender and just blend it.
Yum