It is time of the month to showcase another blogger friend. This time I'm featuring someone who not only cooks fabulous food, bakes some awesome cakes but also doing amazing work to Save Lost Temples of Bhubaneswar. I'm talking about my beautiful friend, Sai Priya who blogs at Lady's Phinger. She has brought Kanika which is a delicious sweet and served as an offering to Lord Jagannath.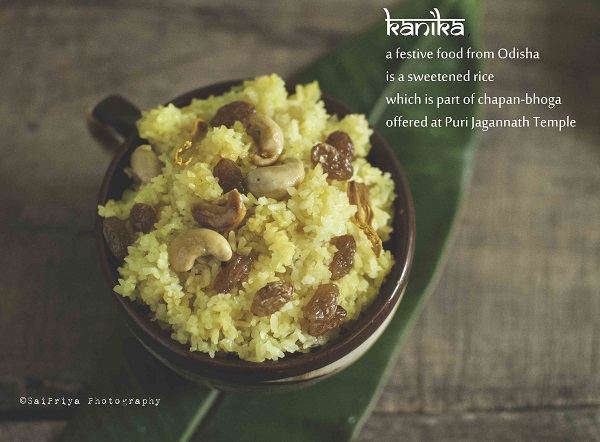 This is what she has to say to all of us – "Thank you Priya for inviting me for the Guest-post & giving me a chance to connect with your readers. When Priya asked me to guest post, I promised her that I will be sharing a traditional dish of Odisha , the land of Jagannath Dham.
Mahaprasad is the daily offering to Lord Jagannath in the Puri Temple. It is available at Ananda Bazar, the pious environment  inside the Temple premises where one can have Mahaprasad served on banana leaves. The banana leaf is considered to be golden plates here. Chappan Bhoga which means 56 variety of mahaprasada is part of daily offerings to Lord Jagannath which are cooked in clay pots.
If you visit temples in Bhubaneswar which is known as the Temple-city of India ,you can also find Prasada in many temples. On any auspicious day people love to have prasada which can be easily fetched during the lunch hour at the temples."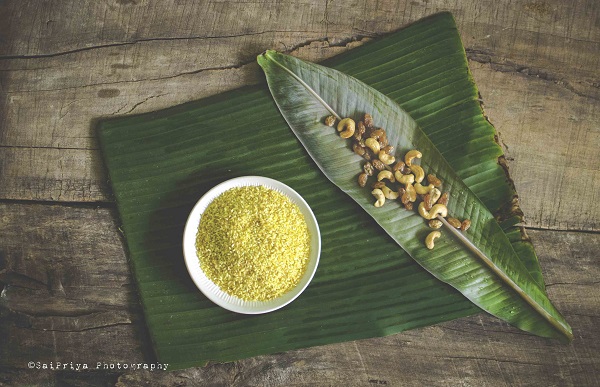 Sai Priya continues to tell us about her project – "I would like to tell you about my current Campaign #SaveLostTemples of Bhubaneswar which I have started in January 2017 .In month of November I started an Instagram Project #101TemplesOfBhubaneswar and during that project I came across many such neglected Temples which had lost their dignity. Many are Godless fading by time. I feel pity on those artists who had dedicated so many hours of their lives to build such stone-art. Later me and my sister started a campaign to save & protect lost temples of Bhubaneswar. I am thankful to Priya who insisted me to share few words about my campaign here. Here is a collage of some temples of Bhubaneswar. "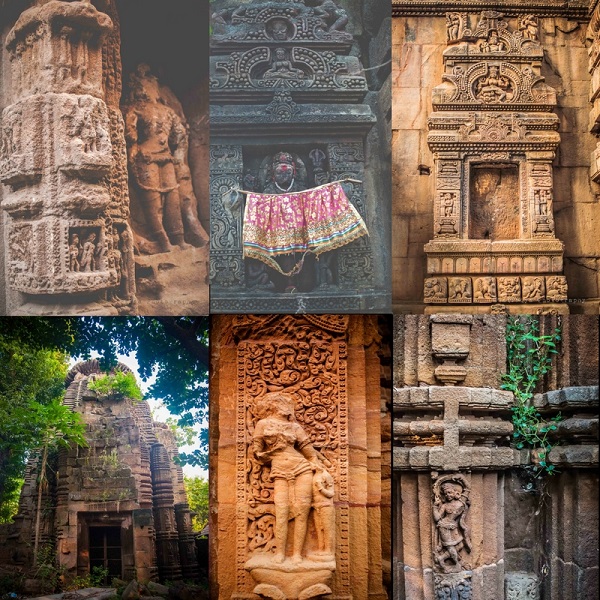 Now let's talk about the dish "Kanika"  which is a part of Chappan Bhog. It is a fragrant sweet rice which is usually prepared at home on any festive day. The aroma itself makes your hunger pang high when you start preparing it. The recipe Sai Priya is sharing here is what she learnt from her Mom. In the temple they add Cloves, black peppers which I have skipped here. You can add if you like for that extra flavor.
Thank you Sai Priya for taking time to share this dish and telling us about your project about  #SaveLostTemples of Bhubaneswar. Do stop by her blog – Lady's Phinger and share some love.. Lets all support her by showing some appreciation…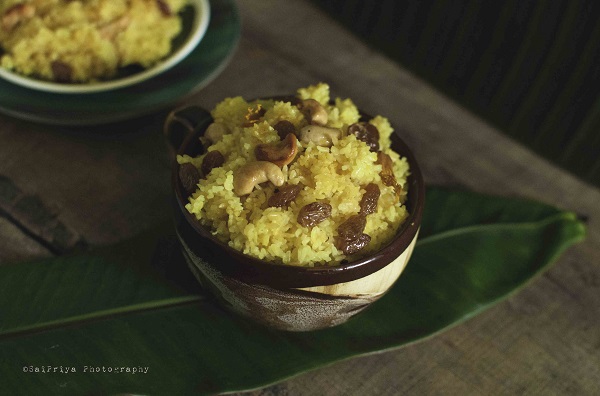 Kanika Recipe
Author:
Prep time:
Cook time:
Total time:
Ingredients
Fragrant rice – 1 cup
Turmeric – 1 tbsp
4 Green cardamom
2-3 Mace
5 tbsp ghee
Sugar – 1/4 cup + 2 tbsp
3 tbsp raisins
2 tbsp cashews nut
water – 1.5 cup
Instructions
Rinse rice once and drain the water. Mix turmeric and spread it on a Plate .keep it for 30 minute.
Heat 1 tbsp ghee in a pan .Fry cashews and raisins for few seconds and take them out. Add 4 tbsp ghee and rice to it. Fry rice at medium flame for 2 to 3 minute. Take them out.
Add cardamom and fry for seconds. Add water and bring it to boil. Add mace and fried rice to it , cook at medium flame.
When the rice is almost done ,add 1/4 cup sugar to it .Let it cook for 2 minute more and switch off the flame.
For an extra color you can make caramel heating 2 tbsp sugar with 1 tbsp water together. Switch off the flame when it changes it color ,drizzle this with a spoon over the cooked rice. Mix once.
Yum