I recently received an invite for a special Valentine dinner preview at Radisson Blu Atria Bengaluru. I'm glad that I decided to attend it and spent some quality time there going through the beautiful premises and tasting the delicious food. Radisson Blu Atria Bengaluru is nestled in the heart of the city. It has 167 guest rooms, six indoor banquet venues and two boardrooms. There are various facilities which guests can enjoy like free Wi-Fi, swimming pool, Fitness centre and spa. The guests can opt for twin, king, smoking and non-smoking rooms.The rooms are spacious and the hotel is perfect for any kind of tourist.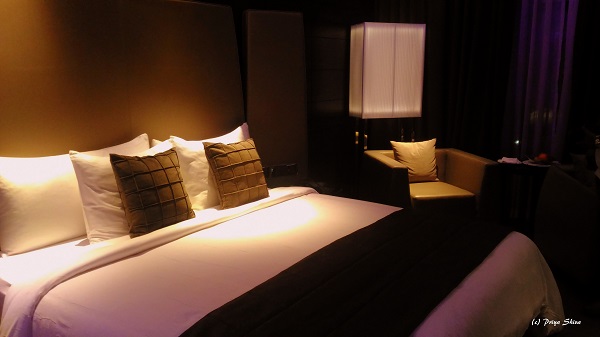 The hotel offers four food and beverage experiences – One Atria Cafe, Tijouri, The whiskey bar, Tea & Wine lounge.  Enjoy high tea time at the Tea & wine lounge. The whiskey bar is something exclusive for whiskey lovers. You can enjoy your whiskey with some mouth watering kebabs.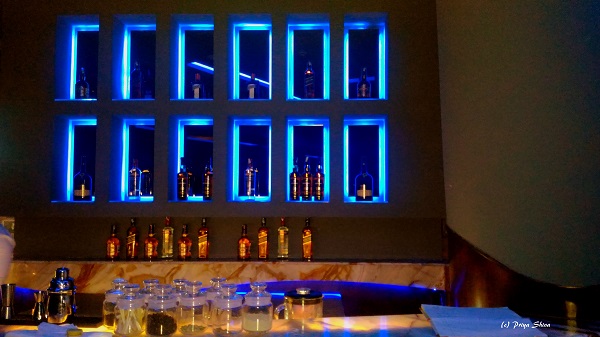 One Atria Cafe is an all-day dining restaurant at the Radisson Blu. You can experience the live kitchen and food from an array of international cuisine. Tijouri is yet to open but I'm looking forward to its opening as the management was talking so passionately about the food experience which this restaurant will offer to its guest.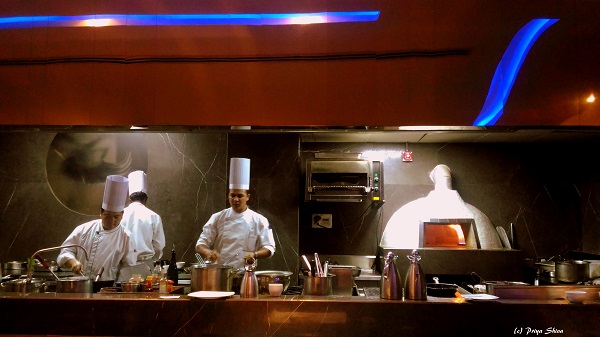 The highlight of my visit to the hotel was the Valentine preview dinner. This dinner was put together to curate the menu for the upcoming valentine day . It was a unique experience with sparkling wine, candle lights and the right mood kindling the cupid in you. There are also a few tables set in the pool and you could probably wet your feet and warm your stomach with the great menu that's being planned / and was offered to us in this preview dinner. Imagine yourself sitting with your legs in the pool , a open night sky, rose petals sprinkled all over and a fabulous food which you can savor with your partner. It is one of the most royal and romantic setup and is sure to make your valentine feel like a king/queen ..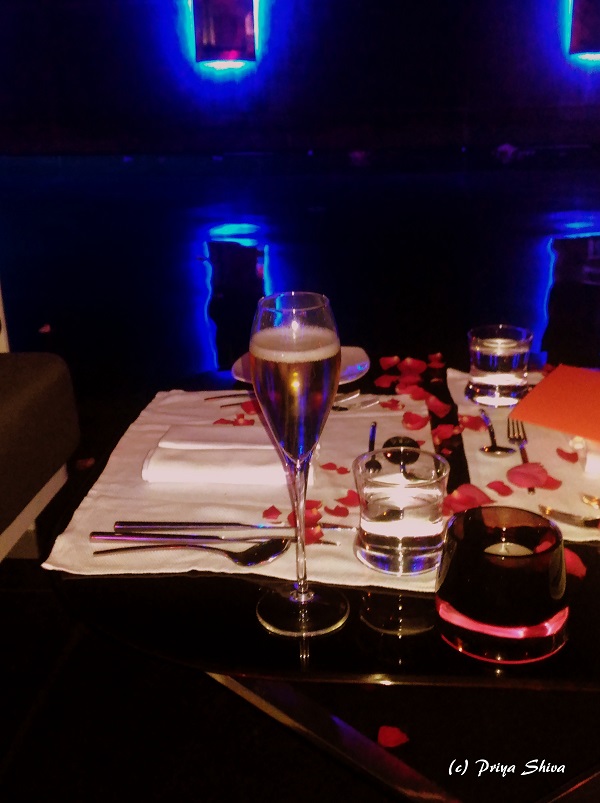 The menu has options for both vegetarians and non-vegetarians but I'm going to highlight the dishes which I truly enjoyed as a Vegetarian. The fabulous dinner starts with Amush bouche which is Tender coconut jelly with carrot and cream cheese mousse.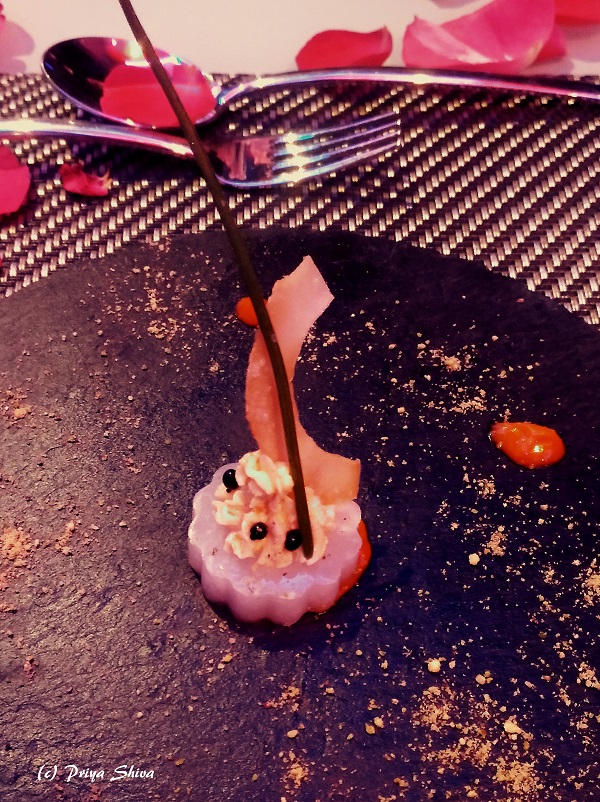 It was followed by an appetizer – Forest mushroom mille fillet with musclun. It will heat up your body and tingle your palette.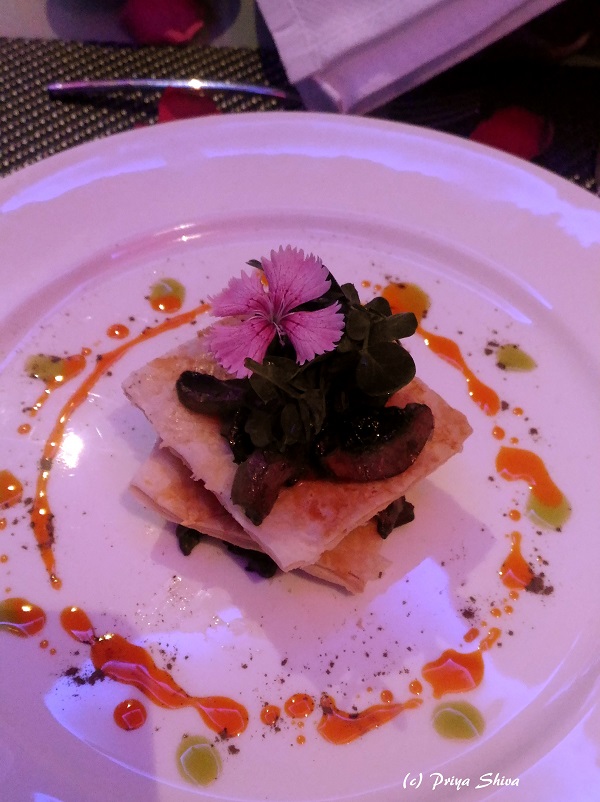 The appetizer was followed up beetroot soup. The Beetroot soup with goat cheese topped with grainy smith chips will cool your body from all the heat in wild mushrooms.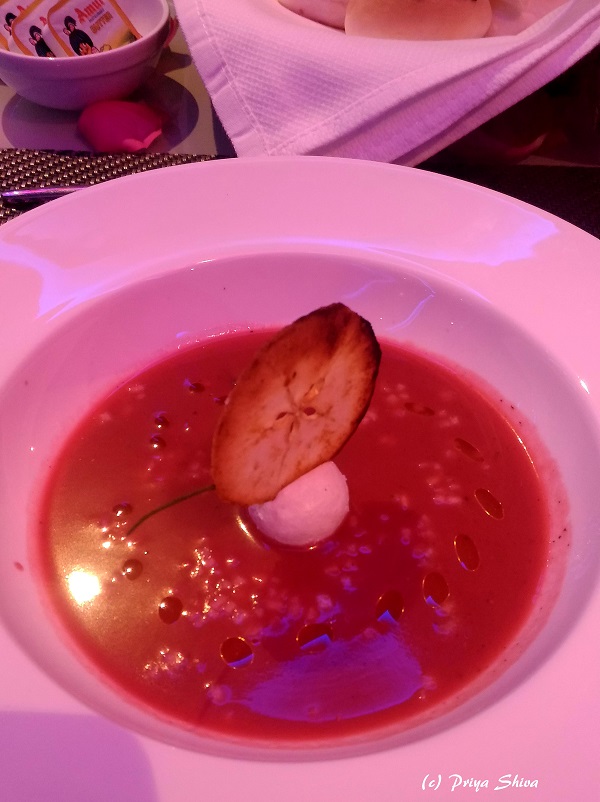 You have two choices as a vegetarian for Entrée dishes. You can either go for Strawberry risotto with balsamic and pea shoot or Blanquette of Vegetables in puff pastry with red pepper coulis. I found puff pastry with red pepper coulis more appealing and beautifully presented.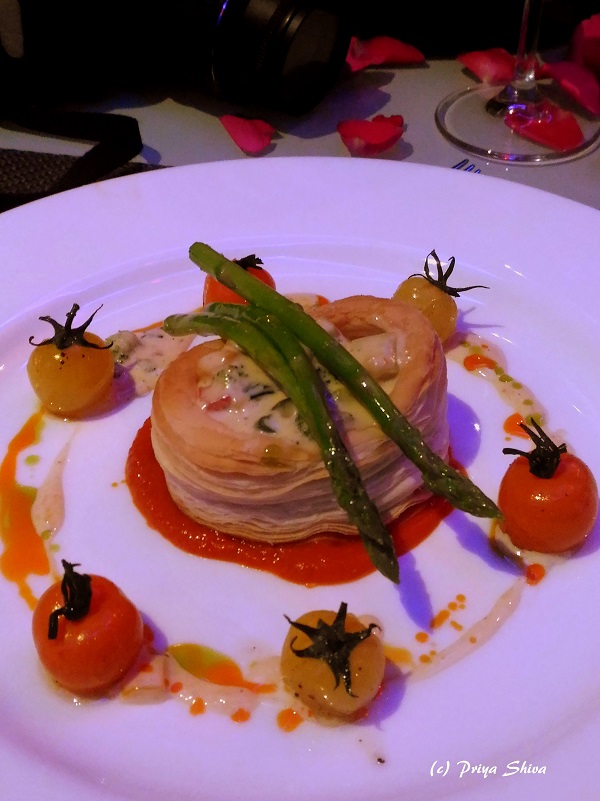 The dessert is the show stopper and make sure you keep some space in your heart for it. I'm allergic to egg and a vegetarian. So, the chef made a beautiful chocolate dessert with citrus flavor ( they do go a long way and take extra efforts to make your loved ones feel special)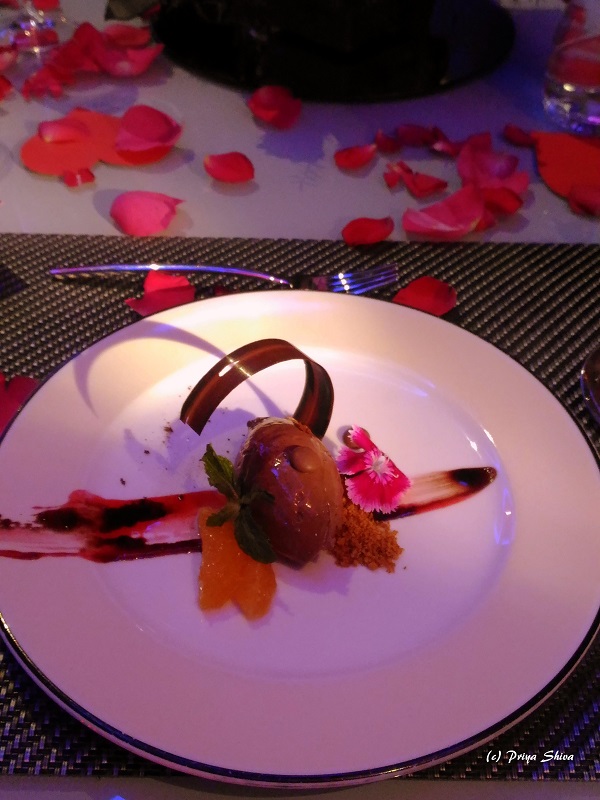 You may be wondering what is it with the menu alternating between one dish that warms you up followed by one that cools you. The menu is set in such way so that it fires you up and pumps your blood to set a mood apt for the after dinner activities. Isn't that a romantic enough reason for you to book your table and cozy up before the clock turns 12.. I'm sure you will have the twinkling eyes with sparking wine..This will be one unique experience for the romantically inclined. So, go ahead, click here and book your table now!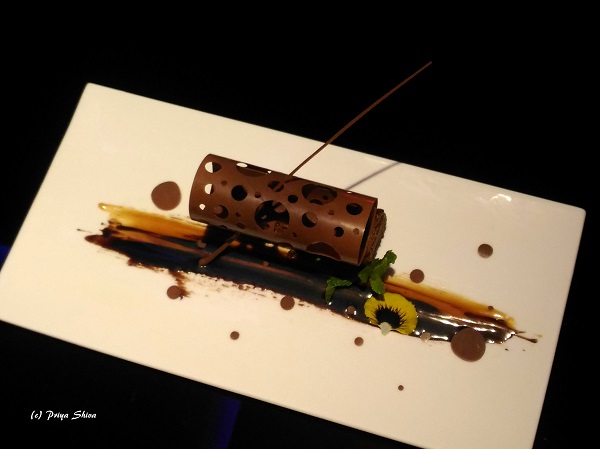 *****I received an invite for this dinner preview but the opinions shared are all mine******
Yum