Breakfast is the first meal of the day and I never skip it. There are days when I do wish that I can whip up something quick and easy. Besan ka cheela comes on such days. You can make them in flat 15 minutes.
Check out the video to make Besan Cheela:
Besan Ka cheela are chickpeas flour crepes. These crepes are vegan and gluten free. You can even add vegetables of your choice and make it even more wholesome and delicious. In India, chickpeas flour is known as besan and that's how it got its name. So, sharing yet another easy breakfast option. Try it out and enjoy! You can serve these crepes with tomato ketchup or mint chutney..
You can also check other recipes for easy breakfast like – kanda poha, Bread upma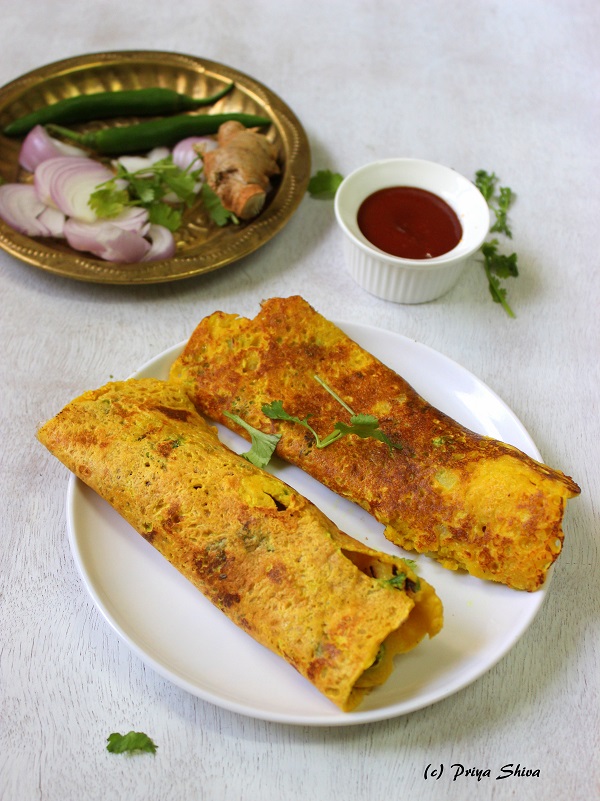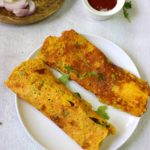 Besan Ka Cheela - Chickpeas Flour Crepes
Crepes for breakfast made with chickpeas flour!
Ingredients
Chickpeas flour/Besan - 1

Turmeric Powder - 1/4 tsp

Onion - 1

finely chopped

Green chillies - 2

finely chopped

Grated ginger - 1 tbsp

Fresh coriander leaves - 2 tbsp

chopped

Asafoetida/hing - 1/4 tsp

Salt to taste

Idhayam Mantra Groundnut Oil - 4 tbsp
Instructions
Add chickpea flour, turmeric powder, salt to taste, asafetida and 1/2 cup of water in a mixing bowl. Mix well to make a smooth batter.

Now add chopped onions, green chillies, grated ginger and coriander leaves and mix well.

Heat a griddle/tawa for a minute. Lower the flame and smear little oil on the pan.

Take a ladleful of batter and pour on the center of the griddle. Immediately spread it on the pan in circular motion to make a round crepe.

Add few drops of oil on the edges and let it cook for a minute.

Flip, add few drops of oil and let it cook for another minute.

Serve it hot with ketchup or mint chutney.
Recipe Notes
Adjust consistency of the batter by adding more water if you feel its too thick.
Yum