I cooked some Puli Aval Upma today. The tangy tamarind taste and subtle spices made it a scrumptious breakfast. Aval means beaten rice and puli means tamarind. It is easy to prepare too!
These gloomy days makes me very lazy. I can just crawl into my bed, take a blanket and sleep for hours. Once I'm up, I can fix something quick for myself, eat and sleep again. I wish I could do that every day but you all know that it will not happen when you have your responsibilities, work and duties to fulfill.  So, I get up every morning in the hope that weekend will soon come and I can be lazy whole day. So, you might never find me blogging over the weekend as I'm busy catching up some sleep :)..
Aval or Poha is better known as Beaten rice or flattened rice and often used in Indian cooking. We make breakfast with it like Lemon Aval Upma and even crunchy snack like Chivda Namkeen.
You can try out Kanda poha too:
So, sharing another great way to make an easy breakfast using flattened rice. Puli means tamarind. So, Puli Aval upma has a tangy flavor from tamarind. Make this quick breakfast for your family, serve with some chutney and enjoy!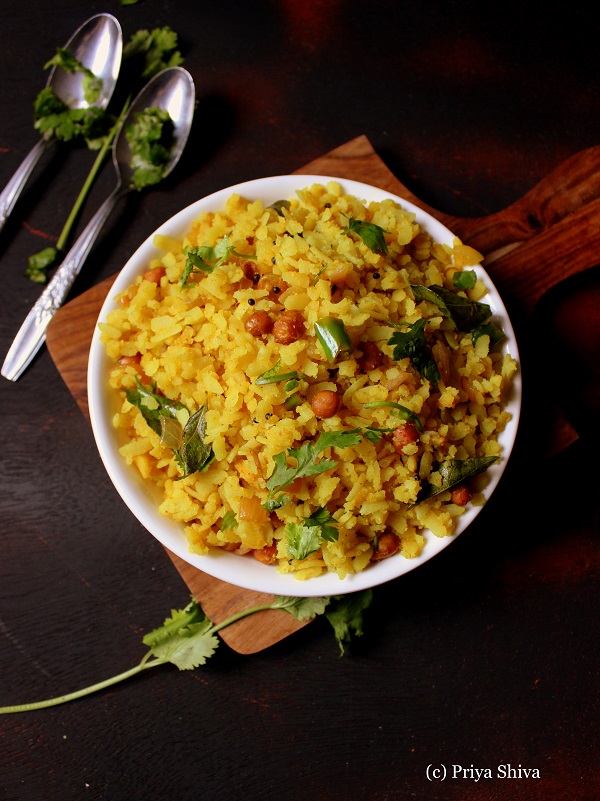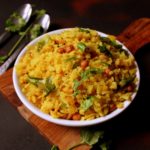 Puli Aval Upma Recipe
Ingredients
Aval/beaten rice - 1 cup

Green chilies – 2

finely chopped

Raw peanuts – 3 tbsp

Mustard seeds – 1 tsp

Asafoetida/hing – ⅛ tsp

Curry leaves – 1 sprig

Turmeric powder – ½ tsp

Salt to taste

Tamarind - 2 tbsp

Jaggery - 1 tbsp

grated

Sambar Powder - 1 tsp

vegetable Oil – 2 tsp
Instructions
Soak tamarind in 1/4 cup of hot water for 10 minutes. Squeeze to collect tamarind water in a bowl. Dispose the pulp and seeds.

Add beaten rice in a colander and run it under water for a minute to moisten it properly. You can soak it in water for 5 minutes and then drain the water completely.

Heat oil in a frying pan and when oil is warm add mustard seeds and asafoetida.

When mustard seeds splutter, add urad dal, peanuts and saute till lentil turn light brown.

Add chopped onions and saute till onions turn translucent.

Add turmeric powder, curry leaves, sambar powder and green chillies and saute for few seconds.

Add tamarind water and jaggery and let it cook till the sauce thickens.

Lower the flame, add beaten rice, salt and mix well.

Garnish with some coriander leaves and serve.
Yum