The weather has been very gloomy in Bangalore for the past few days with occasional rains.  I like people who enjoy rainy days. I was out the other day to buy some grocery and it was raining heavily. So, I just stood under a tin roof of a shop and watched some children dance in the rain. They were jumping in the puddles which reminded me of my carefree days. Pure blissful days…
Rainy days also doubles my hunger. The hunger is for crunchy snacks like kara boondi, masala cookies, my all time favorite pakodas etc. I can just make a cup of Chai for myself and munch on these snacks watching rain. So, to satisfy my snack needs, I made Chivda Namkeen today.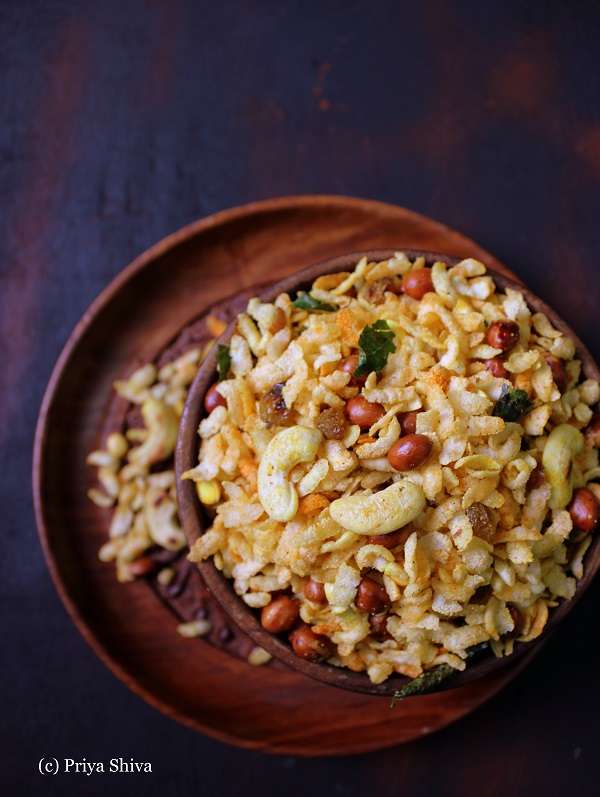 Chivda namkeen or masala chivda is a popular snack in India made with beaten rice. Beaten rice is also known as poha, aval, flattened rice. This snack is quite easy to make at home especially if you have deep slotted ladle handy with you. I got this ladle with holes from my mom and always use it to make chivda namkeen. Watch this quick video to make it!
After deep frying the beaten rice, you can add few roasted gram, cashews, peanuts and spice it up with some red chilli powder. So, make Chivda namkeen this festive season and enjoy with family and friends.
You can also try omapodi – sev recipe from my blog.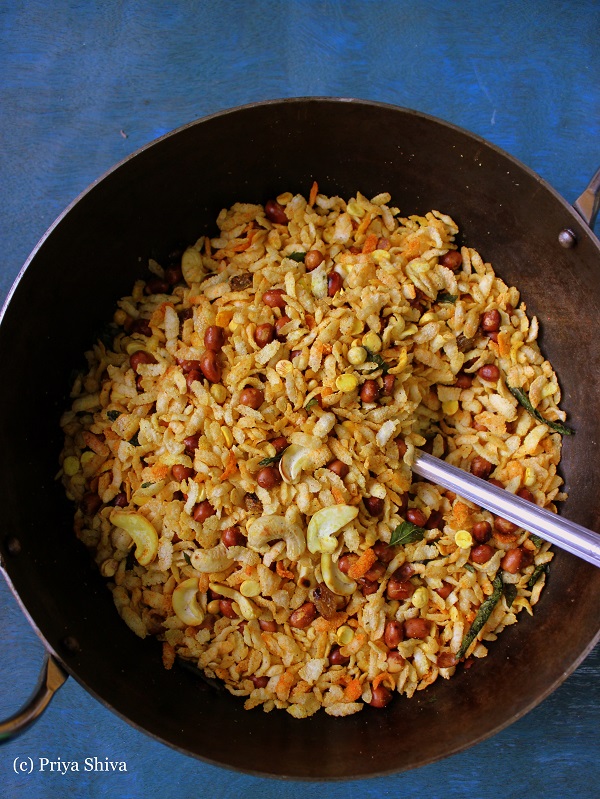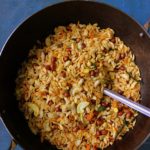 Chivda Namkeen Recipe
Ingredients
Flattened rice/chivda - 1 cup

Peanuts - ½ cup

Cashews - ½ cup

Raisins - 2 tbsp

Curry leaves - 1 sprig

Roasted Gram - ¼ cup

Salt to taste

Red chilli Powder - 1 tsp

Turmeric Powder - 1/4 tsp

Vegetable Oil

for deep frying
Instructions
Heat a frying pan with oil in it. Make sure to check if oil is ready, add few flattened rice to the hot oil. If it puffs up right away, oil is ready for deep frying.

Take a deep slotted ladle and add a fistful of flatteened rice in the ladle. Dip the ladle carefully in the oil. Flattened rice will puff up immediately as the oil is hot.

Drain the excess oil and place the fried flattened rice on a tissue to remove excess oil.

Add 1 tsp cooking oil in a pan and roast peanuts, curry leaves for few minutes on low flame.

Now add some cashews, raisins, roasted gram in the same frying pan and roast till cashews turn light golden brown and keep it aside.

Lower the flame and add turmeric powder, red chilli powder and stir for few seconds.

Now add deep fried flattened rice, salt and mix well. Remove from the flame.

Once the content cools down completely, store the snack in an air-tight container. You can store it for upto 2 weeks in a cool place. Do not refrigerate.
Recipe Notes
You can add 1 tbsp of powdered sugar to give it a sweet and spicy twist. Make sure the curry leaves are cleaned and dry before roasting them.
Yum