Masala cookies with a cup of tea or coffee would be like a match made in heaven. I love these cookies and often bake them. Somehow they give me a satisfaction that I'm consuming less sugar 🙂 🙂 My family also loves these cookies especially my mother-in-law appreciates it a lot. She's always sweet to me and brings a smile on my face with a word of motivation. So. sharing the recipe and hope you all have a great week ahead.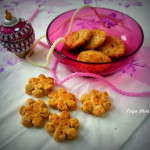 Masala Cookies Recipe
Ingredients
All purpose flour – 1 and 1/2 cups

Unsalted Butter – 1/2 cup (at room temperature)

Baking powder – 1 tsp

Salt - 1 tsp

Sugar – 1 tsp (optional)

Curd/Plain Yogurt – 2 tsp

Curry leaves - 6

Coriander leaves / Cilantro - 1 tsp (chopped)

Few Mint leaves

Grated ginger - 1/4 tsp

Cumin Seeds - 1 tsp
Instructions
Preheat oven at 180 degree Celsius.

Sift all purpose flour and keep it aside.

Roast Cumin seeds in a small frying pan on low flame for a minute and keep it aside.

Add curry leaves, mint leaves, coriander leaves in your grinder and blitz it. Keep this mixture aside.

Add butter and salt, sugar in a bowl and mix it well.

Now add all purpose flour, yogurt, curry leaves mixture, roasted cumin seeds, baking powder and mix well with your hands to make a soft dough. You can add more yogurt if you feel the dough is very stiff.

Take a small portion of dough and flatten it gently with your hands and place it on cookie tray. You can also roll the dough with a rolling pin and use cookie cutter to shape it into different shapes.

Keep at least 1/2 inch distance between each cookie.

Place the cookie tray for baking at the same temperature and Set the timer for 20 minutes.

When they start turning golden brown, remove from the oven and place them on wire rack for cooling. When they have completely cooled down store them in an air-tight container.