I love baking and I love nutella. So, when my boy asked me to bake cookies for him, I decided to try some eggless nutella swirl cookies. I found this chocolate swirl cookie recipe by betty crocker where she has used chocolate and cherries. I wanted to replace the eggs and decided to try out with nutella instead of chocolate. So, I started with a basic vanilla cookie recipe and just spread some nutella over it, then wrapped the dough with a cling foil and refrigerated it for sometime. The swirls are not so perfect but they are so delicious that I had to share this recipe with you all. Trust me that the whole lot will get over within minutes and be ready to bake them again for your family.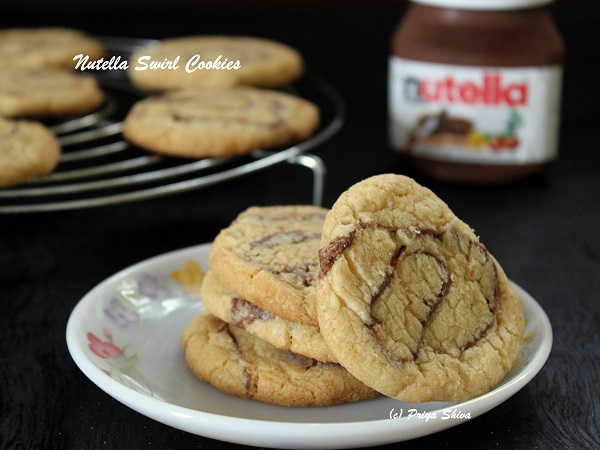 So, what are you waiting for? Get into the kitchen and start baking some Eggless Nutella Swirl Cookies and make sure you hide few cookies for yourself to enjoy 🙂
Eggless Nutella Swirl Cookies
Author:
Prep time:
Cook time:
Total time:
Love nutella! Then what are you waiting for? try this delicious nutella cookies and I bet you can't stop eating them..
Ingredients
All purpose flour/maida – 1 cup
Baking soda – 1/4 tsp
Butter – 1/2 cup (1 stick)
Brown sugar/Demerara sugar – 1/2 cup (powdered)
Nutella – 1/4 cup
Vanilla Extract – 1 tsp
Instructions
Sift flour and baking soda together and keep it ready.
Beat the butter,vanilla extract & powdered brown sugar together in a bowl until light & fluffy.
Slowly start adding the sifted flour  and mix well.
Using your hands, start combining the dough and roll it into a ball.
Transfer the dough in a bowl and wrap the bowl with cling foil. Refrigerate it for 30 minutes.
Spread a cling foil and roll out the dough into a 5 mm thick rectangle on it. Spread the nutella on this rectangular sheet of dough leaving 1/2 of an inch on all sides so that nutella doesn't ooze out when rolling the dough.
Hold the edges of the cling foil and roll the dough into a log starting form the longest side.
Place the rolled dough log into the refrigerator for another 10 minutes.
Cut the dough into thin slices with the help of a sharp knife. Line baking tray with parchment paper and and place sliced cookie dough on them.
Preheat and bake at 350 F/180 C for 12-15 minutes or until they turn golden brown.
Transfer them on a wire wrack and let them cool down completely before you store them in an air-tight container.
Yum