These Eggless Nutella Gingerbread Men cookies are made because of a cute demand from my son. I'm glad he made this demand as these cookies are crispy, flaky, delicious and any nutella lover like me will love them! My love for nutella never ends and I had to make some nutella cookies for this Christmas as well. I have already shared nutella swirl cookies on my blog and I was earlier thinking of baking them for this Christmas season too. I'm glad I tried something different and happy with these nutella gingerbread men cookies.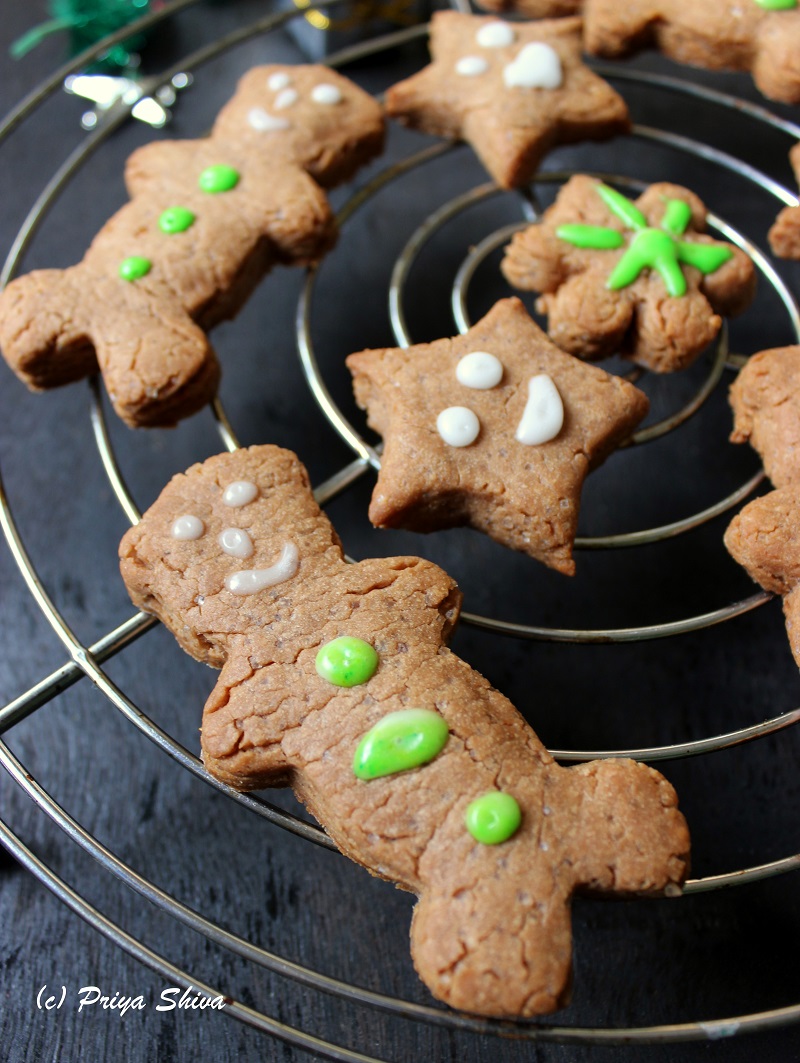 My boy is very inquisitive and usually asks me questions that I find tough to answer. As always he asked me an interesting questions yesterday. Amma, why  do stars look white and small dots in the sky? I started by telling him that stars are very far and that's why we can only see a small dot in the sky. He was not convinced and again started off with another question that in cartoons, they are star shaped but in real they are round. I was actually impressed with the way he was trying to differentiate between reel and real life 🙂 ..So, I finally told him that I will make some nutella star cookies for him and put him to bed with a happy smile. He's also a nutella lover and I finally decided to make some nutella star cookies with these gingerbread men cookies. I have decorated them using royal icing. So, lets first learn how to make an easy royal icing for these cookies:-
Ingredients:-
Confectioner's or powdered sugar – 3/4 cup
Milk – 1/2 tbsp
Corn syrup – 1 tsp
Vanilla extract – 1/2 tsp
Edible green color – 1/8 tsp
Method:
Add confectioner's sugar, vanilla extract, corn syrup and milk to a mixing bowl.

Blend until it is lump free.

If it's too thick, add water drop by drop. If it's too thin, add more confectioner's sugar.

Divide it into 2 equal parts and add green color in one part and mix well.
So, sharing the recipe for Eggless Nutella Gingerbread men cookies and hope you all make it this season and enjoy with your family. Merry Christmas!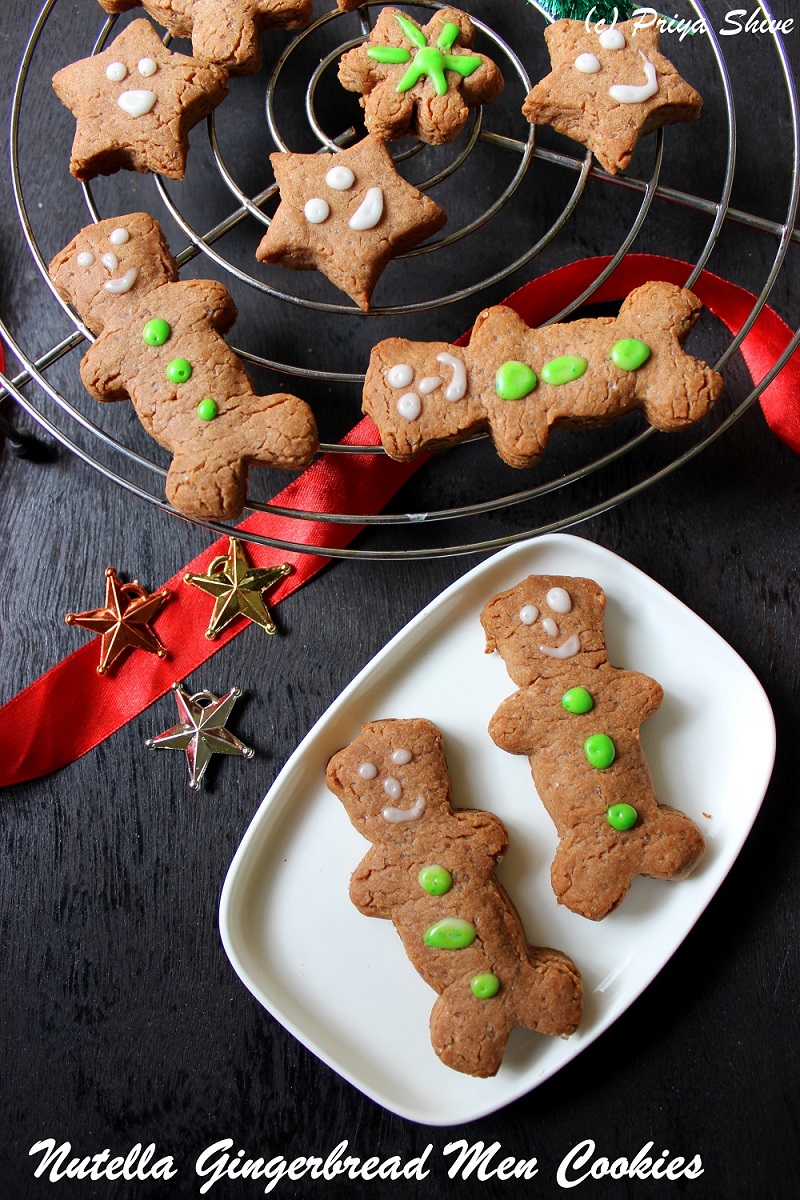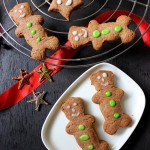 Eggless Nutella Gingerbread Men Cookies
Ingredients
Maida / All purpose flour – 2 cups

Butter (softened) – 1/2 cup

Nutella hazelnut spread - 1/2 cup

Sugar – 1/2 cup

Ginger powder - 1 tsp

Salt – a pinch

Cinnamon powder - 1/2 tsp

Milk – 2 tbsp

Royal Icing - Check my post above
Instructions
Add butter, nutella and sugar in a mixing bowl and mix well.

Now add all purpose flour, milk, salt, ginger powder, cinnamon powder and mix well with your hands to make a soft dough. Freeze it for 15 minutes.

Flatten the dough to 1/3 inch thickness with rolling pin, sprinkle some sugar on top and cut it with cookie cutter.

Keep at least 1/2 inch distance between each cookie.

Preheat oven at 180 C/350 F.

Set the timer for 12 minutes and place the cookie tray for baking at the same temperature.

When the edges start turning golden brown, remove from the oven and place them on wire rack for cooling. When they have completely cooled, decorate the cookies with royal icing. Use the smallest nozzle for decorating cookies. Leave them on wire-rack for 20 minutes before storing them in cookie jar. 
Recipe Notes
You can also dip them in chocolate syrup and enjoy. My cookies took 15 minutes as it depends on the size. Bake for more time if you want them crunchy. You can remove them in 10 minutes if you like soft cookies.
Yum